For 2006 Yamaha introduced the Attak and the Max Sled crew fell in love, so I decided to buy our demo sled and keep it around for the long term. We have had plenty of time to gather information from our crew and many other Yamaha owners and it was time for some changes to make this great snowmobile even better. That's where some of our favorite aftermarket companies come into play. There are many companies out there that make incredible aftermarket products that help make the sport we all love so much more fun.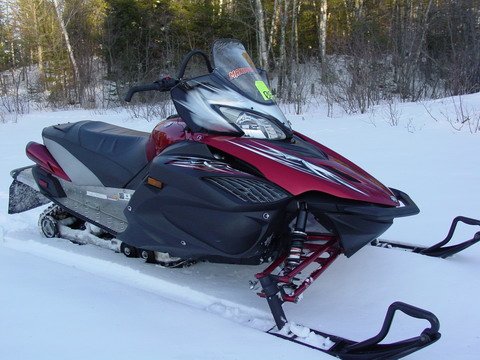 The Max Sled crew chose some of the very best out there to help us with these improvements on the 2006 Yamaha Attak. One of the great things about this project is that the aftermarket improvements we installed can be made to most of the Apex and newer Vector models. Our goal was to improve some of the areas that we felt would bring this sled into 2010 and beyond.
Darting and Steering
The first thing we wanted to look at was to control the darting. This is when your ski hunts and sticks into the grooves of other skis on the trail. In certain conditions, this can be quite noticeable. To help solve this we talked with Scott Bergstrom. He owns a company called Bergstrom Skegs and has been around for many, many years. Darting is an issue on many sleds and sometimes can be solved by picking up a set of aftermarket skis, but we wanted to solve the problem using the OEM Yamaha skis. A quick check is look at the carbides and how they are wearing. If they are wearing out in the front and still look great at the rear then you're machine is susceptible to darting and you could use this quick and easy remedy. What is happening is the ski is tipped forward and that promotes darting. Bergstrom Skegs makes shims that help tip the ski back and keep it level. They sent us a set that we installed between the spindle and the rubber on our skis. This tipped the ski back to a level position and not only promoted longer carbide life but virtually eliminated the darting. It appears to be way too easy, but try it and you'll see the results.
As long as we are on the skis, Bergstrom sent us a pair of their Triple Point Carbide bars. These wearbars help steering in the corners and are very positive in their feel on ice. We are impressed with these bars. They seem to wear very well.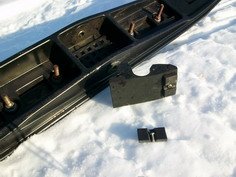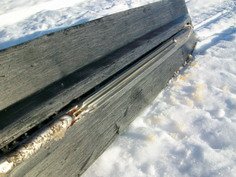 The darting was virtually eliminated and the steering more positive.
Rear Traction
The next area that we wanted to work on was the track. One of the areas we felt could be upgraded was the rolling resistance. The Attak seems to have a lot of it; it scrubs off speed and wears the Hyfax. We felt part of the problem was the stock track having every third window closed. We contacted Camoplast and they sent us a 136″ fully clipped Cobra track. This track is designed with cupped lugs that give better traction in loose snow, and yet doesn't decrease top-speed. It also allows the track to slide a bit while cornering which gives the sled a more nimble feel. I personally like the bite of studs, so I added those, which I'll tell you about in a moment. This track makes a difference in the Hyfax wear on the Attak and allows a more-free rolling resistance. The top speed and acceleration has increased slightly simply by changing the track.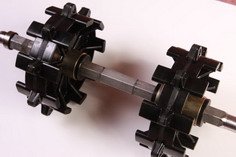 We were also having problems with track ratcheting so we had to keep the track very tight which also scrubbed off speed. Since we were pulling the drive shaft out to change the track anyway, we decided to make a call to Wahl Brothers Racing. They sent us their No-Slip Drive Sprockets and we had a local dealer press the drivers on the shaft for us. These all but eliminated the ratcheting and also are lighter with less rotating mass. They drive off of four track lugs and the track windows at once. Now we can run the track more loose without ratcheting and regain top speed.
Like I stated, I like to run studs. Personally I don't like the back end of the snowmobile to slide. It feels uncomfortable to me, so we called Woody's. They set us up with some of their Gold Digger 60-degree Traction Master 1.325 studs. We used Woody's pattern with some single and double backers. Total we installed 162 studs.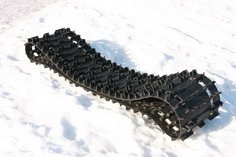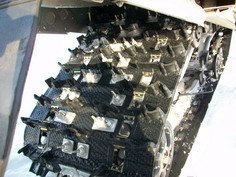 Better traction with less Hyfax wear and rolling resistance and regained top end speed.
Rear Suspension
The next thing we wanted to look at was the suspension. There have been a lot of issues with the rubber on the stock wheels delaminating. Our Attak went through several wheels so we went our local Yamaha dealer and purchased the upgraded wheels with the replaceable bearings. We also wanted to add the 4th Wheel Kit in the rear to help reduce Hyfax wear and give the machine better balance and durability.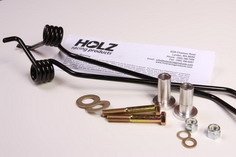 Our Attak has had occasional overheating in low snow conditions, so we contacted Holz Racing. They sent us a set of very nice quality and easy to install Ice Scratchers. They bolt on to each side of the rails. When the snow gets lean, it's very easy to reach down, pull them off the suspension rails and onto the ground and let them do their thing. However, you don't want to forget them and back up with them down. They will get ruined.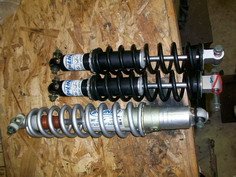 We also wanted to upgrade the shocks. Yamaha's Mono Shock rear is known for its quality ride over the bumps, but over the years this has been improved by the factory. The suspension works very well in the stutter-bumps and will even take care of the occasional big ones. But if we hit a series of large bumps in a row after about the third or fourth one it would bottom out; the rebound just couldn't keep up. Also if we came over a hill and hit a big hole on the other side it wanted to bottom out. There are several people out there that have installed a heavier spring, and that helps in some areas, but without the proper valving to accommodate it, it can make the ride worse. We called the experts at B-Line Control; Bruce is like having your own personal shock guy to yourself. That's the way he makes you feel because he takes your weight, riding style and a bunch of other information into count when he revalves your shocks. You tell him your concerns with the sled and he makes them virtually go away.
The last item on the suspension was the pitting and the rust. While this is cosmetic, it's something that I don't care to see on my machine, so we contacted Mark at New Image Coatings. He does coatings for many big name aftermarket companies and he put his special touch on the Attak's suspension parts. They look better than brand new and should last for many years. You can get colors if you so desire, but we wanted more of the stock look. We were so impressed that our front suspension parts will be going to him in the near future.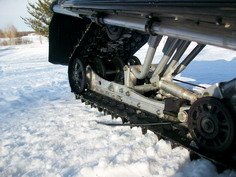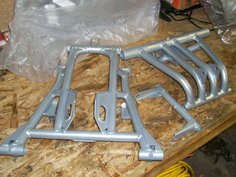 Better stability and even Hyfax wear, better control and less bottoming over the harsh bumps, and nicer looking suspension parts with better rust-resistance.
Ergonomics
One of the areas we really feel needs improvement on the Yamaha Attak (Apex and Vector) chassis is the ergonomics. Yamaha is so close, but falls short in a couple areas. We feel that there needs to be a taller seat and taller handlebar risers on these machines and it would be right there. Yamaha offers one of the solutions, but we had to turn to the aftermarket for the other.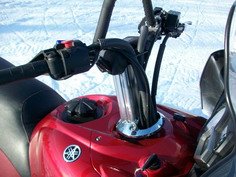 We wanted to add a couple inches to the height of the bars, so we moseyed on down to our local Yamaha dealer and picked up a set of the risers from the Apex Mountain model. It adds 2-inches and you won't have to change your cable lengths. However, make sure to buy the longer bolts because the block doesn't come with them.
The other ergonomic improvement we would like to see on this model is a taller seat. We want our thigh to be level or slightly downward instead of upward. This gives you better control and faster transition from sitting to standing if you need to pull off the seat for a large bump. It will raise your center of gravity, but you will simply have to compensate while cornering.
We called Kent at A-Plus Upholstery. They are a local (to us) shop and owned by a snowmobile enthusiast who wants to offer their services to other sledders. They can recover your current seat or they can do like they did for us and create a custom seat that would fit your needs. We had them add 3-inches to the height of our seat. They have different materials; some that offer more grip than others, and they have different types of foam; some more dense than others.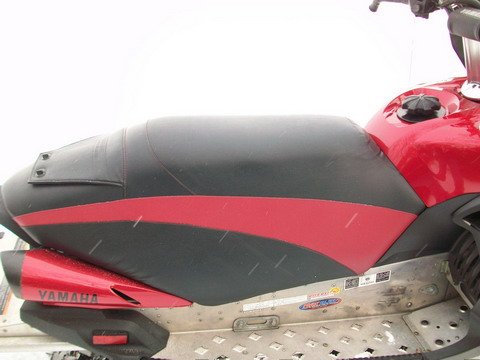 Everyone has their own preferences, but we are trying to achieve that perfect riding position with less fatigue on your body and better sled control. We chose to take off the gray stripe and go with a color that matches the sled. We also wanted to keep a somewhat stock look to the seat. Kent did that very thing for us. He uses the highest grade material that stays pliable to 60 degrees below. We did use foam that was medium in density, but after testing we will want to get harder foam. The 3-inch added height is perfect, but the foam needs to be changed. After the foam change, we feel the seat will be just right. You could benefit by giving Kent a call and getting your seat redone.

Better steering control and ergonomics with the taller handlebar risers and 3-inch taller seat, but the seat foam needs to be harder.
Flash The last thing we did was make a change to the Neon and L.E.D lights we tested (read here) awhile ago from Snow Glow. We called Brad at Snow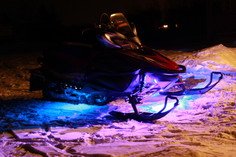 Glow and he set us up with some blue neon to replace the red ones we tested. We also wanted to add more of the blue L.E.D lights. They really look great at night and are very visible to other sleds. He uses top notch materials and is great to work with, plus we have already put them to the test and they perform flawlessly.

Added nighttime visibility and a coolness factor that can make your friends jealous (at least in the dark).
Feedback We rode this sled side-by-side with a 2010 Yamaha Vector LT, which is virtually the same machine with a different motor. The new Vector has the upgraded suspension and wheels, but is ergonomically the same as the Attak originally was. The riders (4 of them) all agreed that the upgraded seating position and handlebar placement was perfect, but they felt the foam was too soft and fatigued to fast in a day's ride. They also agreed that the rear suspension was set up and calibrated quite well and they felt little or no bottoming. Ski darting was non-existent, but snow conditions vary and there weren't enough varying conditions to give a thorough test. The steering felt a little light in the snow conditions we rode, but that can be solved with a bit more setup. There was no track ratcheting under hard acceleration and the track and studs felt very positive on the trails and on hard snow as well as loose snow as the day got warm.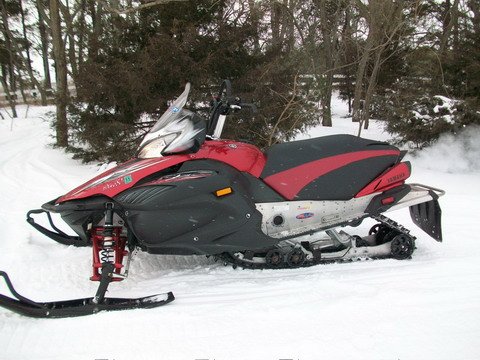 Upgrading your Apex, Attak, or even the newer Vector models might make an almost perfect machine that much better. We list the companies that helped bring this Attak up to date and they can certainly help you with yours.
B-Line Control (no web site): 651-257-0828
New Image Coating (no web site): 651-784-7055