West Yellowstone in March, a great place to be.  Beautiful weather, bright and sunny, mild temperatures so you don't have to dress like you are climbing Mt Everest and some of the worst snow conditions I've seen in years.  Yeah, well that last part wasn't so good.  But walking in to the Snow Shoot staging area and seeing row upon row of 2011 model year snowmobiles from the 4 OEMs puts a smile on my face every time.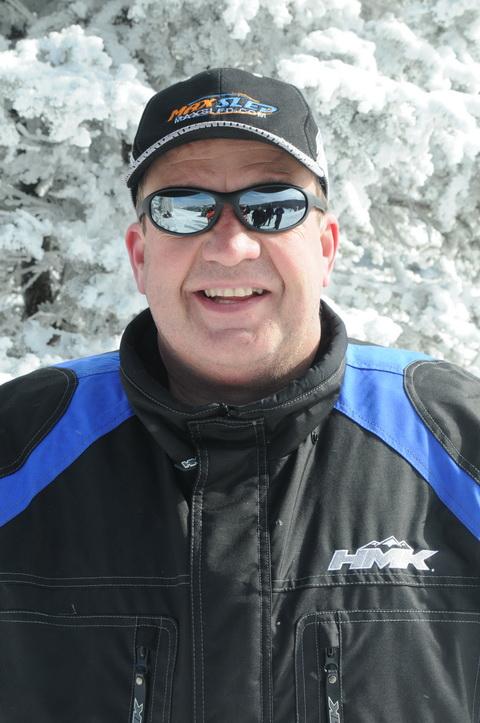 I'm a mountain rider, born and raised.  I have spent my fair share of time riding the trails of the 'flatlands', but my passion is big hills, high mountain meadows and huge stands of trees with waist deep untracked powder. So what I found sitting in the staging area did more than quicken my pulse a little.  I will admit, some of the trail offerings contributed to that quickened pulse.
I'm not going to try and tell you what you should or shouldn't ride.  I've been in this rodeo for a lot of years.  I'm not going to date myself by telling you how long I've been riding, but let's just say that the new Rush Retro graphics came out in their original offering after I started riding. What I do hope to do in the next few paragraphs is give you a glimpse in to what I saw that was cool and exciting and fun.
Arctic Cat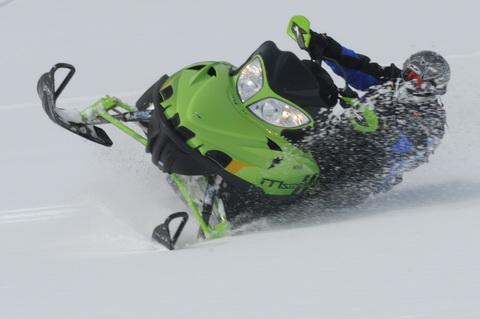 Mountain sleds from Arctic Cat are just plain fun in my opinion. For 2011 the M8 motor returns and is as strong as it was in 2010. Last season it proved it's durability and performance. For 2011 the M8 gets new suspension calibration and I am here to tell you it is about a zillion times better than the 2010. And lest you say to yourself that suspension calibration doesn't matter on a mountain sled… well I'm here to tell you it does.
The M1000 is still the king of the hill when it comes to raw power. It's been discontinued in a lot of the other segments, but if you are looking for the biggest, meanest mountain sled available, Cat is still giving you the M1000. The M sleds also keep 2 of the best features of any mountain sled… a good seat that actually has storage in it and the Telescoping handlebars. Like mountain riders all over the world, when I see that telescoping bar feature I slap myself in the head and think "Why didn't I think of that".  And has proven the case over the past couple of years, the Power Claw track is the best OEM mountain track and arguably the best overall mountain sled on the planet.
Just a brief comment on the trail sleds from Cat.  I won't pretend to be a high trail rider, but a couple of the Cat trail sleds stand out. The Turbo Z1 in the Twin Spar chassis was stupid fun to ride. We found some places where we could put the Z1 Turbo through its paces and I found myself giggling when I cracked the throttle open. And the adjustable seat on the Cat trail sleds… well, I think that should be available on every single sled. There were 5 different test riders jumping back and forth on sleds throughout the day and being able to take literally 10 seconds and set the rider position to my preference (I've got short legs and short arms) was, pardon the pun, the Cat's meow.
Yamaha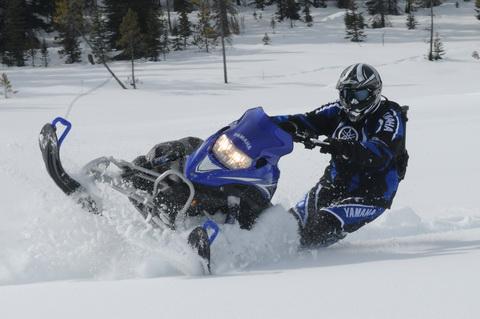 I'm not going to pretend that Yamaha has a bunch of new to offer mountain riders. There are a couple of things of note. The Nytro returns mostly unchanged which isn't a bad thing. It underwent some big changes last year that proved to work well. If you are buying a Yamaha mountain sled you are probably considering adding a little (or a lot of) boost to it. If you haven't ever been on a boosted Yamaha or seen one run you are missing out, it is simply an awe inspiring experience. But the stock Nytro is a good mountain sled and Yamaha is not shy about touting the durability and reliability which they shouldn't be.
There is no mountain Apex this year. The Apex underwent a big makeover for the trail riders and frankly the Nytro is a better platform for all things mountain in my opinion so I agree with Yamaha's decision to not offer the Apex in a mountain version. The Phazer mountain returns and still remains the craziest sled for me to figure out. I want to not like the Phazer, can't really see the point, but then I ride one and love it.  Fun little sled to ride.
I am going to comment on the Apex though, because it has gone through some big changes; not the least of which is the addition of power steering. Like a lot of people, I laughed out loud when I heard it would have power steering, but then I remembered the first time I rode the Grizzly ATV with power steering and quickly stopped the laughing. I'm going to tell you this; it is flat out cool. Yamaha engineers put the power steering on and then they also changed the front end geometries to take advantage of the power steering support. You can ride an Apex with power steering crazy quick through the twisties and it stays planted. In fact, I found myself pitching the back end out before the front end would even hint at pushing. It takes some getting used to; the feedback you are used to from a non-power steering sled isn't there with the Apex. But after a couple of miles and a couple dozen curves you get used to it and learn to trust it and it flat works.
Ski-Doo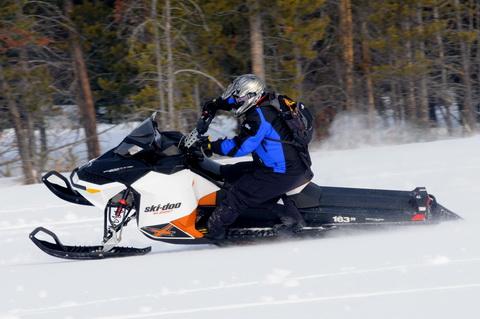 Ok, I'm not going to lie, I have not liked the Summit XPs and how they handle. The XP seems to be a love/hate thing for most of us. Either you love it or you hate it. I fell into the later. I can't sidehill it, can't turn it on off-camber downhills, and it wants to throw me off all the time. I'm relatively short at 5'10" and that forces all my body mass forward over the skis on the XP which makes it even harder for me to turn it. Well, I'm apparently not the only one because for 2011 the Doo engineers narrowed the ski stance up a BUNCH to try and improve it.  It made a HUGE difference. 2010 and previous XPs were impossible for me to pull over and turn doughnuts in a meadow.  Simply couldn't do it.  With the 2011 Summit I can simply slide my bum off onside of the seat while remaining seated and pull it over and carve beautiful circles in big open meadows… and there was much rejoicing!  I suppose some of the XP riders that like how they have handled before are going to complain about it being 'tippy' or something like that, but for us mere mortals the changes make the XP Summit ridability much better.
800 ETEC.  We thought we would get it last year, but after sitting through the tech session on this new motor I understand why we didn't.  Lest you think it is just a 600 ETEC upsized, you are wrong.  The only thing the 800 has in common with the 600 is the oil pump.  The 600 ETEC is nearly a direct cross over from the marine ETEC, but the 800 with its higher HP, bigger cylinders, more torque, required a re-engineer of almost every component. From a new electrical system that puts out more power, to different injectors that cycle 4 times instead of just 2, to a new engine management system that controls break-in procedures and cold start/drive off ability the 800 ETEC is all new.  We'll have more info on it throughout the coming months… but I'll give you my first impressions. The 800 ETEC is the smoothest 800 2-stroke available. It's noticeably smoother than the carbed 800 motor, which is welcome.  It starts and purrs and is just smooth. And if you know anything about the 600 ETEC you know the advantages in fuel economy and oil consumption. BUT, and this is a big BUT, don't expect to see the wild improvements in your Summit. There are simple truths in the motor world and those truths are that it takes fuel to make hp and in 2-strokes, if you use fuel you have to use oil too. At throttle positions approaching WFO the 800 ETEC uses as much and at times even more fuel than the carbed motor.  It's a truth that can't be bypassed.  So don't buy a Summit 800 ETEC and expect 50% better fuel consumption unless you are going to ride it at 40mph on a trail all the time.
So frankly, I am not sold on the 800 ETEC in the Summit.  Yup, the smoothness of the motor is great, but for the added expense and complexity you get 11lbs more weight (that's what the motor package weighs over the carbed version).  And if fuel consumption is 10% – 15% better it doesn't matter to me because on the days where I get 30 miles on a single tank of fuel and am empty I can barely hold on to the bars when I get back to the truck already… another 3-4 miles isn't going to make or break it for me.
In trail sleds, well the 800 ETEC makes a lot of sense.  Fuel mileage and oil consumption will be greatly improved and that matters a lot when you are on those big, wide, smooth trails in Ontario.  Also in the trail sled area from Ski-doo is the new 600 ACE.  A very interesting little motor.  The reality of our sport is that small, cheap 2strokes are going away.  In the low end markets the 500'ish cc 2strokes have been the work-horse motor for a long time.  Those motors are going to go away with the new EPA standards.  Doo has come out with the ACE as the future in this market.  We'll be doing a specific article on this little motor in the future, but in short it's a pretty cool deal.  Fairly simple, light and compact and makes decent power.  It will need a little more power to fully replace the small 2-strokes I think, but everything about it is a great idea.
Polaris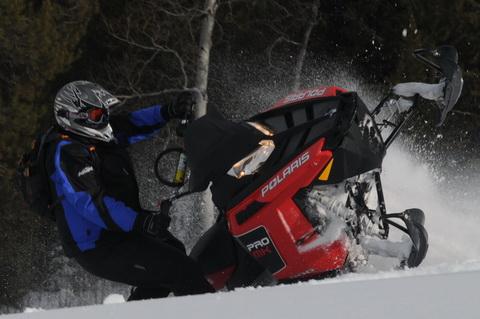 Yes, I'm going to talk about the new ProRMK, but first I'm going to talk about the trail sleds because a couple of things really hooked me on them. The new 800 Rush with retro graphics is very likely the coolest trail sled I've ever been on. Of course some of that is the retro graphics; it takes me back to my youth and the TX340 my dad bought me.  But the new 800 motor, yes it's new, fixes all the complaints about the 2010 800 I have.  And putting it in the Rush chassis made a crazy fun trail sled.  We found a particularly rough size trail over on the Island Park side of the mountain to try out the trail sleds on.  It took me 3 runs, with easy 10 second shock/spring adjustments between each run, to get the 800 Rush dialed in for those big rough moguls.  I have never been able to wail through 2 – 3 foot deep bumps on a sled as fast and as comfortable and in control as I could on the Rush.  And the 800 motor snap is super fun when you want to fly off little jumps or bumps.  The only thing I found to complain about the Rush, both in 600 and 800 is that I had a very hard time keeping the inside ski lift down when riding it hard through the corners.  I was much more comfortable on the Doo, Cat and Yamaha trail sleds through the same trail sections although I could ride the Rush faster through them.  That inside ski lift makes me uncomfortable.
The ProRMK. 431lbs for the 155, 437lbs for the 163.  That's 28lbs lighter than the Summits and from what my scale showed, pretty accurate. Homerun is the term that comes to mind. I got the chance to spend a lot of time on it and I can sum it up by saying it feels like a 2010 Dragon only lighter and more nimble. Gone is the funny 6200rpm gurgle/stumble of the 2010 motor, replaced by smooth even pull from idle to 8150rpm where it held all the time when on the loud lever. It handles down the trail very well and then off trail it is a very predictable sled.  Rutted up, high marked hills are smoothed out by the new spring equipped suspension (thank you Polaris for getting rid of those WE Air shocks).  And the new Pro front end and body work actually offers better wind/snow protection to the rider than the IQ Raw chassis did.  I'm still not a fan of the Polaris stock track, but it's ok.  And if I could have one wish I would have Polaris split the bar and thumb warmers in to 2 separate switches so they can be controlled independently. Simply said though, the ProRMK is light and super fun to ride in every mountain situation I could find to ride it in. The Polaris engineers were adamant that the new 800 fixes all the complaints.  They must believe it because they are offering a 4 year warranty on spring orders. IF it is fixed then the ProRMK will be the mountain sled to have for 2011.
A great year
A great year is shaping up for 2011 with all the sleds. All 4 OEMs must have not heard that there was a recession because they have brought us the finest crop of new sleds we have ever seen. They have done a GREAT job meeting what I consider to be ridiculous new EPA standards and have not only met those standards, but have given us new technology that will make our riding experience the best we have ever had.  Yup, 2011 will be a great year… now if Mother Nature will smile on us with lots of snow that comes early, often and stays late.