I went out to the 2011 Snow Shot with Maximum Sled as the photographer. That usually means a lot of shooting photos and not so much riding, but I did sneak in a fair amount of seat time regardless. I'm new to MaxSled but not new to the industry – I've worked in the snow media for close to 10 years. Read along as I lay down my thoughts on the 2011 sleds.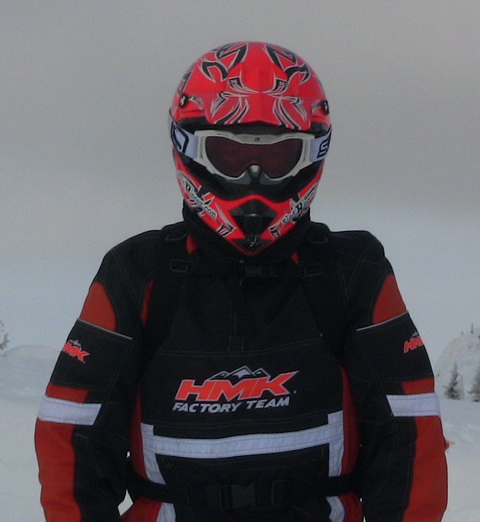 Arctic Cat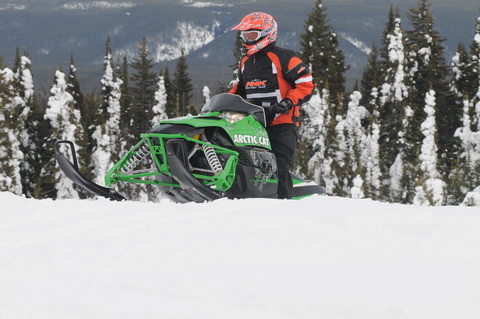 The F8 EXT is a long track version of the F8. Or you could say it's a two stroke version of the EXT, since the EXT debuted last season as a four-stroke only machine. At any rate, it's Cat's newest crossover machine. Why do crossovers keep getting intro'ed to OEM lineups? Sitting in the Arctic Cat technical briefing, facts flew over my head like geese heading south ahead of a cold front, but one pie chart caught my eye. Seems the number of crossover buyers are just about even with the number of short track performance sled buyers. With its more modern rider position, super-stiff chassis and 800 mill, Cat was pretty smart to long track the F8 and hit up that segment.
Combine the 800 H.O. engine with a 144-inch track and you have something most crossover owners will take a serious look at. I'm generally not one for long tracks, but the 144 rode pretty nice on the trails. Off trail it shreds and feels lighter than it is. I'd still take the 128-inch sled, but I generally don't do any boondocking, so that's just my preference.
Speaking of the F8, not much has changed. One thing we did notice was the sled runs neck-and-neck with the other 800s in its class despite carrying some extra weight. In my opinion Cat's 800 engine is the one to beat power-wise. One last note on the Cat 800 – the CFR 800 is an absolutely insane ride.
For you racers, the Sno Pro 500 returns virtually unchanged as well. Cat took the sway bar off because they said the sled really doesn't need it with its super-stiff 140-pound springs in front. The sled's also coming with a 1-inch track for 2011 and should give the sled a hair more mph on the speedo. If you haven't ridden one of these little gems you really need to. The chassis and engine combo are just about perfect for the guy who likes to ride rough ditches and twisty trails. For me, the sled feels better to ride than the F sleds which I have a hard time getting comfortable on. I think the F seat is too wide and it just feels too big underneath me.
Lastly, the M sleds and Crossfires get a new rear suspension layout with either Fox FLOAT rear track shocks or coilover shocks – no more torsion springs. Otherwise they are virtually unchanged. The M sleds are still the most rider-friendly mountain sleds and will do just about anything you want them to with nice balance, good power and excellent rider layout and feel.
Polaris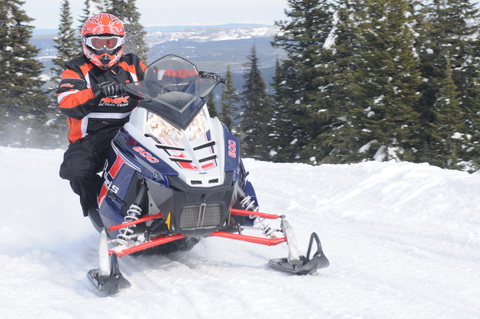 The most talked about sled of the four OEMs was probably the Polaris RUSH with the retro Polaris graphics. Yeah, it was cool, and yeah there's a lot more RUSH coming for 2011. The RUSH has been segmented into a top-line performance sled, a "regular" performance sled and the LX, a solo touring sled. The big difference is the shocks. The top RUSH comes with Walker Evans shocks and sitting a notch down on the ladder is a RUSH with Fox Shox.
Polaris has done some refinement to the sled and one thing that's new is a 160-pound "Big Boy" spring for the rear shock. The sleds seem to be calibrated pretty soft and had a tendency to bottom out even when the spring was cranked up, so this heavier spring will be a welcome addition for the hardcore ditch rider.
There's a new engine too, the Liberty 800. In all our ride comparisons and GPS speed testing it was right there with the 800s from the other two manufacturers, so it looks like Polaris has done its homework. One thing to note is in our conversations with a Polaris engineer it was stated that moving forward Polaris would pursue clean two strokes, "like Ski-Doo." This engine has single injector CFI, but that remark tells me there's direct injection on the horizon for Polaris. I was surprised it wasn't on the sleds for 2011.
Polaris says the RUSH is sensitive to rider input, and I think that's true. The sled doesn't want you to tuck up onto the tank and ride, it wants you to slide back on the seat, lean off the side, stand back on the footboards and do pretty much everything you can to use your weight to affect the sled. I kept wanting to suck the limiter straps up any time I was on the RUSH because they were all calibrated so light in the skis. The sled has a fair amount of inside ski lift, while controlled it's a little too much for my taste.
Polaris has built this sled tough as nails and a big part of that toughness is the result of the bonding techniques Polaris uses to construct the chassis. There were a few raced in cross-country last season and they all proved to be durable machines. It really comes through in how the sled feels – it feels solid and tight. I really want to like the RUSH and I think I would if I could spend some time with it and calibrate it to ride how I like it. Actually, I wish I could put a conventional skid in it, I think that would make it an amazing snowmobile. The reason I say that is because the Assault (with the conventional skid) rides just as good and works better in the corners than the Rush.
The other big deal for Polaris is its new RMK. They cut a bunch of weight from this thing and put it in the PRO RIDE chassis. This means it gets pretty much the same front end as the RUSH and yes, it's bonded together. To me, the IQ RMK had a strange balance issue, nothing bad, but it just wasn't as easy to ride as some other mountain sleds. With the new RMK that's gone, and this sled is much more rider friendly. It feels light, has a ton of power with the new 800 and seems to work really good. Polaris has always built one of the best mountain sleds and this sled should put them back on top out West.
Ski-Doo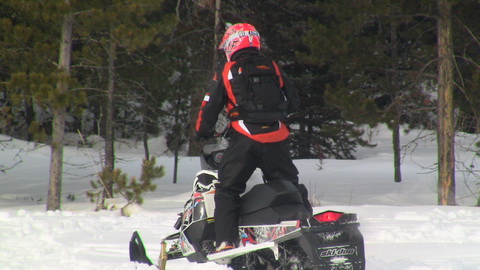 You'd have a hard time convincing me Ski-Doo doesn't have the sharpest handling, best riding sled on the market. The REV-X chassis sleds stay really flat when you're corning and almost never lift a ski, and the steering is so sharp and progressive it doesn't take much work to make it go through the corners. Usually all it takes is a tap of the driveshaft-mounted brake to slow the sled down, especially with the E-TEC engines because they exhibit a certain amount of engine braking because they idle down so quick. But when you do come up on something a little hot the brake slows you down in a big hurry. With Ski-Doo, even when you're on a GSX you feel like you can go fast really easy.
Speaking of E-TEC, the Rotax E-TEC 600H.O. and the new Rotax E-TEC 800R are really fun engines to ride. They make smooth, linear power and have almost an industrial feel to the way they run. You lose some of the sweet two-stroke sounds with the engine, but you also lose pretty much all the two-stroke exhaust smoke and smell. The direct-injected 800 seems to make the power it needs to run with the other brands' 800s and it feels great in the sled. Ski-Doo had carbureted 2010 800Rs available to ride and it's a seamless transition from the carbed engine to the E-TEC as far as rider feel.
Last year Doo brought back the MX Z X-RS, the consumer race sled. Basically an MX Z with the extra bracing and stuff the race chassis gets. The 2010 version was set up really stiff and was basically race ready, but race ready isn't necessarily trail ready. The 2011 X-RS is a bit more compliant and better-suited for trail use. It's still a hardcore ride though.
Maybe the most interesting thing from Ski-Doo is the Rotax 600 ACE engine. It's a four-stroke twin that pumps out 60HP and is said to get 30+mpg. The engine is super-quiet, so quiet you hardly hear it running. With 60HP the obvious role of this engine is to replace the "dirty" 550 fan-cooled engine, but we weren't able to ride the two side by side to see how they compare. One thing we do know, at 454-pounds the ACE weighs more than the fan. The ride is no surprise, the ACE delivers smooth, predictable, quiet power. This would be a great sled for a rental fleet, new riders or young riders. I wonder if it can serve the needs of the junior racer like the 550 did though.
Ski-Doo narrowed up the Summit front end so the sled is easier to lay over on its side and easier to sidehill. These were the two main beefs with the sled. But there is also a Summit Freeride that uses the MX Z front suspension (trail width) and its meant for the freerider/backcountry guy who likes to do stuff like cliff drops and jumps. The Summit isn't as easy to ride as some of the other mountain sleds and it's not the lightweight king anymore, so its facing some serious competition. For a flatland sled I'd seriously consider buying a Ski-Doo, but it wouldn't be my first choice for a mountain sled.
Yamaha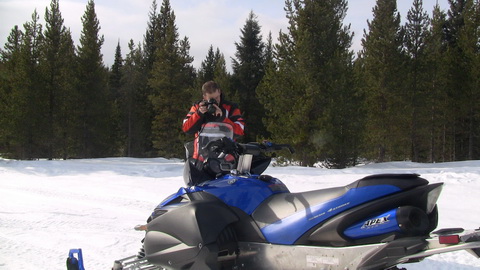 How do you make a really good trail sled even better? If it's a Yamaha Apex you put power steering on it and fancy exhaust valves. Exhaust valves on a four-stroke? Race cars have used them for years, so Yamaha figured why not put them on a snowmobile. They call it EXUP and basically it controls the exhaust pressure waves to create more bottom end, fatter mid-range and more top end. It works, and it makes the sled sound really cool too.
You don't think you need power steering on a sled until you have it. I'm not going to talk about the weight of the Apex because I don't think it matters. I'm as much into lightweight sleds as the next guy, but I give a pass to the Apex because it handles like a slot car, rides super-smooth and goes like stink. Is it heavy? Sure, but its also one sweet ride. The power steering? It just makes it sweeter and while it adds weight (and cost, more on that later) it results in a lighter feel. The steering has more assist at lower speeds and less at high speeds. It's seamless and it works. Period.
The early Apexes had so much engine braking they were hard to ride in tight, twisty trails. Power steering helps, but Yamaha put the EBRS (Engine Braking Reduction System) on the Apex and now riding the tight twisties nice and smooth are no big deal for the sled. You can now get the Mono Shock II skid with what is probably the biggest Fox FLOAT shock ever made (called, appropriately, the Mega FLOAT). The Mono Shock is one of the smoothest riding skids out there but it's slightly falling rate, so the big g-outs end up as spine tinglers. The FLOAT pretty much takes care of this since you can't really bottom a FLOAT. It's a nice addition to an already great suspension. Oh yeah, and there's a 128-inch track out back too, and that helps balance out the sled (to me, Yamahas seem to ride better with longer tracks).
The Apex is Yamaha's best trail sled and has been since it came out in 2006. Sure you're not going to go ditch riding or boondocking with it, but give me some nice trails and an Apex with a full tank of fuel and you're pretty much guaranteed a day of fun. But there is a catch, and that's the price tag. This is a lot of sled and it's loaded with technology. Also, of all the OEMs Yamaha has probably pulled back the most. They're building fewer sleds so they need to charge more. How much more? A standard Apex will set you back $13,999. You want the one with the FLOAT shock in the skid? How about $14,949. Yes, that's American.
As much as I like the raciness of the Nytro and the simple playfulness of the Phazer, I'd have a hard time shelling out the bucks for one of those knowing that for a few bucks more I could have the Apex that's sitting in the same row on the sales floor and would kick their asses ride-wise.