We're in West Yellowstone Montana with the worst snow conditions I've ever seen here. Regardless, the manufactures managed to come out with the best line-up of snowmobiles I've seen yet. Even though the snow conditions were a bit disappointing, this didn't stop us from getting some excellent evaluations, pictures, and from having a great time! Snow Shoot 2011 has brought to the table motors with unbelievable horsepower and torque, chassis that handle and perform to perfection, and suspensions that deliver ride and handling comfort that will make you a better rider. In a nutshell, no matter what type of a rider you are, there is a snowmobile out there for you. My job is to help you find that perfect combination.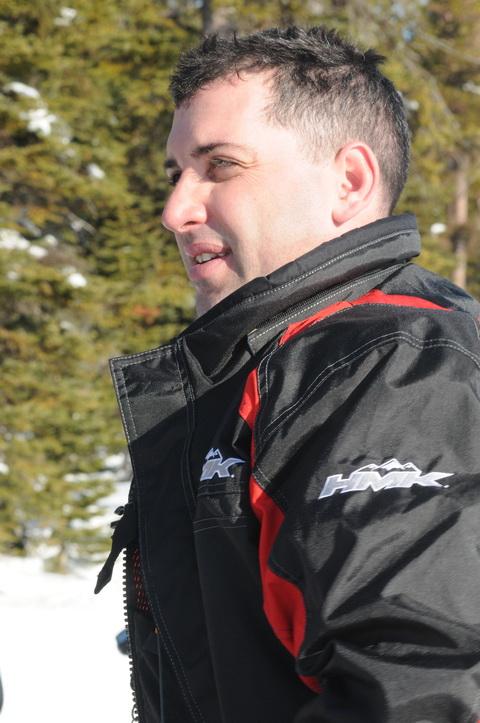 SKI-DOO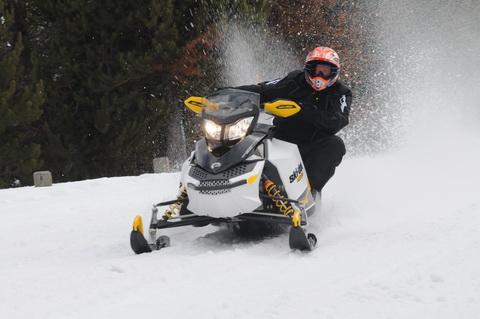 Big news from Ski-Doo is their power source. The all new 800 E-Tec and the intro of the smallest four strokes in the industry, the 600 Ace, are just two examples of how focused Ski-Doo is in the industry.  My first thought of the 600 Ace was, who are they going to market this to? In my opinion there was a segment missing in the industry for the beginner rider.  Yamaha did a great job with the Phazer but having children of my own and seeing them on the 120, the Phazer may be a little over powered for them. I'd probably start with the 600 Ace; then after a couple years, upgrade to the Phazer.  Ski-Doo also had this motor in a touring model which worked well for the site seer in West Yellowstone Park.
The 800 E-Tec is sure to please. This motor feels stronger than any other 800 on the market. If you group all the 800's together they all feel strong but this one is special to the point of smoothness, responsiveness, and you can tell that it's clean burning by initional startup and how it runs at various elevations. I didn't find any dead spots throughout the power band except on the Summit. I found a hiccup when I had it vertical, but this was only a fraction of a second and it came right out of it. For you Summit fans this motor rocks; however, I'm uncertain as to how you're going to pick your motor based on price and weight. The E-Tec is a few pounds heavier and cost more and the R is lighter and costs less. My vote is in the E-Tec  because you'll receive top performance in a wide range of elevation and it costs less to run. But again I know how concerned you mountain riders are about the weight of your sleds.
On that note the Summits have made improvements with their handling.  With the narrow ski stance, that made a huge improvement with side hilling and carving. Even with that improvement though, I still find them more difficult to handle than the M's or RMK's.
POLARIS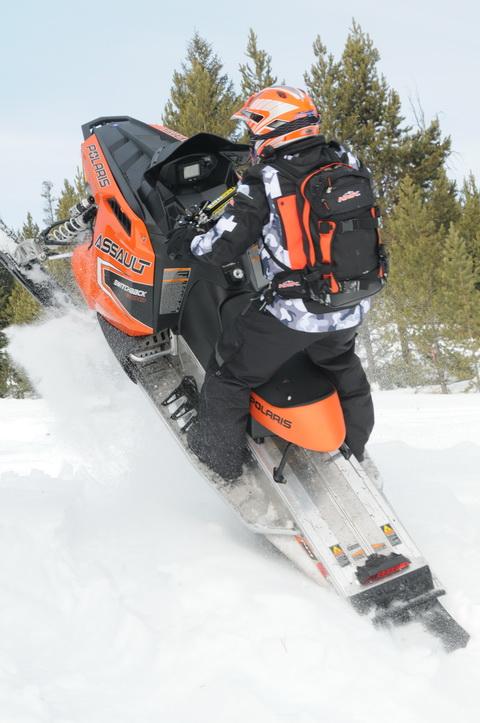 Exciting for Polaris in their 2011 models is their 800 motor, the RMK, and the Assault Switchback; not to forget the Rush series but the other three models are what stood out for Polaris in my mind. The 800 motor to say the least is strong and steady. I'm excited about this motor; it's no doubt going to compete with the rest of the 800's. For those of you that may be hesitant based on the past few years; don't be.  I spoke with Polaris's head engineer and this motor meets all the requirements and will be the final motor in the production sleds.  Trust me; you'll get the motor you've been looking for.
The RMK lineup speaks for itself. Rock Mountain KING! When riding these it doesn't matter if you're on the trail, boon docking, or conquering the steep and deep, it's sure to please! No matter what you do it seems it does everything with ease.
The Assault Switchback was everything I expected and more. I can't wait to spend more time on this. Matched with the 800 the performance and handling felt great. When I first seen this sled in January I didn't even have to drive it to know I wanted one. Then when I finally had a chance to ride the Assault my expectations were far exceeded.  I felt in more control with this sled than I did with the Rush. I think it has everything to do with setting up the rear suspension.  The Pro Ride suspension takes time to calibrate. First you have to set it to your weight, that's your starting point. Then you have to fine tune with your riding style along with how much inside ski lift you have and find that happy medium. Once you find that spot, it's great. But don't expect to achieve that out of the box from your dealer.  I also want to mention the new retro look is outstanding!
On a sad note Polaris feels that the future of four stroke snowmobiles is going to be short lived (on their end) and they're not going to be investing into that technology. We received this information from the intros and in talking with the engineers that we rode with at Snow Shoot. Polaris's main focus is to clean up the two strokes to achieve the performance you want. I guess I have to say it again this year; if you want four stroke look at blue, yellow or green.
YAMAHA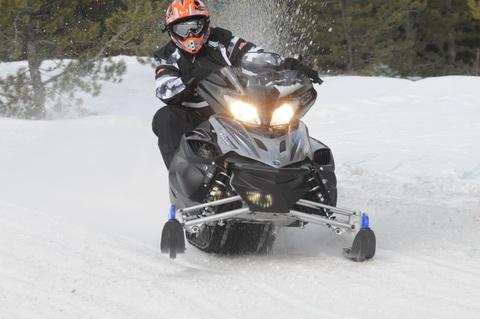 The big news from Yamaha this year is their Apex. This motor has crazy torque with amazing corner to corner acceleration. The first ever power steered snowmobile in the industry has again set the bar to a new height. The steering on this is so light you almost have to train yourself how to ride this because of the minimal feedback through your handlebars. When we first rode this in Wisconsin and we got to our destination (130 miles later) I wanted to ride more. It felt as if I had only gone 50 miles. It literally feels as if you disconnected the linkage. That's how easy it steers.
The performance from this new motor was increased from the new Exup (variable exhaust valve) technology. Along with that came a bigger air box for more air volume, new cam timing and many more enhancements to give you their top performance motor.
When you remove the hood and all the panels and look at the work and engineering that went into this sled, I would rate this sled as the most engineered high tech sled on the market today. Then you take a look of all the components from bumper to bumper and how all of it comes together, this is no doubt my top rated model in fit and finish.  If I could change one thing it would be the seat. I tend to always creep forward and find myself need to push myself back to where I am comfortable.
You can choose of three Apex models, the SE (full air ride), XTX (144" track), or the standard. My personal favorite is the Apex XTX. The reason being is the extra track length helps bridge the bumps, aids in traction and handles great on the trail. With this package you will find that you have a great sled with no doubt number one on reliability and dependability. Don't forget to go to your dealer to receive your free hat and voucher for the 4 year warranty.
ARCTIC CAT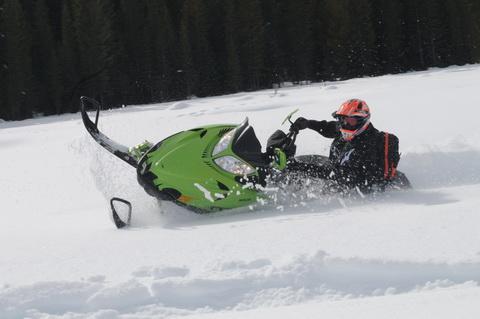 Arctic Cat took the most conservative approach this year by adding bold new graphics. We were told we could use those words because it's pretty much just that. But on their behalf I have to agree that it was a wise business decision. This doesn't mean that Arctic Cat is sitting in the easy chair. We we're told that they were "loading their ship" for 2012. Sounds exciting to me!
Arctic Cat has a great line-up with loads of technology. I do believe that they don't receive enough press about how well they ride and handle. The F's are dialed in when it comes to comfort.
The M series from Arctic Cat have really done well in this segment.  The 800 motor is strong and backcountry riding with this is done with ease. One feature that I want to point out again this year is the telescoping handlebars. This feature is the best. It's so easy to use and looks very clean.
WRAP UP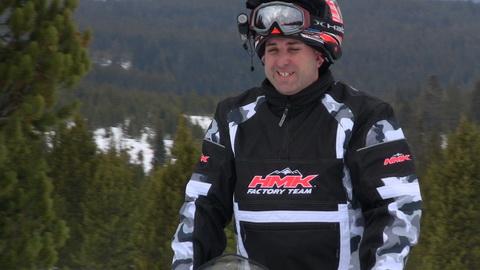 Snowmobiling has really changed in the last decade. The sleds have become higher tech, cleaner, great performers with some models having fairly good fuel economy, which has been a considering factor the last few years. One of the hardest things to digest is the price of these units. Where are they going and are they going to continue increasing in cost like they have the past few years? With the economy still in a slump and individuals and families watching where they spend every dollar, I would like to help educate you on the rising snowmobile costs.  A major factor is the government. The government set up the emission guidelines to clean up the snowmobiles and this by itself cost each manufacture millions of dollars for equipment and staff to achieve that number. In addition the exchange rate hurts us. With the weak US dollar this will affect the cost of new snowmobiles. I do believe that snowmobile price increases will slow down after 2012 because that would be the benchmark for emissions. All that being said, it's a great year to budget for a new snowmobile.