When spring arrives, I think of Easter eggs, fishing, no mosquitoes, grilling out, enjoying a beer and a cigar; but mostly it's seeing what the snowmobile manufacturers have to offer next season.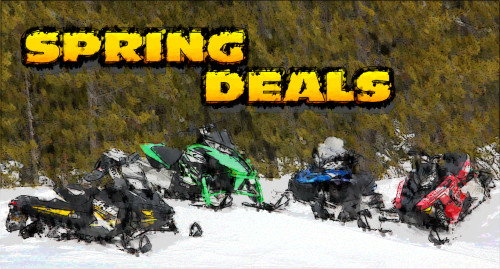 Spring also means ordering next year's models under the manufacturer's best deals and guaranteeing getting the sled you want instead of hoping your dealer ordered an extra one you can pick up in the fall. Spring Deals also give you things you can't get in the fall and each manufacturer has a unique deal to entice you to order theirs. Here's a simple breakdown of what each manufacturer has to offer this spring.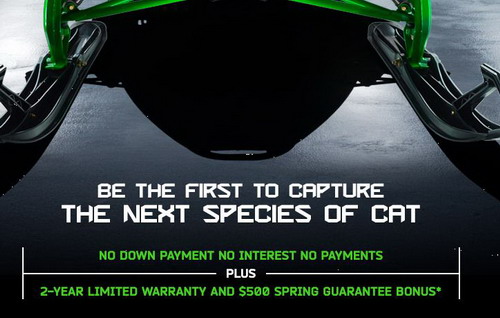 Arctic Cat
Deal ends: April 21
Arctic Cat is offering delayed financing with bonus warranty and a $500 Spring Guarantee Bonus. There is even a No Down Payment, No Interest, and No Payments program. Most of the Arctic Cat models qualify, except youth, race, or rental and special service models. One thing Arctic Cat isn't doing is offering spring-only models or color choices. The sweet White and Orange Limited is offered in-season, but I suspect there won't be too many of those come fall, so if you want one of those or the Retro color, I'd get your order in.
Check it out here.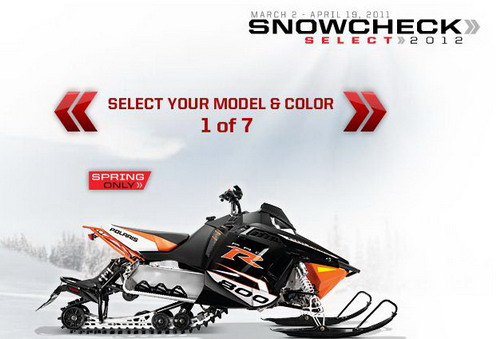 Polaris Snow Check
Deal ends: April 19
Polaris is a little more complex as they are offering special spring-only colors and configurations. It's enough to make your head spin, but you'll be guaranteed of getting the sled you want, in a model you can't get in the fall. They are offering additional side panels at discount prices so you can change your color scheme. One very cool thing Polaris is doing this spring is letting the consumer choose which windshield they want. You should have no complaints because there are 4 to choose from. Pro RMK buyers get a choice of seats; the narrower RMK seat, or the new wider and cushier Switchback seat. Other choices and incentives include electric start and track options. There are a lot of configurations available from Polaris on this program. You can build your sled online, print out the configuration and bring it to your dealer to order.
Complete details are available from Polaris snowmobile dealers and at www.polarisindustries.com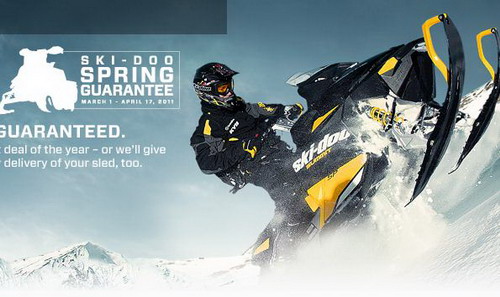 Ski-Doo Spring Fever
Deal ends: April 17
Ski-Doo is offering up to 3 year engine coverage or other incentives, plus some exclusive packages. The "X" packages, for instance, are available only in the spring. So is the new rMotion rear suspension, which is well worth ordering.  Ski-Doo is also guaranteeing that the price you pay in the spring will be the best price you get all year, or they will give you double the difference. That's a pretty good incentive. They also have a "Build Your Own" sled program on their web site where you choose the model, engine, suspension and color you want. Check out ski-doo.com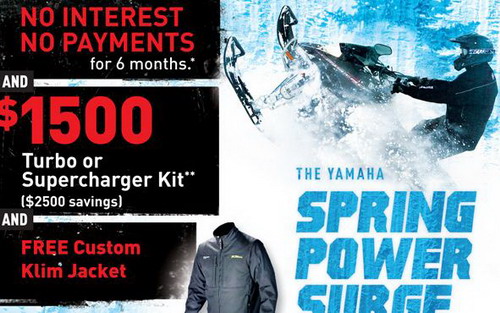 Yamaha Spring Power Surge
Deal ends: April 18
Yamaha brings back their Spring Power Surge with delayed financing and a 3 year extended warranty. Unlike the other brands, Yamaha's warranty is a full factory warranty and not transferred to a warranty service. Plus, you get up to $800 Customer Cash to purchase goodies for your new sled. If that weren't enough, any spring order gets a new custom Klim jacket.
Now if you're a mountain rider and want more power than you can probably handle, you can order a new Nytro MTX (pick a track length) and for an extra $1500, add either the Supercharger or the Push Turbo to the deal. That's a $4000 value for only $1500. Heck, even if you don't want all that power, if you're ordering a Nytro MTX, get the Supercharger or the Turbo anyway. It's the best deal going on a Yamaha MTX. Check out Yamaha's deals here.
Conclusion
Some restrictions do apply with all of these deals and we listed what is offered in the US. In Canada, there are some differences with these, so you'll have to check the Canada versions of the OEM web sites to get full details.
All of them have a special deal and while you may think that you can wait until fall and get a better deal, chances are you won't. The manufacturers have gone back to make the spring offers the best deals you can get when buying a sled. You'll get more warranty, more incentives (clothing and accessories), and in some cases colors you can't get in the fall. So head on down to one of the spring shows, touch and smell the new sleds, then go to your dealer and swing a deal. Let them know MaxSled.com sent you.