You might think that after 21,000 miles on a snowmobile, its way overdue to be traded in; or rather parted out. That's not what Nick Keller thought as he proceeded to add another 22,150 miles on that same snowmobile, a 2010 Yamaha RS Vector. There aren't a lot of manufacturers who can claim they have a sled that looks and runs as good after 43,000+ miles on it, but Yamaha can. So is it time to upgrade the record setter? That's up to Nick, but Yamaha makes it tempting next year with one addition to their RS Vector model; power steering.
You knew it was coming. After all, the Apex couldn't keep this feature all its own. Yes, that's the big news for Yamaha on 2012, but not the only news, so read on.
Apex (3 models)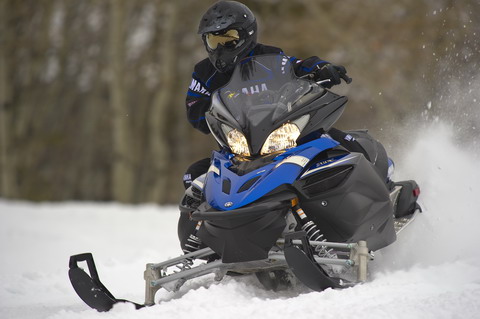 Last year Yamaha retooled the Apex and added EPS (electronic power steering) and EXUP exhaust. When we rode it last year, we really felt the added power, now 162 horsepower, from the Genesis 4-cylinder motor. This motor is the smoothest of all the 4-strokes on the market, and has the best sound as well. The seat was raised 2-inches and suspension geometry was improved. For 2012, Yamaha has also changed the geometry of the front suspension for even better handling. A new ski adorns the Apex (and other models) this year. They are still testing it so we don't have all the details, but we'll let you know when we find out.
The Apex line is available in three (3) models; Apex, Apex SE, and Apex XTX differentiated by shock and rear suspension packages.
RS Vector (2 models)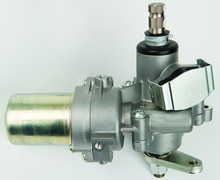 Back in December I predicted that the RS Vector would come with power steering and EXUP. Well, I was half right as they didn't do the EXUP, but really it wasn't that big of a stretch. It seems only natural that the RS Vector gets EPS since it wouldn't take a lot to upgrade the chassis to fit it in. So that's what you get with the RS Vector, plus you get the super-responsive and ultra-performance 128+ horsepower triple cylinder Genesis engine that gets great fuel economy. But there are other updates as well, like a new Mono Shock II CK rear suspension, HPG aluminum body shocks, the upgraded front suspension geometry and ski, and a new mid-height windshield.
The RS Vector comes in two models; RS Vector and RS Vector LTX.
FX Nytro (5 models)
The FX Nytro is Yamaha's ditch, trail, boondocking, mountain hybrid and comes in five flavors this year. They've improved the seat foam and added a single piece extrovert drive sprocket under the tunnel. A new ski will be on both the flatland and mountain versions and the RTX gets a brand new Camoplast Rip Saw II track that has a new lug design, open windows and is fully clipped. The FX Nytro is equipped with a higher performance 3-cylinder Genesis engine cranking out over 130+HP.
It is available in five models: FX Nytro, FX Nytro RTX, FX Nytro XTX, FX Nytro MTX 153, and FX Nytro MTX 162.
[ad code=4 align=center]
Phazer (3 models)
The Phazer continues to be one of our favorite fun-factor sleds to ride. It has the best ergonomics of any of the Yamaha sleds, it's quick and responsive and just plain fun to ride. The smaller lightweight twin 4-stroker puts out about 80HP. The only notable change to the 2012 Phazer is the addition of replaceable bearing wheels. It is available in three models: Phazer GT, Phazer RTX and Phazer MTX.
RS Venture/Venture (3 models)
The RS Venture GT is the best touring sled Yamaha has developed over the last decade. Yes, the standard RS Venture is a decent machine (which is now a mid-level touring model), but the GT version brings with it much better ergos, better styling and now EPS. Yes, this is good news because anyone who rides two up knows that steering with two people on the sled is more difficult than with one because you sometimes cannot get the leverage you need. The GT also gets some of the other upgrades like the updated front suspension geometry and new skis, as well as HPG aluminum shocks in the front. The GT also has the newer fuel-injected 3-cylinder Genesis engine.
The RS Venture continues as a price point mid-level touring machine with the older carb version of the 3-cylinder Genesis engine that we've gotten over 20MPG with during our season long test of the 2005 Rage.
The Venture Lite continues as a comfortable sport touring model with the 80HP 2-cylinder Genesis engine.
VK Professional
The VK Professional has one goal in mind that coincides with the rest of Yamaha's lineup; get you in and out of the woods safely and reliably. This year the VK comes in a gorgeous Candy Red color.
Yamaha's lineup is pretty simple. While some of the other brands seem to offer too many choices, you can pretty much pick a Yamaha that will fit your riding style. They pretty much have an engine for each chassis and they've done a decent job of matching the performance with the models. So for 2012, Yamaha has incremental upgrades. That's a good thing, because it keeps the value of the older models up there. That is, unless you're Nick Keller, in which case the value of the 2010 RS Vector he just put 43,000+ miles on in the name of raising money for cancer patients is priceless.