Arctic Cat is constantly at the forefront of race development and has a winning history that's as long as the company is old. As a result of their relentless testing and focus on building the most well-rounded race sled, a fine-tuned 2013 Sno Pro 600 will stick it to every competitor where it counts; with improvements to durability, precision cornering and unmatched suspension control.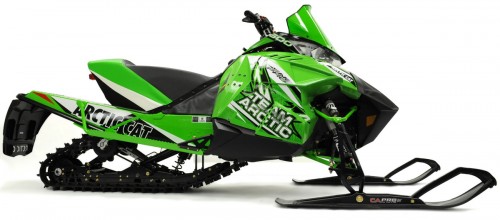 Listed below are the winning key features of the 2013 Sno Pro 600 in the ProCross chassis. In addition, please read the list of updates that our racers have been raving about while testing in the off-season:
600R race engine with Heated 40mm Mikuni rack style TM carburetors w/TPS
Front Arctic Race Suspension (ARS) – with Fox Float X Evol Shox
Race Slide Action rear suspension equipped with Fox Racing Shox
1.7-in. Snocross track or 1.25-in. Cobra 2-ply Cross Country track
Arctic Drive System (ADS) with magnesium chaincase and Torque Overload Sensing (TOS) bottom sprocket
Torque Control Link (TCL) – Links the drive to the driven clutch
Radial Master Cylinder brake system
5-gallon Snocross or 13-gallon Cross Country fuel tank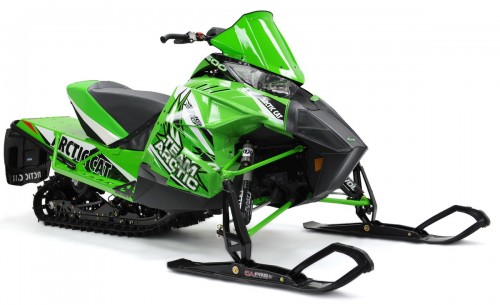 2013 600 Sno Pro Race Sled Updates
New Chassis Geometry – The added ground clearance improves predictability through the huge holes and allows the rider to attack the track with more confidence, all while scrubbing less speed.
1.35" added ground clearance at foot pockets
Flatter running board angles
Single layer .080" thick tunnel for increased strength
New rear suspension mounting positions give track drive more ground clearance
New front suspension/steering geometry
Improved caster angle
Increased ski stance to 43.5" (1.2" wider than 2012)
New steering ratio for sharper turning radius
New ski damper loads rear of ski for improved handling
New front arm shock eyelet for improved durability
New rear suspension – Both the front and rear suspension changes will improve the ability of the driver to steer and control the sled while on the gas.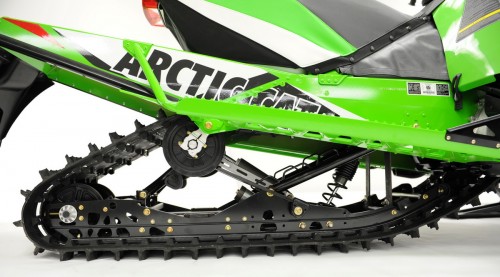 Front arm mounting position moved rearward 2" to improve transfer control
Increased Front arm suspension travel by approximately 1"
Added strength to both front arm and idler arm for improved durability
New Torsion spring for increased preload
New rear coupling position, give a wider range of usable adjustment
Drive system updates – Last season Arctic Cat's all-new Torque Overload Sensing (TOS) Bottom Sprocket found in the magnesium chaincase worked flawlessly to save the drive system from the pounding of harsh terrain. 
New PTO engine plate for added durability
Increased stiffness in engine mounts for added durability
Modified dropcase for increased strength
New lightweight/high strength track drive shaft
New driven shaft with increased durability
New drive clutch spring
New drive belt
Brake system – Updates to the brake system will give the driver a more positive feel and control throughout the race.
New brake caliper and disk
Increased fastener size holding caliper halves together to decrease flex
New deeper pistons to eliminate caulking
Machining updates to improve bearing retention
Increased ports for improved flow
New seal groove for improved piston retraction
Other Items
 Heated 40mm Mikuni rack style TM carburetors w/TPS
New 1/4 turn assembly, hood pin, and hold down strap to secure side panels
Added thickness to Snocross snow flap for increased durability
Modified front heat exchanger engine mount bracket for increased durability
Updated wire harness for improved routing
New throttle cable with increased temperature rating
New choke cable added
Snocross seat has narrower (1.5-in. each side) leg profile than Cross Country seat
Snocross has low-height windshield and Cross Country has mid-height
C&A XT Snocross or C&A ADX Cross Country Ski  (Carbides NOT included)
New Team Arctic Green color
 Watch for this new sled on the track this season!