There are only a few days left to take advantage of each of the OEM's spring promotions. Each year Arctic Cat, Polaris, Ski-Doo, and Yamaha offer the best deals to get you into a brand new 2014 sled next season. We've had a tremendous winter season and the manufacturers have streamlined their builds. We anticipate next season to be similar in snowfall to this winter, so don't hesitate to order your new 2014 sled. If you want the best deal, better than any of the deals you'll get in the fall, visit your favorite brand dealer and get yours set aside. Here's what they each have to offer: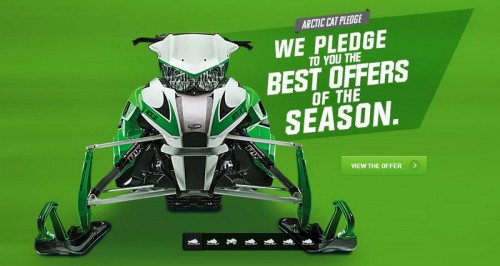 Arctic Cat's Pledge promo is on every model. The hottest model will be the El Tigre with the brand new 600 2-stroke. Don't wait until fall to buy this one, you may not find one. They are offering 6.9% financing for 60 months U.S. (or 5.99% in Canada), 2-year limited warranty, $500 in Cat Cash, and a Free 1-year membership to the Cat's Pride Club. This is not a complicated offer, and you'll be guaranteed the model you want.
Offer ends: 4/20/13
---

Polaris's Snowcheck Select promotion gets you custom colors and factory installed options that you won't get in the fall. Years ago dealers would order some of the popular models and you could find them on showroom floors. Today dealers are cramped for space and budgets are tight, so if you don't order one of the special spring models now, you won't get one in the fall.
In the U.S., Polaris offers you a choice of either a 4-year Polaistar warranty or a 2-year warranty plus $600 in Polaris gear. They are also offering zero-percent financing for 12-months to get you started.
In Canada, they are offering 0% financing for 36 months, or a 3-year Polaristar warranty or 2-year regular warranty plus  up to $1000 in gear.
Offer ends: 4/23/13
---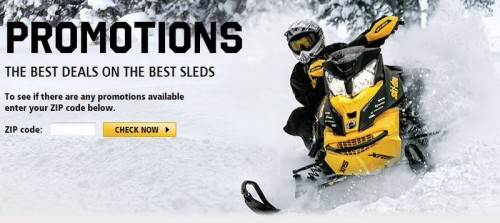 Ski-Doo's Spring Fever is the only time you can order any "X" model. These are highly coveted models with better shocks and "X" graphics. In the U.S. Spring Fever gets you 2-year engine coverage plus one of several options, including an extra year of engine coverage, free rMotion Quick-Adjust system, free wrap kit, free electric start, or a promotional financing option.
In Canada, you get everything that is offered in the U.S., except the financing option, and a different promotion on the Summit and FreeRide models.
Offer ends: 4/16/2013
---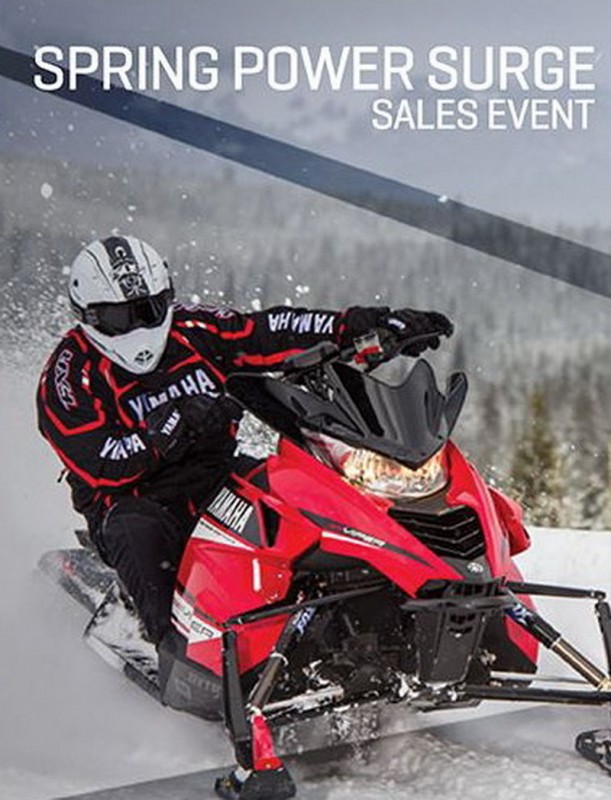 Yamaha's famous Spring Power Surge includes all models. You may be able to pick one of Yamaha's sleds up in the fall, but you won't get the Power Surge 3-year warranty, your choice of a Yamalube Care Kit, Viper Jacket, Roller bag, or the 2.99% 60-month financing. You also might not get the hot new SR Viper because we anticipate these going fast.
In Canada, you'll get a 2-year warranty, 6.49% financing, the Yamalube kit, and the Outlast jacket plus the roller bag.
Offer ends: 4/15/2013
---
There are some differences between the U.S. and Canadian offers, and each country has it's own rules, so see your brand's dealer for details, or check out the OEM's web sites. Hurry, because these deals end on the dates shown above.