Arctic Cat's passion for snowmobiles comes from the heart of the people who work at Arctic Cat. Some of the OEMs see people come and go, but Arctic Cat has a long history of employee dedication. There have been people who have been part of Arctic Cat since the early 1970's who are still there and still influence the brand and technology.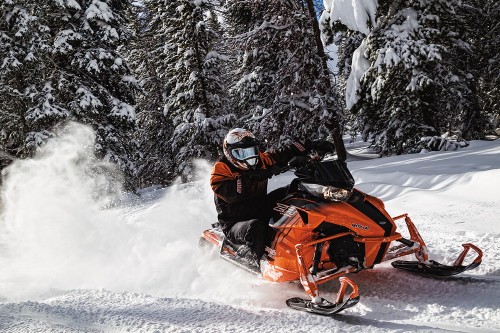 For 2014, Arctic Cat brings back some of the root branding that made the company it is today. The ZR name is back, which has been synonymous with the Arctic Cat team up to the F-series. ZR is Arctic Cat. El Tigre is another classic name that Cat has branded well up into the 1980's, and you'll see that name again in 2014. Series nomenclature has been brought back with the "thousand" series again. You'll see 6000, 7000, 8000 and 9000 series sleds, designating engine classes. And you'll also see two new engines in the mix, one of them provided by Yamaha, which was released last week.
New Engines
Arctic Cat will finally release its much anticipated 600 2-stroke engine. We've speculated about this engine before and it's finally arrived. The 6000-Series C-TEC2 599cc 2-stroke engine features Dual-Stage Injection and batteryless EFI. The dual-stage injection sprays fuel and oil through a slot in the piston, and also on top of the piston. Fuel is fed through transfer ports and added to the fuel already in the combustion chamber. This does several things including lubricates the piston bearings and creates an efficient fuel charge.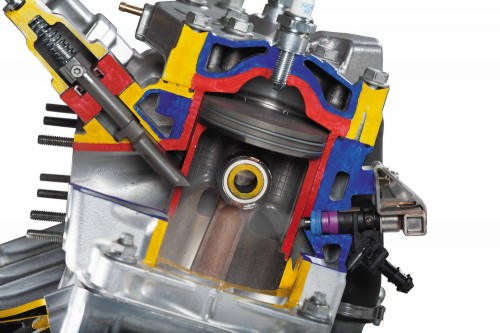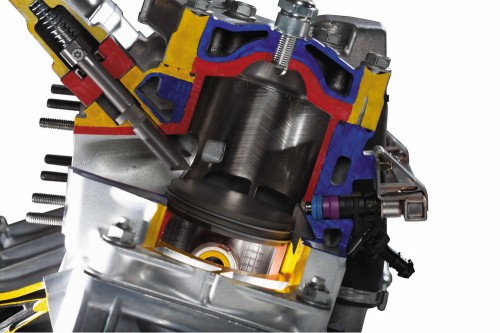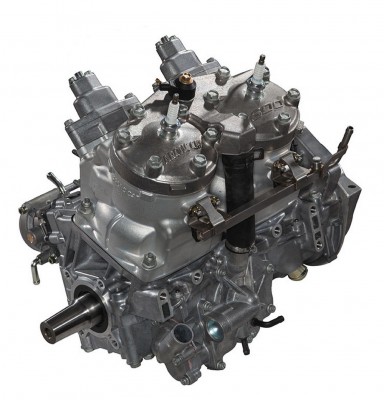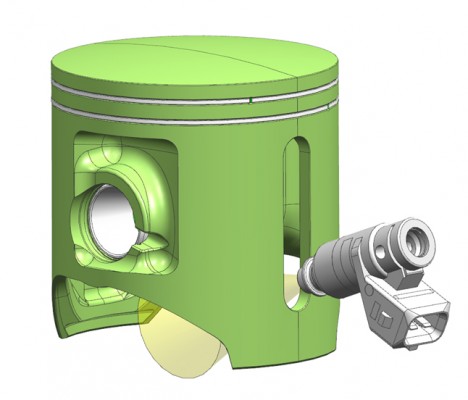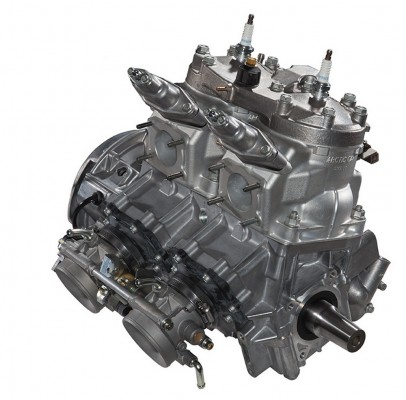 Other features of this engine are electric oil pump, electronic APV exhaust system, Exhaust Pipe Temperature System, knock sensor, and engine reverse technology. It meets Tier III EPS regulations for emissions and is compact and light weight. This engine is found in only one model in 2014, the El Tigre 6000.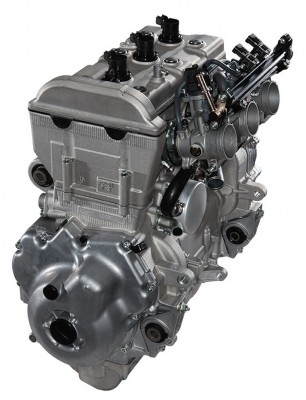 The second new engine Arctic Cat is introducing is the 7000-Series C-TEC4 1049 Engine by Yamaha. This is a similar motor found in the new Yamaha SR Viper, but utilizes Arctic Cat's electronics and mapping, and Arctic Cat's clutching system. Otherwise it is the same proven quick-revving Yamaha 4-stroke engine.
Ergonomic Improvements
For 2014, Arctic Cat has improved the seating position on the ProCross chassis by adding more foam in the seat. The front of the seat has 43mm more foam height while the saddle area has 33mm more foam. This gives the rider more comfort and helps them to stay in place and not feel like they are sliding toward the cowling.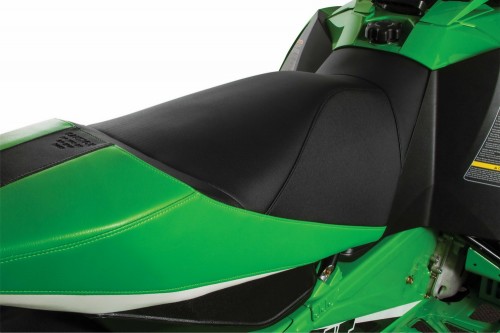 A new Deluxe Digital Gauge is on all ZR 6000, ZR 7000, and XF 7000 models with two displays and several display options. You can set it to display speed, RPM, maximum RPM, clock, altimeter, odometer, hours, Trip 1 and Trip 2, coolant temperature, exhaust temperature, intake air temperature, voltage, and fuel level.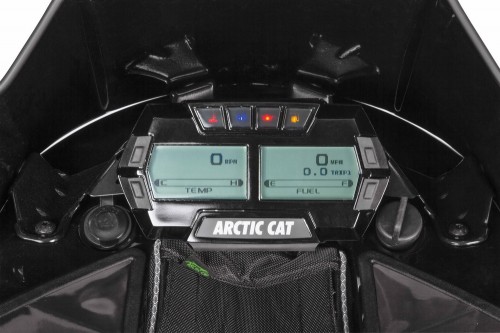 On the ProClimb chassis, most 2014 models is a new driven clutch sheave featuring larger cooling fins that reduce drive belt temperature for improved performance and durability. The 10.75-in. diameter design allows a lower engagement ratio/speed for smoother take-off.
Also on select M-Series models, a new seat becomes 5 inches shorter at the back and 1.5 inches lower across its length.
ZR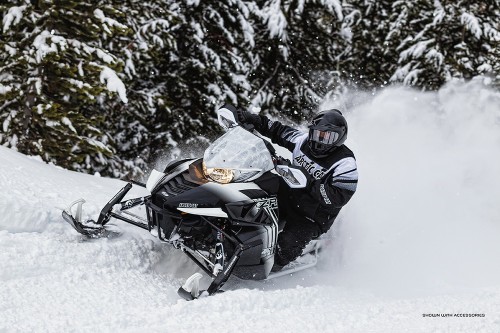 The ZR is the new F. ZR has been in Cat's blood for decades and we don't know why they even went away from it. For 2014, it is available in several packages.
ZR 5000 is the only model with the naturally aspirated 1100cc 4-stroke Suzuki engine. It features lightweight ski spindles, IFP rebuildable shocks, new race-version master cylinder on RMC hydraulic brakes, new FastTrack Slide-Action rear suspension geometry, new seat foam, and new driven clutch sheave with larger cooling fins. It features the 15x129x1 RipSaw II track. Heated electric seat is standard.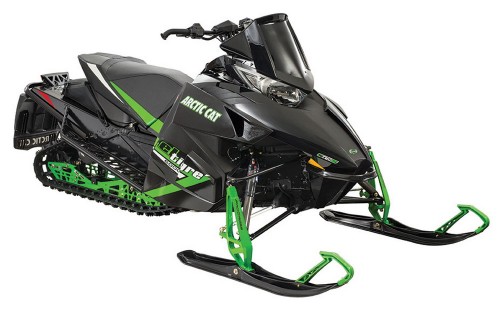 ZR 6000 El Tigre is the only model with the new C-TEC2 600 2-stroke engine. It features the lightweight spindles, new brakes, updated FastTrack Slide-Action rear suspension, new seat foam, and Fox Float 3 ski shocks.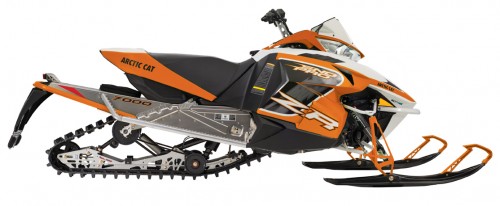 ZR 7000 is the Arctic Cat/Yamaha hybrid that features the C-TEC4 Yamaha 1049cc 4-stroke engine. Technology is similar to the SR Viper, and this is basically the same sled, but with more Arctic Cat DNA. It utilizes the Arctic Cat clutches and Arctic's own package configurations. The LXR has rebuildable IFP shocks, heated seat and mid-height windshield. The Sno Pro has Fox Float 3 ski shocks and low windshield, and the Sno Pro Limited incudes a heated seat.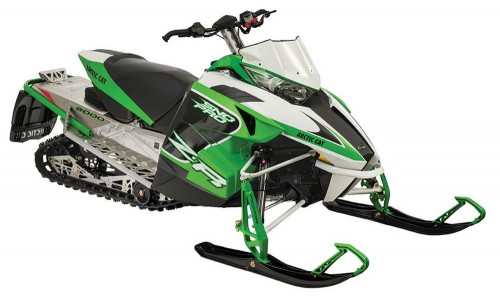 ZR 8000 has the Suzuki 800cc 2-stroke engine and is available in the LXR, Sno Pro, and Sno Pro Limited as well as a Sno Pro RR package.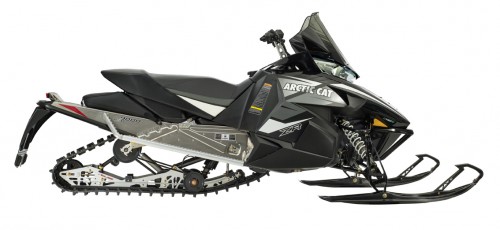 ZR 9000 Turbo has the Suzuki  C-TEC4 1100cc Turbo engine and is also available in the LXR, Sno Pro, Sno Pro Limited and Sno Pro RR packages.
Finally the little Z-120 is the new ZR120. It also is a Cat/Yamaha hybrid.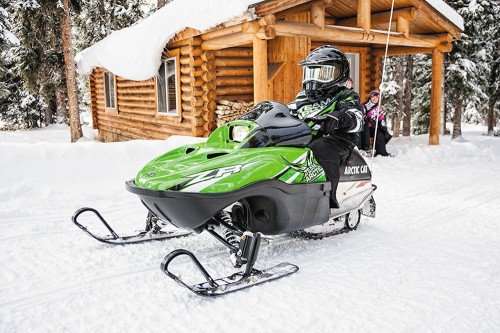 XF
The XF is available in both the ProCross and ProClimb chassis. Some riders like the longer track and do a little off-trail riding while others like the longer track for more off-trail while doing a little trail riding. The XF in the ProCross is available in the XF 7000 with the Yamaha engine, XF 8000 with the 2-stroke 800 engine, and the XF 9000 Turbo. Each comes in the LXR, Sno Pro or Sno Pro Limited packages. These have the 137-inch track and suspension.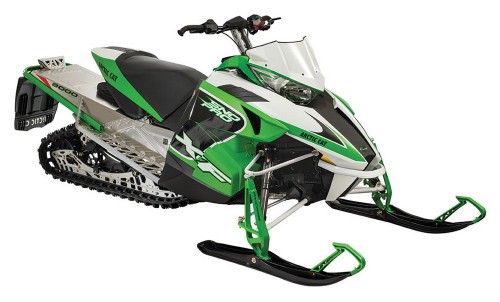 The XF in the ProClimb chassis has the longer 141-inch track and suspension and comes in a more tour friendly Cross Tour package or a more racey Cross Country package. Each comes in the 7000, 8000, and 9000 Turbo series.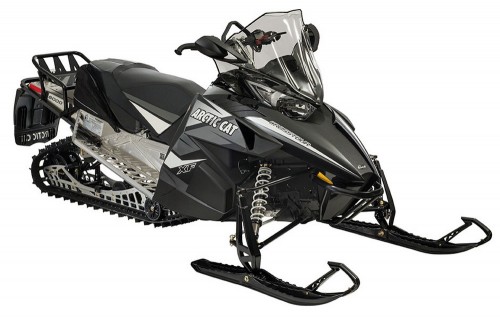 F-Series
For the entry level, the F5, F570 and Sno Pro 500 return.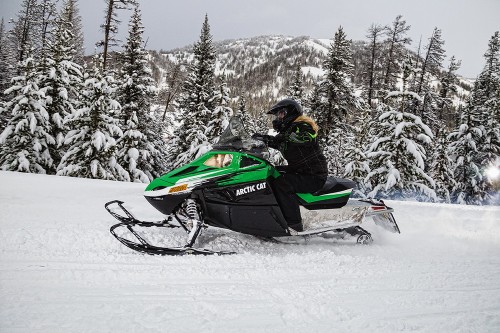 Touring
There are only two touring models for 2014. The T570 with the 570 fan-cooled 2-stroke engine, and the TZ1 in 3 packages; TZ1, TZ1 LXR, and TZ1 Turbo LXR.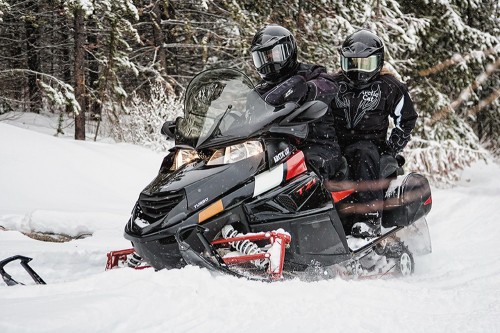 Bearcat
Arctic Cat's Bearcat models have become quite popular utility sleds. The 570 is the entry model that gets the basics done, the Z1 includes the 1100cc 4-stroke engine, and Arctic Cat's very own Z1 Groomer Special has loads of utility features not found on any other utility sled from any manufacturer.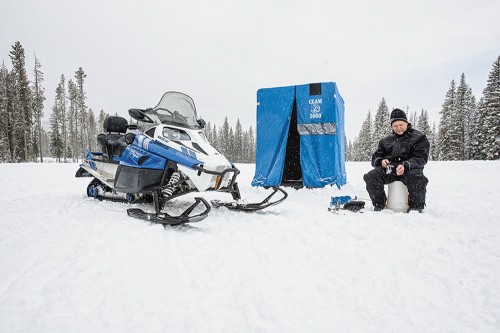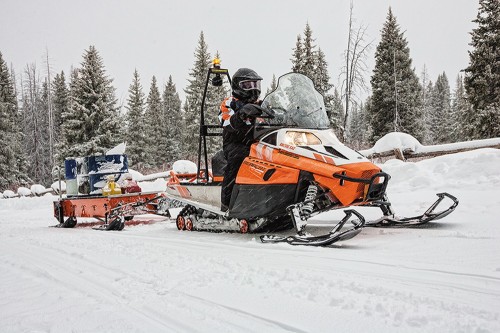 M-Series
Arctic Cat keeps their mountain lineup simple as far as engine choices. Here you'll only find the 8000 series 800 2-stroke, and the 9000 series 1100 Turbo. Track lengths are also simple at either 153 or 162. They do offer different packages including the base package, HCR, Sno Pro, and Sno Pro Limited.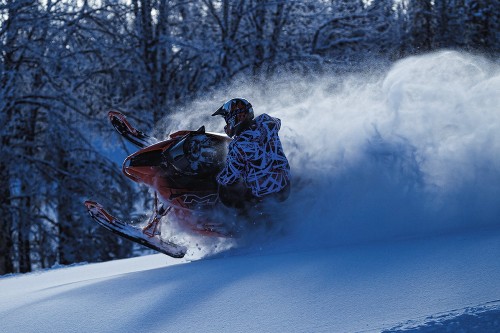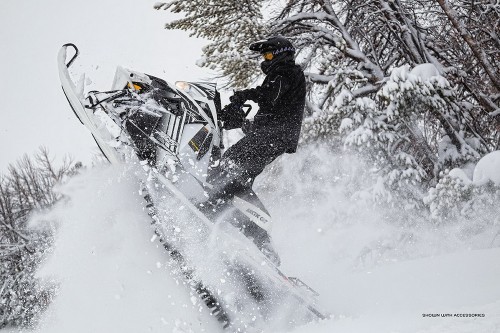 Conclusion
Arctic Cat has brought a lot of new and exciting stuff to the table in 2014. Yamaha kind-of stole the thunder when it comes to the engine/chassis marriage, but Arctic Cat has their own configurations of this new hybrid. What's cool is that whether you are a Yamaha or Arctic Cat loyalist, you would be happy with either one.
They also introduced a brand-new, much anticipated 600cc 2-stroke engine. While it is only found in one package, that package is a very cool classically named El Tigre, and should prove to be a winner.
Finally, Arctic Cat is bringing back the branding roots that made them Arctic Cat by naming their engines in thousand series and bringing back the ZR badge. These are all great things Arctic Cat is doing in 2014.