It becomes the most anticipated time of the year for snowmobilers. Well, maybe the second most anticipated, as the first rideable snow is the first. But snowmobilers always look forward to the time of year when the next models are released. The anticipation of 'will the Mach Z finally arrive' and 'is the Yamaha/Cat relationship a one-year wonder' occupies our winter-fatigued minds.
While we cannot answer those questions, we do know one thing; when the media can reveal the new models to the public. In the past these dates haven't stopped rogue web sites and dealers from releasing information before the official media announcements, nor has it stopped the OEMs from taking the privilege of releasing information on their own. As media, we sign agreements that bar us from releasing information prior to the embargo date and time on our contract. We can't even hint, which is why we write our prediction article soon after the first of the year long before we actually have seen the new stuff.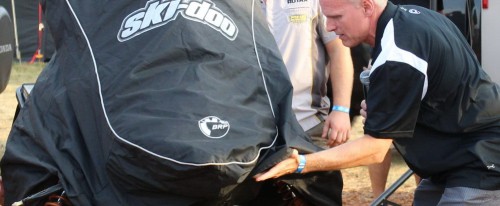 Well, we have now seen it and all that information is tucked away safely to be revealed the following dates and times (at least by us).
Yamaha – February 11, 10AM CST
Arctic Cat – February 19, Midnight CST
Polaris – March 2, 9PM CST
Ski-Doo – March 4, 9:59PM CST
The past years prove that we may not be the first to reveal these models because while we've signed the embargo agreement, the OEMs reserve their rights. But we do offer our spin and opinions on what and why certain models are released and others not, and we know snowmobilers love information. So check back on the above dates and read OUR release of the new models.