Cross-Country & Hillclimb Racers to Use Sleds Featuring AXYS® Chassis
Optimism for a winning 2015-2016 race season runs high throughout the Polaris Snowmobile Racing program thanks to an infusion of new young talent in the Pro snocross ranks, the winning momentum of cross-country racers on Polaris-exclusive AXYS® sleds, and the fact that already-dominant Polaris hillclimbers will have the performance advantage of racing on sleds built on the all-new AXYS® RMK platform.
Polaris snowmobile racers won from Alaska to Quebec last winter and they're focused on winning more features, major races, and points titles this coming winter.
"It's extremely competitive in every racing discipline, but we feel we have the teams, racers, and outstanding Polaris race sleds to win our share this winter," said Polaris Snowmobile Racing Manager Tom Rager, Jr.
The 2015-2016 snowmobile racing season kicks off on Thanksgiving weekend with the snocross season opener in Duluth, Minnesota, and runs through April, when the final hillclimb events are held in the Rockies.
Snocross: Pro Lite Racers Step Up to Pro Ranks
The Polaris ISOC National snocross ranks have been infused with fast, young talent for the upcoming winter.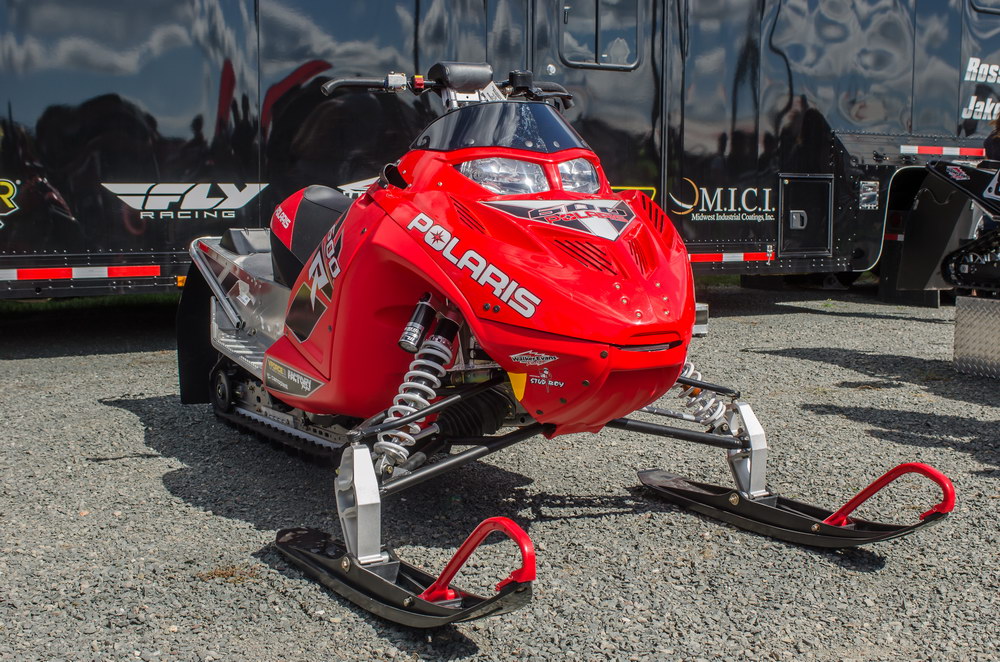 "We made some big changes in our Pro Open lineup with three Pro Lite guys moving into the Pro Open class, something we have never done before," Rager said.
Andrew Carlson (Carlson Motorsports), Trevor Leighton (Leighton Motorsports), and last season's ISOC Pro Lite champion, Ryan Springer (Carlson Motorsports), are all moving up to race in the Pro Open class. Another newcomer is Swedish champion Petter Narsa (Hentges Racing), who will race on Polaris sleds for the first time in his career and will race full-time in North America.
"We've got eight full-time ISOC Pro Open riders," Rager said. "The new guys have all shown that they've got the speed to be in Pro Open, and we've got four guys returning who are proven veterans."
Returning are Kyle Pallin (Team LaVallee), who finished third in ISOC Pro Open points last season; Ross Martin (Judnick Motorsports), who finished fourth; Corin Todd (Leighton Motorsports), eighth in points; and Kody Kamm (Hentges Racing), who was ninth.
"Those [veterans] are so solid, you can count on those guys every weekend," Rager said. "It's a nice luxury for us to have those guys who are rock solid to anchor this new crop of Pro Open riders we're bringing in."
Sno-Cross Sled Key Features:
Walker Evans Racing Shock Package
IFS shocks: Front track and rear track shock are Walker Evans Aluminum IFP Adjustable Shocks with Piggyback Reservoirs
IFS shocks and rear track shock are high/low/rebound adjustable with 28 low speed positions, 22 high speed positons and 16 rebound positions of adjustability
Front track shock is high/low adjustable with 28 low speed positions and 22 high speed positions of adjustability
Clickers on each shock are in isolated positions for easy adjustment without affecting one another
IFS shocks have a 2″-diameter shock body, up from 1.75″; the increased area reduces internal pressures resulting in improved shock performance
IFS travel is 10.3″ (26.1 cm) and rear suspension travel is 13.9″ (35.3 cm)
The shock designs let teams make changes quickly on the track and at trackside between motos
128″ Rear Suspension
Polaris 128″ rear suspension with 128″ track provides outstanding traction
Increased torsion spring rate
This setup delivers outstanding holeshots, better stability in whoops sections, and improved cornering
This rear suspension tracks straighter in the whoops sections, and helps minimize ski lift for enhanced turning
The track is an aggressive 15″ x 128″ x 1.75″ Sno-XT track
Proven Polaris IQ® Chassis
The 2016 IQ Race Sled is built on the strong, durable, lightweight Polaris-exclusive IQ® Chassis
Advanced assembly techniques minimize sled weight and the number of parts used
Design, materials, and manufacturing processes provide maximum strength and durability
Polaris Liberty® 600 Engine
Liquid-cooled 600 twin delivers best-in-class acceleration for outstanding holeshots
Engine delivers impressive horsepower across the entire RPM range
Twin Mikuni Rack TM 40 carburetors
NiCaSil-lined cylinders for efficient heat dispersion
Polaris VES (Variable Exhaust System) for maximum power and instant throttle response
Sled uses legendary Polaris P-85 drive clutch and Lightweight TEAM® Roller driven clutch
Lightweight Crankshaft
Has a 2.5-pound weight reduction in rotating mass compared to the previous crankshaft
Inertia is reduced by 25%, and throttle response and acceleration are enhanced
This all adds up to improved holeshots and the engine reaching its optimal operating RPM faster
Premium Brake Pads
Hayes® Type 126 brake pads deliver consistently reliable braking as brakes heat up during racing
They also help to extended brake pad life
Liquid-cooled brake system uses Cyclone master cylinder and "Phantom" dual piston caliper
NEW 2016 Racing Graphics
New racing paint scheme features: red hood, side panels and front skid plate; black low windshield
Racing seat is black and red with Polaris graphics
Hood and side panels feature Polaris 600 R graphics
Cross-Country & Enduro: AXYS Platform a Winner
Polaris cross-country racers used sleds built on the AXYS platform for the first time last season. They won races and learned a great deal about how to set the sleds up for racing.
"The AXYS chassis worked great last year, and Ryan Faust won the Pro final at the USXC season opener on an AXYS," Rager said. "But since it was brand new for our racers, we had a steep learning curve. Our racers did a great job adapting to it, and we'll be even more competitive this year."
He noted that the AXYS sleds raced in USXC cross-country events were virtually stock sleds just like what's available at Polaris dealerships.
"It's a showroom piece," he said of the RUSH® PRO-S models. "Other than some different spring rates and valving changes for particular riders, it's a showroom stock sled."
Polaris Racers Scott Faeo & Eric Quam won the 2015 Iron Dog cross-country race across Alaska on a pair of 600 Switchback® models built on the new AXYS platform. Polaris teams dominated the grueling Iron Dog as they finished first and third, and earned six top-10 spots.
Quam is taking this coming winter off to attend to work and family commitments, Rager said, but he will still be working closely with Faeo, who will team with four-time race winner Marc McKenna in the 2016 Iron Dog. McKenna teamed with Allen Hill to finish third on AXYS Switchback models in last winter's race.
Rager said Polaris enduro racers competing on the MIRA circuit, in the No Bull Triple Crown, and at the Soo I-500 will once again race on the Polaris IQ® Race Sled equipped with a special Soo suspension kit.
"Each year we try to make a couple tweaks and improvements to that package," he said. "Last year we felt we made some changes that were beneficial but they didn't get to show up because the Soo got cut to half-distance. The changes we made didn't get a chance to show up, but we hope they will at this winter's Soo."
Hillclimbers: Dominant & Armed With New Sleds
Polaris hillclimbers have dominated the RMSHA circuit for several seasons, and they can approach the coming season with optimism because all the top Polaris racers return, and they will be racing on new AXYS® RMK® sleds.
"We had some racers test with the new sled last spring and they absolutely loved it," Rager said of the patented raised chassis that delivers instantaneous lift. "It should be even more fun this year to take this new, improved chassis and go do battle. Plus, it's the same sled any consumer can go buy off the showroom floor."
Polaris hillclimbers won 11 of the 12 Pro RMSHA points titles last season, led by Luke Rainey, who had his best season ever and won four titles. David Sharp, Jr., and Erin Beukelman won two classes each, and Justin Thomas, Keith Curtis, and Aaron Sterck won one title apiece.
Ovals: Gearing Up for a Rebound
Polaris oval racers were not satisfied with their success on several oval circuits and at the Eagle River World Championship Snowmobile Derby last winter, and they're all eyeing a return to the top of the podium this season.
Leading the Polaris oval effort are Dustin Wahl and Jordan Wahl (both Jimmy John's/Wahl Bros/Polaris Racing), Matt Ritchie (Ritchie Motorsports), and Nick Van Strydonk (T&N Racing), the 2012 Eagle River world champion.