Yamaha has always been in a league of their own, and Yamaha riders are much the same way. The smell of two-stroke oil exhaust nearly nauseates Yamaha riders, and if you can't just turn the key and go, you are wasting trail time. Say what you want about the other brand riders, Yamaha riders are among the most brand loyal they come, and with good reason. Yamaha's 4-stroke.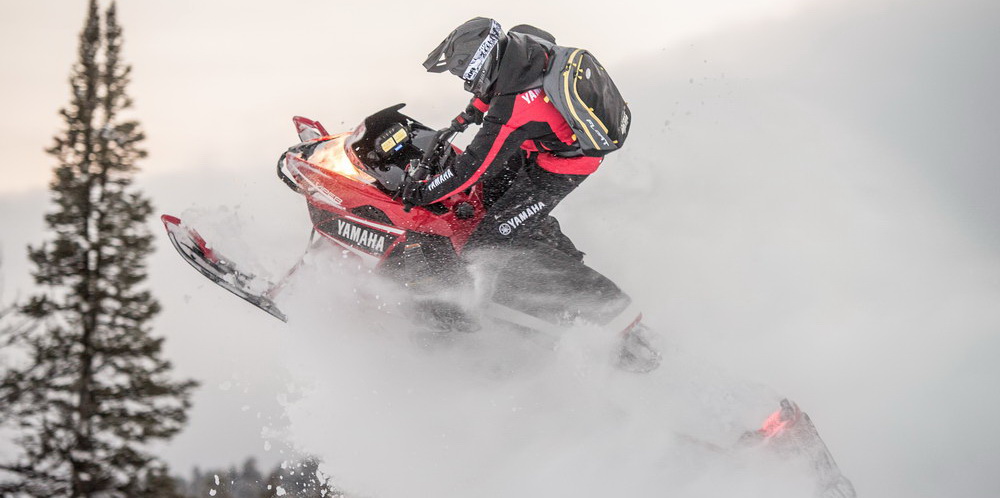 If you thought Yamaha was slowing down or taking a year off, you thought wrong. Yamaha engineers have been burning the midnight oil working on three major technology projects that span over half their lineup in 2016. They have improved or add new units on three-quarters of their lineup. Let's see what they've got.
New Tech
We will get this out of the way right now. The three projects Yamaha has been working on include rear suspension, front suspension (mountain segment), and engine. Of course, engine…it's Yamaha.
Engine Project
Yamaha took their three cylinder motor found in the Vector and Venture, and tweaked it to offer a variable characteristic depending on the type of ride you want or rider you are. They've kept the general dimension and displacement, but designed a new crank, pistons, connecting rods, and optimized casting shapes and materials. Then, they added a Yamaha Chip-Controlled Throttle (YCCT) and D-MODE.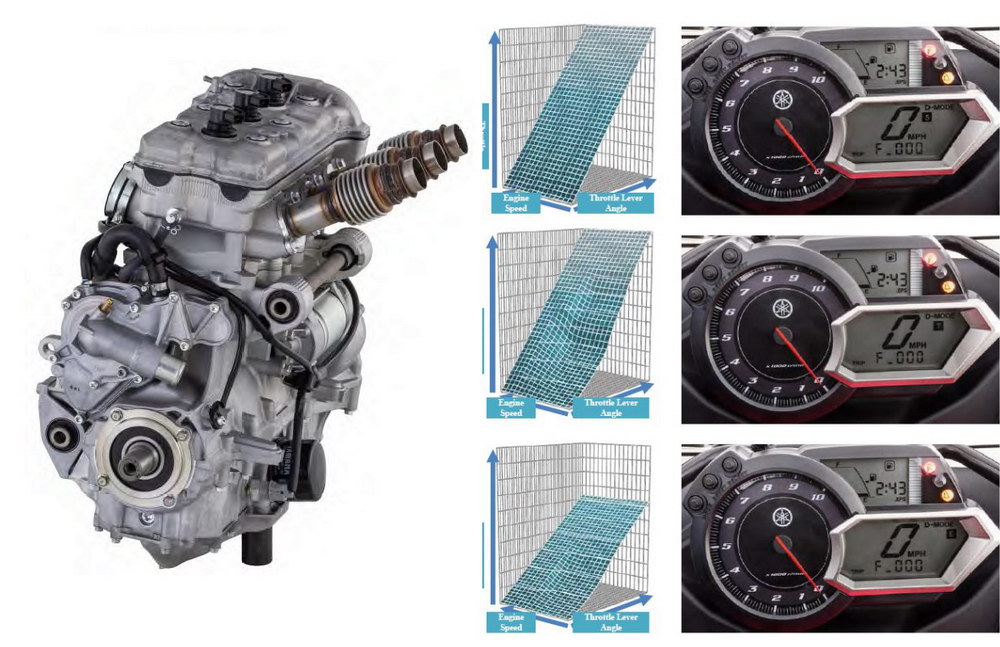 YCCT and D-MODE work together to control the air, fuel, and throttle position that changes how the engine performs. Three modes are offered; Sport, Touring, and Entry. Sport brings out the maximum performance of the engine to give the sled a sporty ride and response. Touring provides smooth power in the low and mid-range for a more controlled engine performance, and Entry limits power and response, as well as top-end, for those wanting the best in economy or a very predictable feel. Modes can be changed easily on the gauge cluster.
This engine will be available in limited models for 2016.
Rear Suspension Project
In an effort to reduce weight, yet provide a decent ride, Yamaha has designed a new rear suspension that replaces the old mono-shock rear. It's dubbed the SingleShot and is available in 129" and 146" lengths. This is a brand new suspension for Yamaha and not simply and improved version of a past design.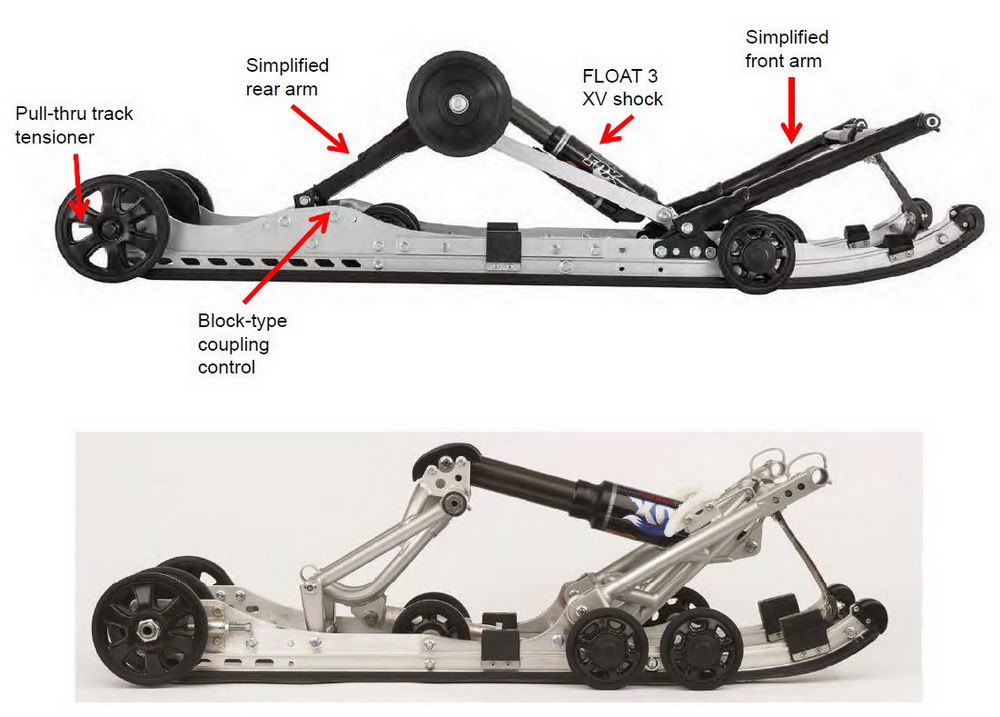 It features a block-type coupling control with a simplified rear arm, a simplified front arm, and rear idler tensioners that you access from the back of the shaft (through the track) instead of the front. A FOX FLOAT XV shock controls the ride.
This suspension is about 10 pounds lighter than the Mono-Shock rear.
Front Suspension Project
The 2016 SR Viper MTX models will get an updated front suspension. The new 36" SRV-M front offers a narrower ski stance (36") for those wanting to better side-hill handling, a new ski design that allows for a 38" ski stance for those who may want a little better trail handling, and new ultra-compact tapered spindles that reduce drag in the snow.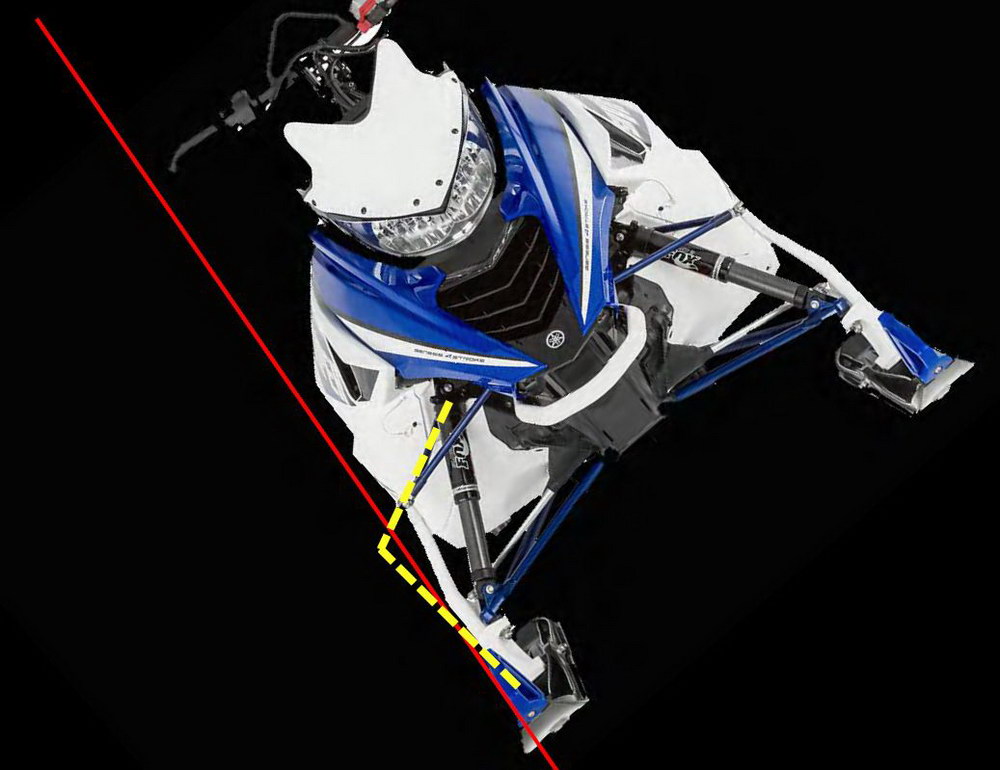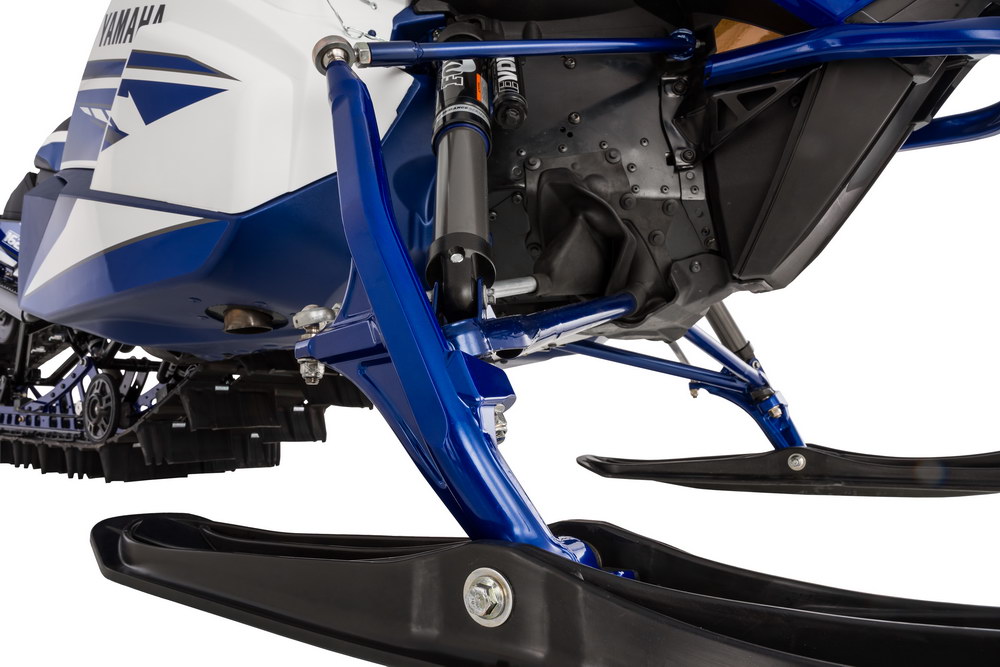 All this combines to provide the mountain rider more maneuverability and agility on the slopes and in the bowls.
2016 Models
We will provide an overview of the new 2016 Yamaha models with a quick look at the major changes for 2016. Detailed information can be found on the Yamaha website or at your Yamaha dealer. Since Yamaha offers the same chassis design for different segments, we will break this down by chassis and not model segment.
Apex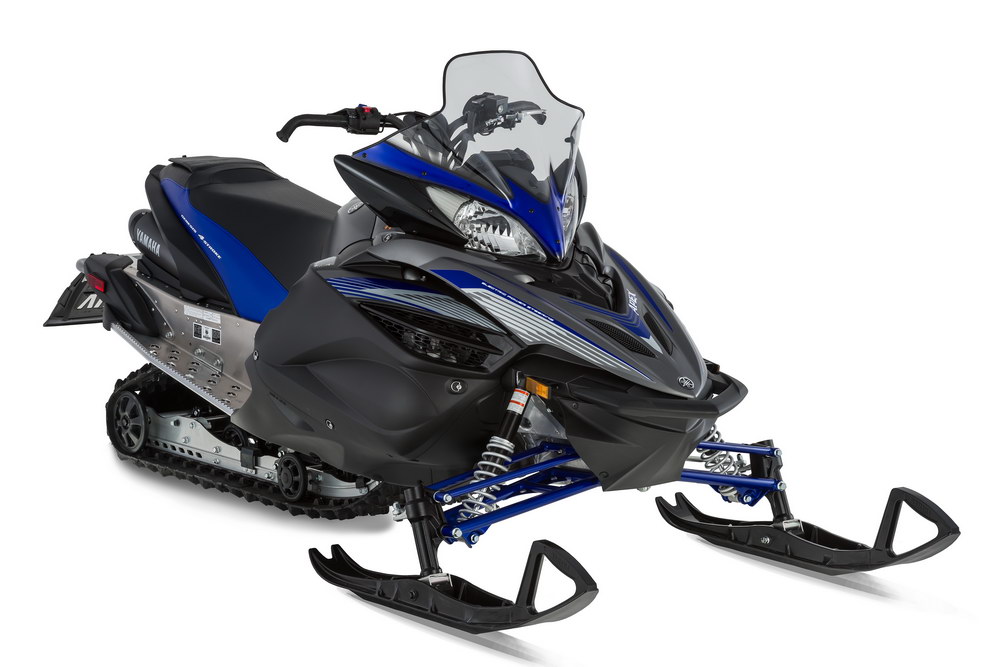 There are five (5) variations in the Apex model. All of them get the new SingleShot rear suspension with Fox FLOAT 3 XV rear shock. They also keep the 4-cylinder engine with EXUP and Yamaha's power steering (EPS). The base Apex comes with the 129" track rear, while the X-TX comes with the 146". These have a 1.25 lug track, but there is also a 1.75 lug track version in the X-TX for those who like to play more off trail than on. The base Apex and Apex X-TX 1.75 also come in a Spring PowerSurge LE version, with standard factory installed Performance Damper.
The Apex is made for the experienced rider who wants the best in trail performance with the strongest and smoothest engine Yamaha offers.
RS Vector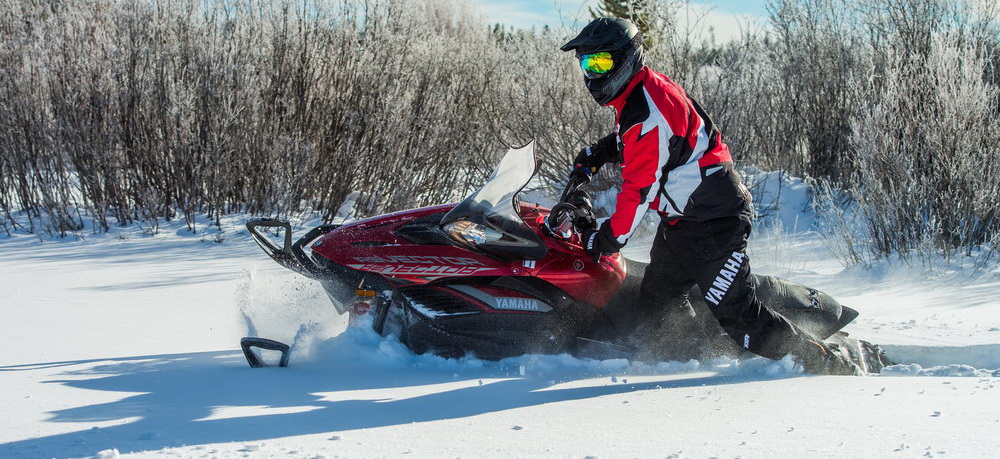 Similar to the Apex, the RS Vector is available in 5 variations. The RS Vector gets the new SingleShot rear suspension with Fox FLOAT 3 XV shock, plus the updated engine we talked about earlier, with the YCCT engine management system. The RS Vector X-TX has the 146" SingleShot with 1.25" lugs, while the the X-TX 1.75 includes a 1.75" lug Backcountry track. The base and the X-TX 1.75 both come in an LE version as well.
The RS Venture is designed for the seasoned rider who want the latest in tech on a very predictable, trail/off-trail chassis. The YCCT motor is a plus and offers variable performance to suit your needs.
Venture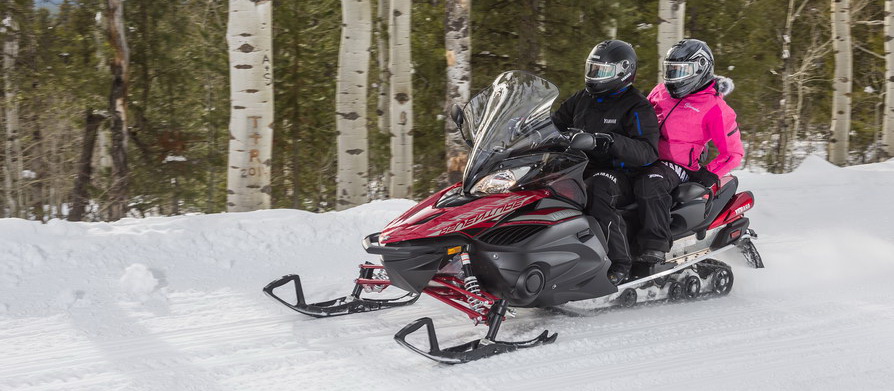 The Venture series is Yamaha's touring class and is available in three chassis with one of the chassis is two variations. The base RS Venture continues to be the price-point, entry into the Yamaha touring class with a very capable motor and sleek design. The Venture MP provides more utility combined with touring features. The RS Venture TF is Yamaha's top-level performer in this class. It has a new Venture-specific YCCT engine management system programmed more toward the touring rider. It is also available in a Spring PowerSurge color.
SR Viper
For some reason, the SR Viper seems to be the most popular model in the Yamaha lineup. There are 17 variations of this model in five categories for anything from trail and ditches, to crossover, adventure touring, and mountain. All are powered by Yamaha's performance 3-cylinder EFI motor. Here are the highlights.
R-TX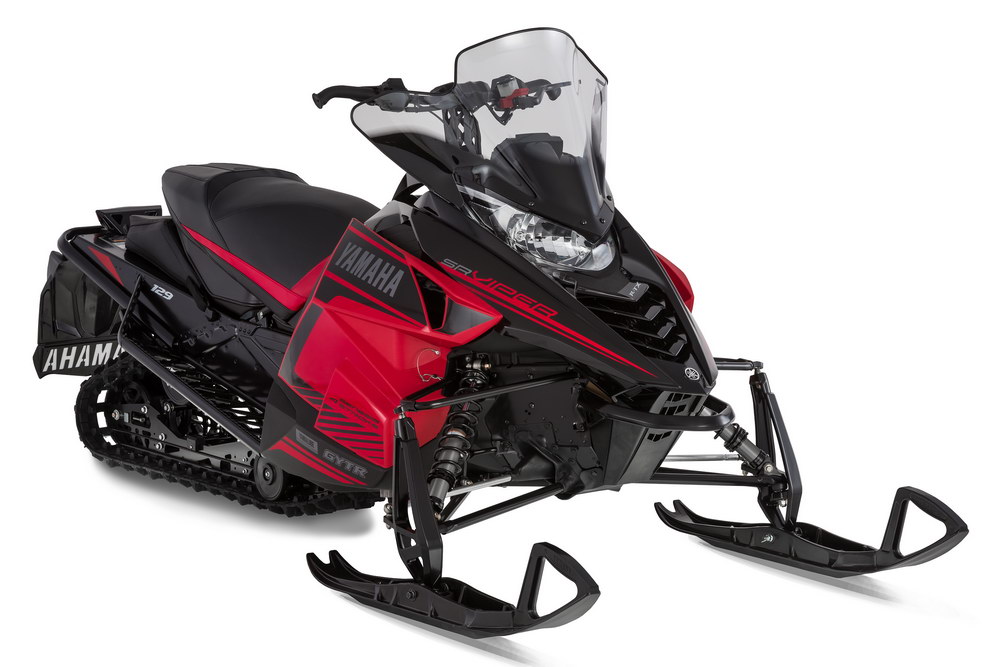 The R-TX variations are the standard trail rider slash ditch banger models with a Dual Shock SR 129" rear suspension. Available in the Standard Edition (SE), a Deluxe (DX), and a Spring PowerSurge Limited Edition (LE). The Standard Edition includes a low windshield and 2-inch Fox PB rear shocks, the DX version includes a higher windshield and rear storage bag, and the LE version includes trick color choices, Performance Damper kit, Fox FLOAT 3 EVOL RC front shocks, a bikini windshield and heated trail seat.
L-TX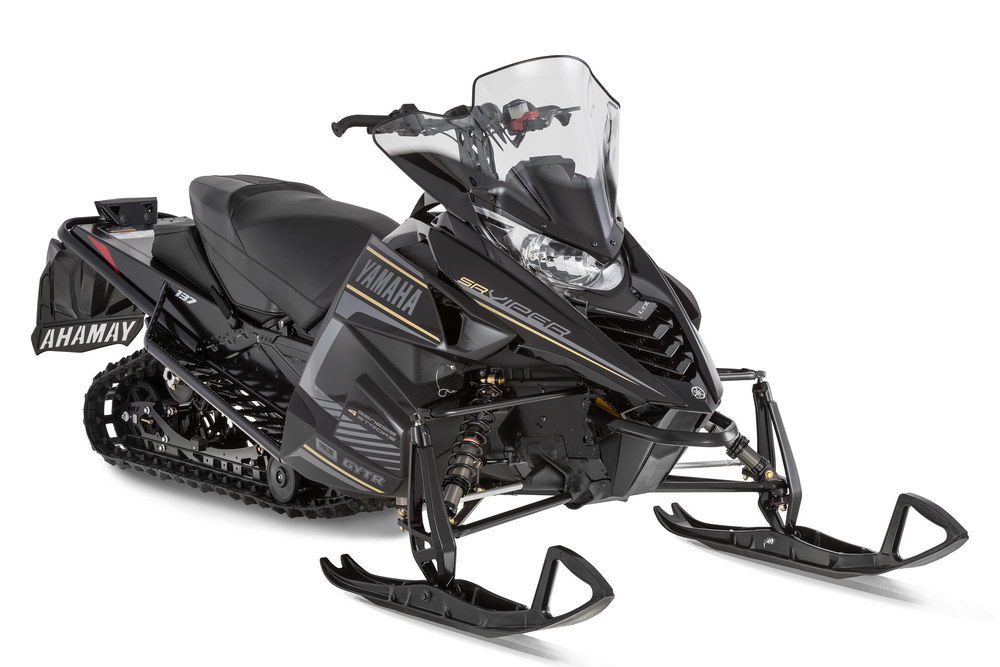 This model is for those who want a little more bump bridging on the trail, yet getting a little off-trail isn't out of the question. The L-TX comes with a 137" rear suspension in SE, DX, and LE variations. The SE includes Fox FLOAT 3 front shocks, and a shorty windshield. The DX includes a heated seat, rear storage bag, and a taller windshield. The LE gets the Performance Damper kit, rear storage, heated seat, bikini windshield, and an all-around shock treatment.
X-TX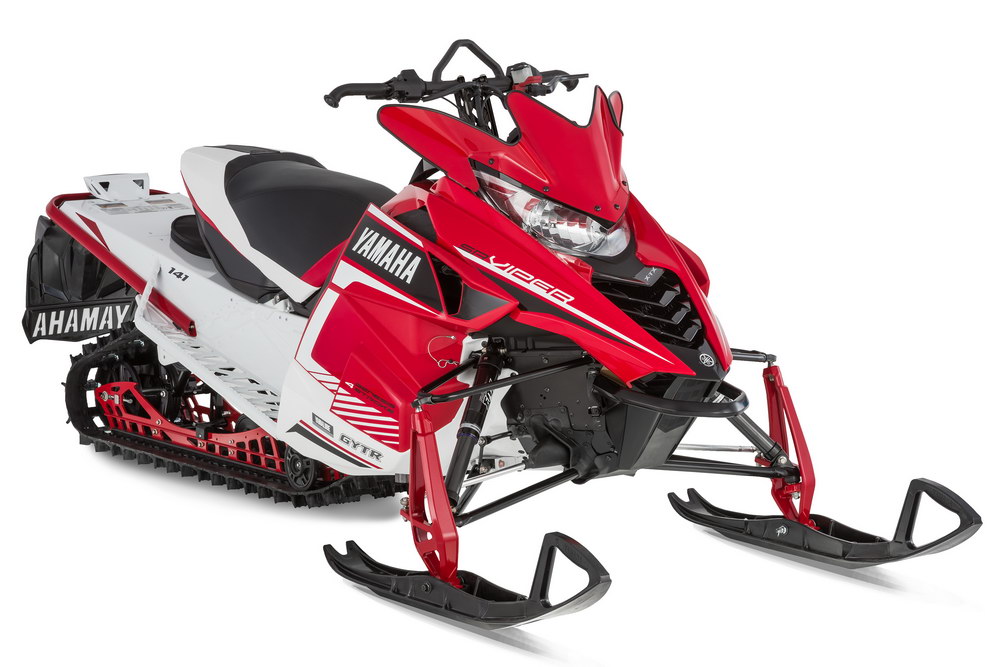 Stretching the track a little more, the X-TX is for those who prefer to venture off trail more than on. These feature a 141" Dual Shock SR rear suspension, heated seat, and shorty windshield. Go for the LE version and you'll also get Fox FLOAT 3 EVOL front shocks, FLOAT EVOL and EVOL R rear shocks, the g-string windshield, and rear storage bag.
S-TX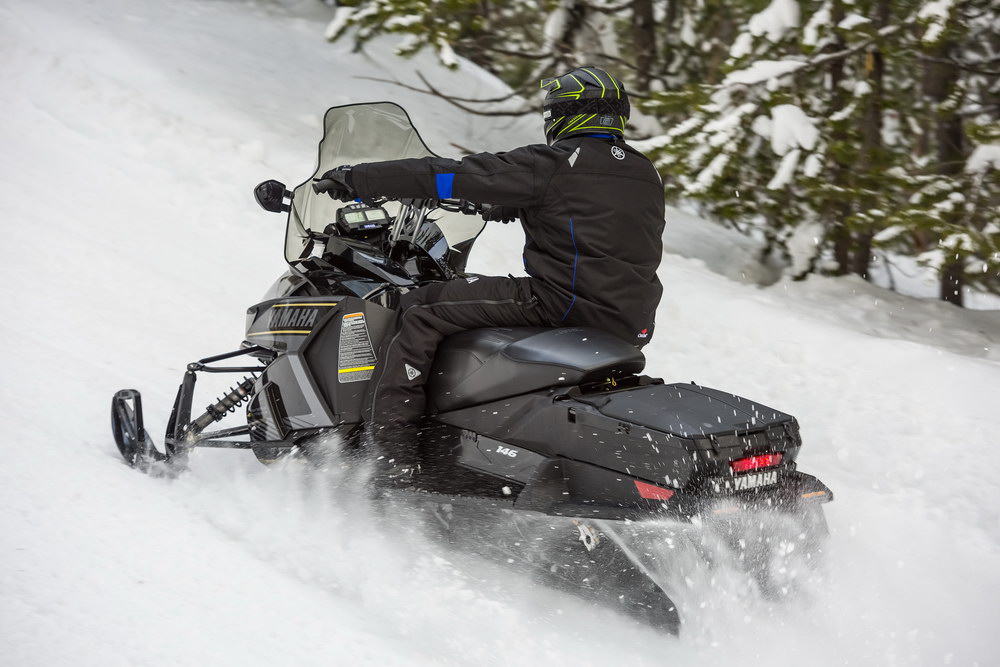 The S-TX version is for those who stretch the trail a little further than most. Call it a cross-tour, it combines the on/off trail capabilities of the L-TX or X-TX with some of the adventure touring luxuries of the Venture TF. The S-TX features mirrors, heated seat, either a 137" or a new Dual Shock 146" rear suspension, and rear storage. The 146-incher also has an auxiliary 4-galon fuel tank.
M-TX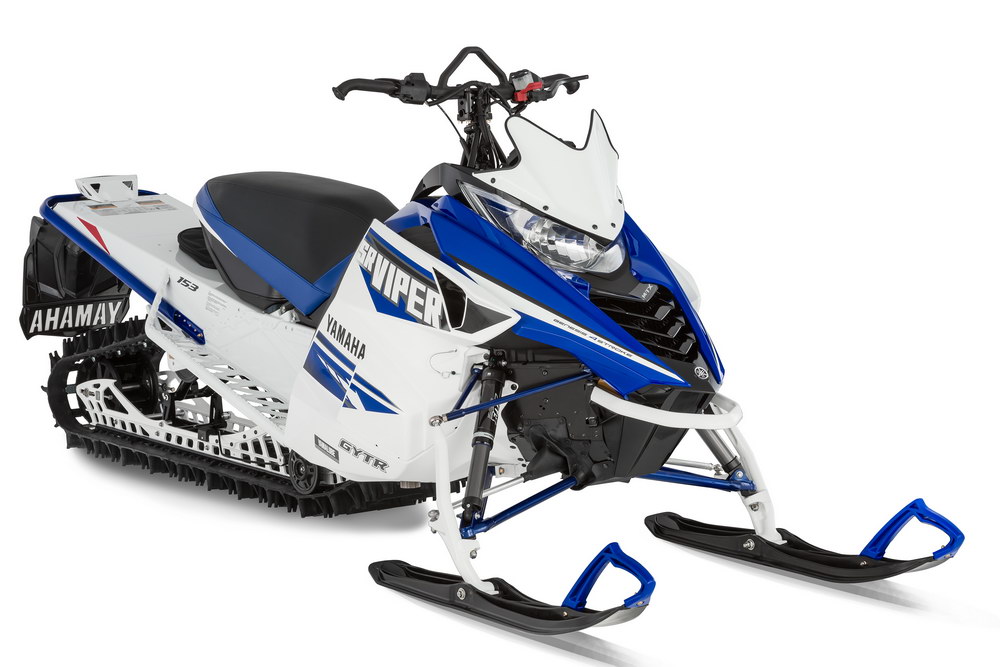 The M-TX is for riders who say, "what trail?" These very capable mountain sleds combine handling and maneuverability with Yamaha's high-torque 4-stroke engine for a mountain experience only Yamaha riders can appreciate. Available with 141", 153" and 162" track length and in Standard and Limited Editions. All feature the new SRV-M front suspension with tapered spindles.
Here are the Spring PowerSurge LE colors for the SR Viper in 2016.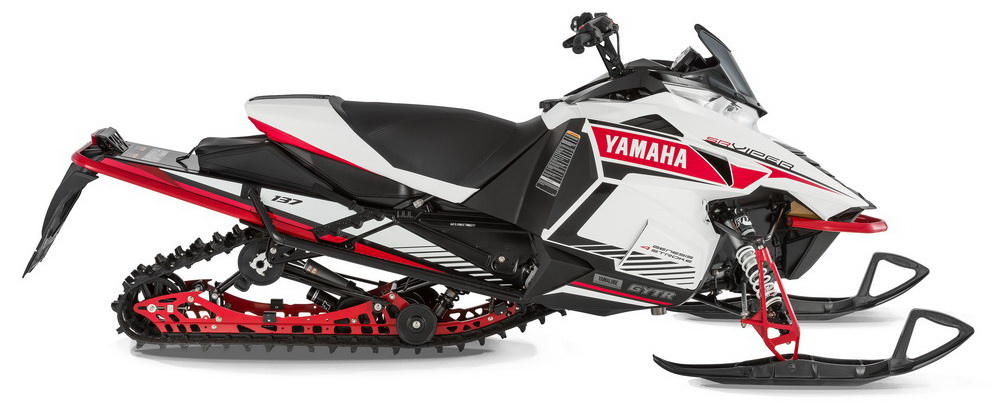 Phazer
One color and three variations make up the Phazer lineup. Unchanged over the past few years, this model still appeals to the novice rider. It's a fun sled to be sure, and the motor has plenty of pull. It's too bad. The Phazer could still be the favorite among young sledders with a decal kit and some fun add-ons. It is available in the RTX trail package, XTX on/off trail package, and MTX mountain package.
VK Professional II
The popular utility model from Yamaha's gets a revamp for 2016. New body styling is just the beginning. The VK Professional II also gets the fuel injected 1049cc engine, a new styled windshield, new styled mirrors, a new gauge, a new fuel tank, a new driver's seat, and a new cargo rack. If we didn't know better, we would almost have to say this is a totally new model. It is still based on last year's chassis, but getting new and updated components makes this sled even more usable than ever before.
SRX 120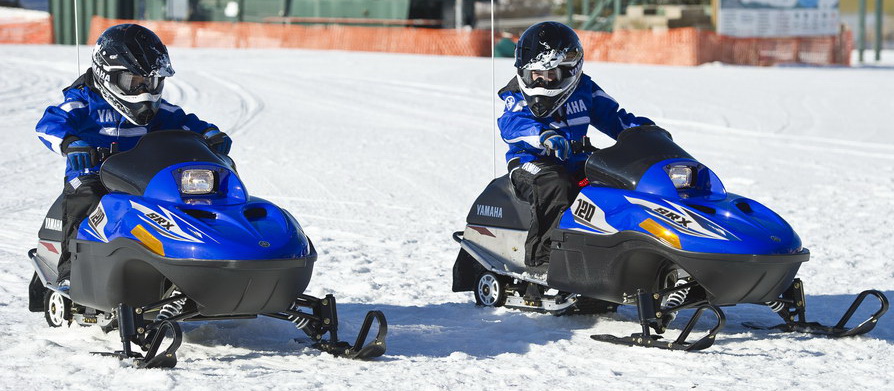 Oh, c'mon. What kid wouldn't want a Yamaha blue mini-sled like their parents?
The Excitement Continues
Yamaha continues to excite, and their motors are simply top-notch. Fit and finish is also unsurpassed in the industry on a Yamaha sled. 2016 should be a great year for Yamaha. Find out specifications by going to the Yamaha Snowmobile web site or your Yamaha snowmobile dealer.