2016 sleds are revealed and you've seen the choices. Each manufacturer has spring-only models you can order, and if you want to guarantee a standard model, you will have to order it in the spring. In fact, you only have a couple weeks left to decide. Not only will ordering one now guarantee you'll have the sled you want, the manufacturers are offering incentives that you simply will not get in the fall or even at the end of the buying season when the 2017's are revealed.
We aren't going through all the spring programs because you can get that from the manufacturer's web sites or dealers. What we will offer is our opinion on one trail model from each manufacturer that we would choose to spring order.
---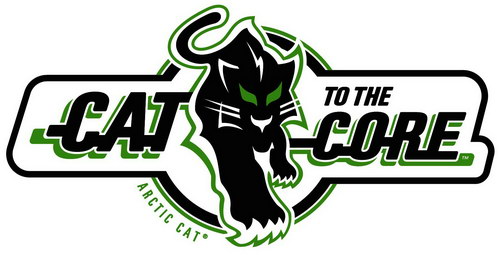 Who: Arctic Cat
What: 2016 Ride More Spring Guarantee Sales Event
When: Through 4/20/2015
Which Model: 2016 ZR 6000 Limited (Green)
Why: If you are a true Arctic Cat'r, and you bleed green, then you need one of these truly green sleds. It's green, from the tunnel to the windshield, and it begs to be ridden. Sure, you can get it in black if you want to blend in with everyone else, but when you wear the Cat Pride, green is in. Green is mean, and this is one mean sled. Not only do you get Arctic Cat's new American made 600 C-Tech2 motor, you also get electric start, a 12-volt outlet, adjustable handlebars with a five and a half inch riser, Procross front bumper, goggle holder, tunnel flare, Procross-6 skis, 11-inch mid-height windshield, and a tunnel bag.
Oh, and did we mention it comes in a limited Spring-Order-Only Green?
---

Who: Polaris
What: 2016 Snow Check Select
When: Through 4/14/2015
Which Model: 600 Rush Pro-S Pink Ribbon Rider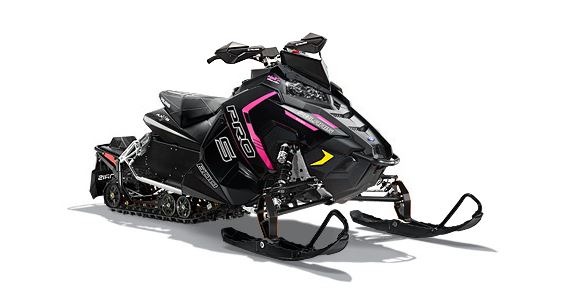 Why: We love the Rush. We love the new Rush in the AXYS chassis. We love the new Polaris Interactive Digital Display. We love Pink Ribbon Riders.
We don't know of a more technology-centric sled on the market than the AXYS rush. It has LED lights that pierce the snow dust, it has ergonomics that fit just about everyone, it has integrated storage that seems to be lacking on most sleds without an add-on bag, and it has the digital gauge that we've wanted for years with the ability to hook up to the Rider-X app and give you engine information that you could never get before. Roll all this into a package that fits most riders and adorn it with the limited Pink Ribbon Rider graphics package and this is the sled to beat. Black tunnel, black bodywork, pink graphics. It's way cool, and Polaris will donate a portion of the sales proceeds of this model to the Pink Ribbon Riders.
Honestly, just Snow Check this sled and you'll be happy.
---

Who: Ski-Doo
What: Ski-Doo Spring Fever
When: Through 4/19/2015
Which Model: Renegade Enduro 900 ACE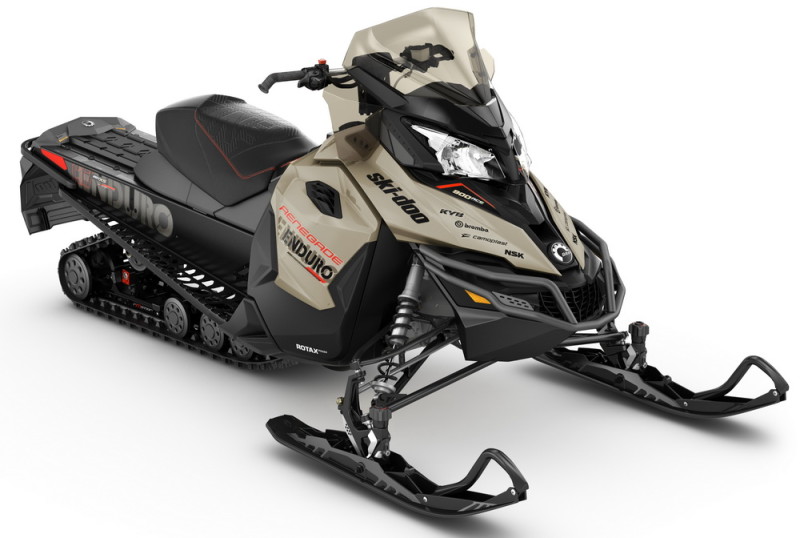 Why: When we first saw this model, in its tactical tan (officially Northern Lichen) color and brand-logo graphics, we wanted one. This model replaces the older GSX, and in a good way. Yeah, not everyone will like the tan color, but then not everyone gets it. This sled will give you a long, and I mean long, day or weekend of tactical riding. There's the air adjustable rear shock to dial in your ride, and the tall, winged windshield to keep cold air off you. Add to this, the heavy-duty bumper for when you want to explore off-trail, and the new Pilot TS Adjustable Skis and you have yourself a tactical winner. But why spring-order this model? Because you want to guarantee delivery, and you want the 3-year warranty on this puppy. Since the 900 ACE comes with electric start, you can add a 4th year of warranty. Speaking of the 900 ACE, this engine just rocks. No, it's not a speed demon, but it offers plenty of power and relaxing, quiet ride you just have to experience.
Ski-Doo makes a lot of cool sleds, and you could get an "X" model like all those other years the "X" model has been spring-only, but just look at the coolness factor you'll get with one of these tactical bad-boys. And there's no guarantee dealers will have this one in stock, so make sure you get yours. Oh, and let us ride it, please.
---

Who: Yamaha
What: Spring Power Surge
When: Through 4/18/2015
Which Model: SRViper X-TX LE (with Turbo)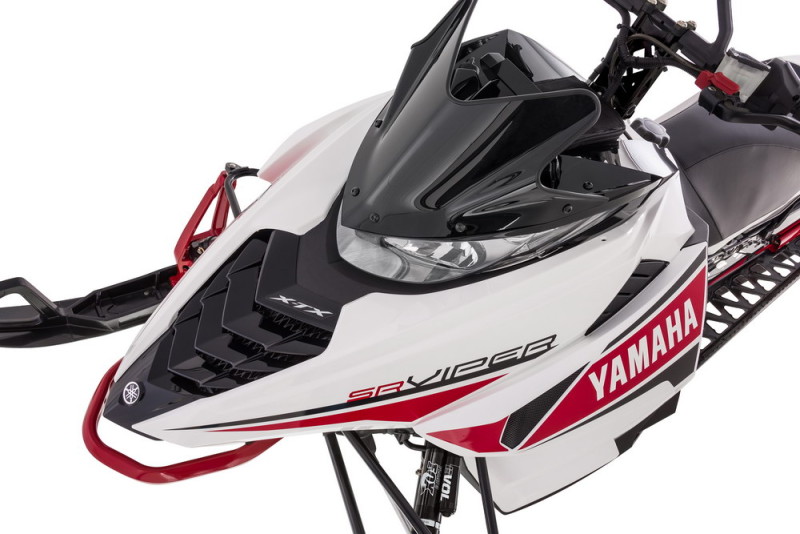 Why: While we have always loved the Apex with its 4-cylinder, smooth-as-butter 4-stroke, it's time to move onto something more ergonomic and lighter weight. It's time for SRViper. If we are going to choose and SRViper, it might as well be a spring-only Limited Edition (LE) version, and if we are going to order it in the spring to, you know, get the 3-year warranty, and get the $600 in Yamaha gear plus and OGIO gear bag, we might as well spend the extra $2500 and get the TURBO! Yeah baby! TURBO! Oh man, turbo on a flatlander sled? Finally! The mountain riders have enjoyed it for years, Arctic Cat has had it for years, and now finally you can get it in a Yamaha low-elevation sled from Yamaha.
Since you are going "turbo" you want to make sure it hooks up, so you'll want to spring for the X-TX model with its 141″ track. Don't mess around with anything shorter if you are going to turbo it. You want to make sure it hooks up, and more importantly, it has traction when you brake, so you don't end up in the toolies, pretending you're a mountain boondocker.
We like the classic Yamaha red graphics, but you can get the blue if you want.
---
So there you have it; our picks for the 2016 spring-only orders. You can take a chance and wait until fall and see what your dealer ordered and take what's on the floor, or you can plunk down a few hundred dollars and reserve one of these rare-to-be sleds. It' s up to you. We are just the messenger.