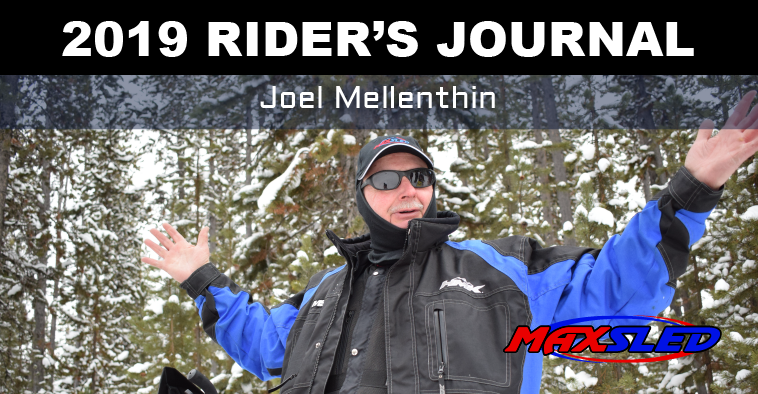 The MY19 snow shoot proved to be one of the best since I began attending Snow Shoots in 1990.  So doing the math, you note that I'm not a young buck anymore – hit the big 60 last year.  Regardless of my age I still enjoy riding sleds that pump up my adrenaline, pinning the throttle is still in my DNA. The incredible acceleration and handling of today's snowmobiles is still a big part of the reason I'm passionate about snowmobiling.  On any given day, I'm perfectly happy cruising as well, soaking in the surroundings, while enjoying the comforts of an extra tall windshield on a meticulously groomed trail – but I still want on-demand power when the urge demands it.
Understanding how you ride, what you truly like most about snowmobiling, is critical in determining what sled you should buy. Simply reading what others have to say, studying the specifications, and walking around a shiny new sled in a showroom makes for a really tough decision… plus if you want all that technology, it's going to comes with a price.
I'm sure it's fair to say most of us test drive any new vehicle before we buy; too bad we all can't test drive snowmobiles before we buy as well.  Hopefully the snowmobile manufacturers will get it, and make plans to offer more new model demo rides in the future.
I was fortunate enough to have ridden the 2019 trail sleds, and the reasoning behind my top pick from each manufacturer is based on my personal riding preferences – not necessary yours. Read on to find the thoughts behind my wish list for 2019:
Note these sleds are listed in alpha order, not by preference.
Arctic Cat ZR 8000 ES 137 (LTD)
I was comfortable on this sled from the minute I squeezed the throttle.
I like how the proven 800 C-Tec2 power band and its Arctic Drive clutching provided me with a predictable response at any speed. Handling is awesome, and the new front and rear three position iACT Fox shock package really works – instantly and on the fly. The new bar controls offer easy, quick, access. I found the new digital gauges are set up so well that even an old guy like me can understand their operation – easily visible on the fly as well. I'm partial to the longer 137' track on the trail. The slide action rear suspension is one of my favorites. Add adjustable bars, the new brake lever, push button start & reverse, with a 12volt outlet, and a tall windshield… I'm sold.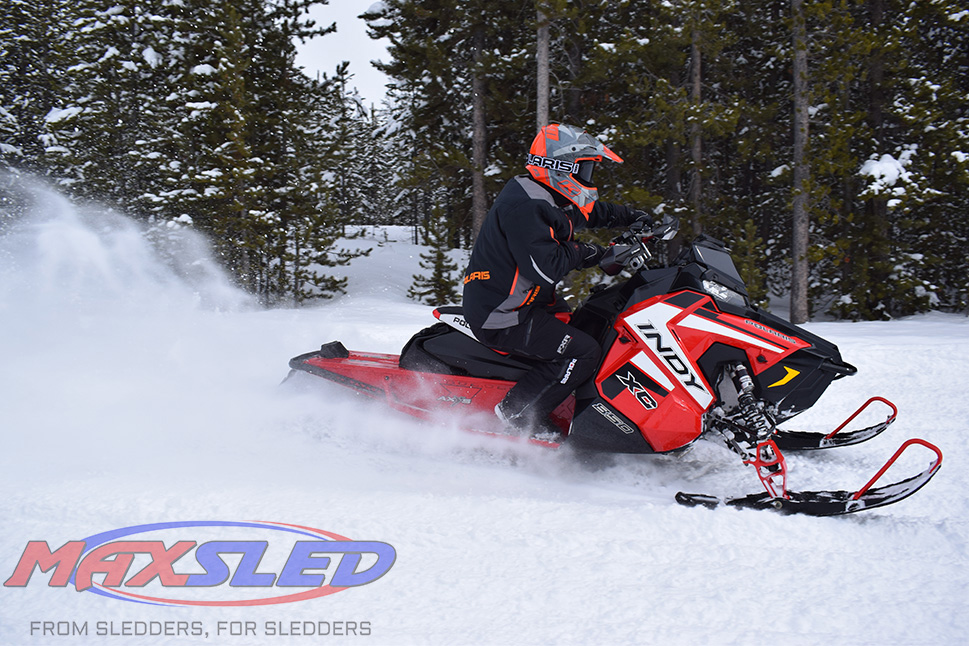 Polaris 850 Indy XC 129
The new Polaris Liberty 850 engine lives up to all hype – PERIOD. The fun factor is all here when you put this power in the new AXYS rigid tunnel and the new Pro CC rear with front coupling system. This sled carves up trails, and with the 129' track (1.25 Ripsaw) one can break the track out and smoothly sweep through groomed trail corners. Polaris interactive display message and message center offers an excellent on board resource – once you master the controls. This model offers a new snow flap, LED lights and all new "XT Hyfax" which is lighter and more durable. Speaking of durability, the Liberty 850 comes with a 4- year engine warranty…  backing up a new motor is always comforting. One of these units will be in my garage next fall… need I say more.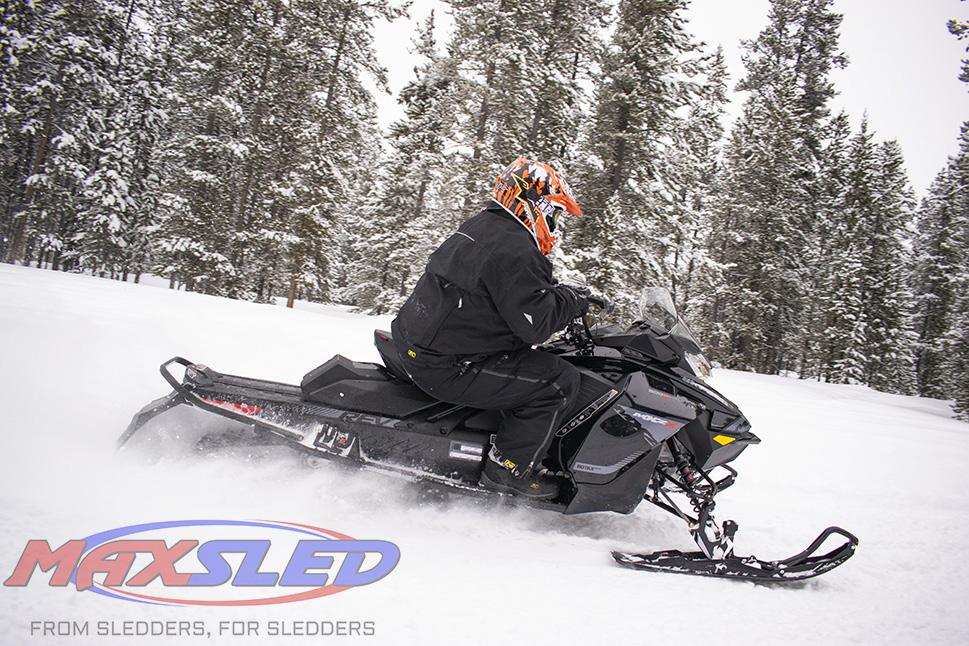 Ski-Doo MXZX 600R
Ski-Doo's 600R E-Tec is another new motor that lives up to all the BRP hype – "The Rotax 600R E-TEC engine offers a 30% improvement in throttle response, crisp acceleration and sets a new 600cc class standard with 125 horsepower while continuing to set the bar for reliability, and 2-stroke oil and fuel economy."
This is an extremely smooth motor, excellent clutching, with all the instant power that I crave. The package (RevGen4) handles tight trails with ease – and tames any bumps along the way as well. Bottom line the MXZX 600R is making one of the best values on my list with excellent clutching, r motion (129 ') quick adjust rear suspension (KYB Easy adjust), and RAS 3 front with HPG shocks front and center. The Ergos, fit, trim and finish all just feel right as well. Ski-doo leads the industry market share for a reason. Santa – please put one under the tree for me.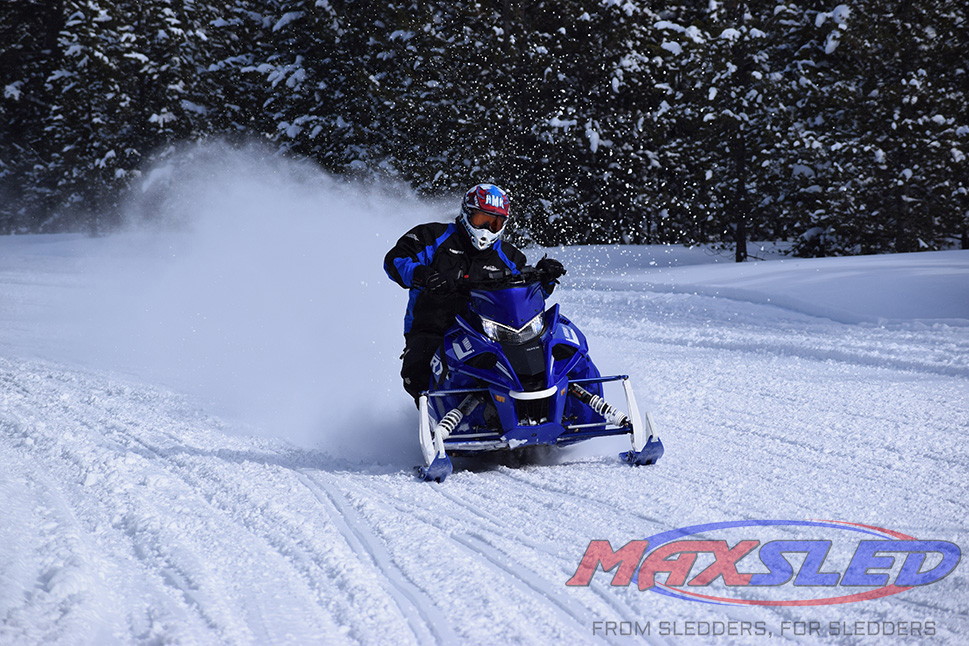 Yamaha Sidewinder SRX LE
This sled lives for groomed trails, the big sweeping type -with maybe a converted railroad grade trail or lake or two in between. No doubt this unit's 200+HP is incredibly powerful, but it offers a surprisingly smooth, predictable and manageable acceleration with defined band – premium, recalibrated YSCR clutching. It handles excellent when cruising, and definitely has the built-in adrenaline flow factor – when one feels the need. The 988 Genesis Turbo performs best on the trails in the new low profile, 137" SRX suspension. The SRX comes with the all-new three position adjustable Fox iQS push button suspension package – which again works instantly. It also has the new brake system, dual rate center spring, and the user-friendly bar controls. I may have to take out a second mortgage… but I want one.