We were promised that the 800 Cleanfire we experienced on the 2011 800 Assault Switchback last spring would be the same exact powerplant offered in the production models and guess what; Polaris delivered and actually hit this one out of the park. The Rush is a great sled and we love the looks, but putting this on a more conventional 144″ tunnel makes a great machine even better. The wide running boards allow for plenty of movement and have a RMK feel, yet with a shorter lug track for trail riding.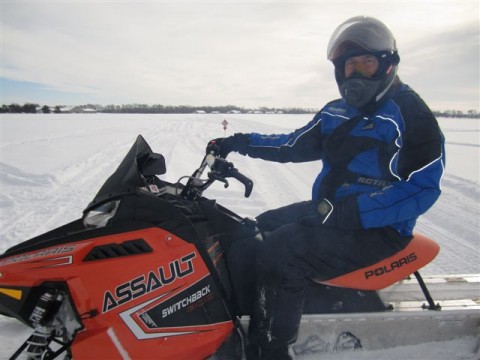 The standard silver color is nice but the Orange Madness color is so eye-catching and sharp that pre-ordering for Snow Check is really worth it. (Hint: Rush into your dealer as soon as Snow Check is announced this spring.) Touch 'em all Polaris!
Below is our first few rides on our demo unit for 2011.
12/12/2010
Miles: 56
Fuel Consumption: 3/8 tank approx
Trails: Nicollet and Sibley County
St. Peter to Nicollet and back, then north of New Sweden and back to St. Peter
Temperature: -2 Degrees
Wind: 15 mph
The trails were ungroomed, so the ride was rough, although when speeding up the suspension seemed to soak up the bumps better. The suspension had excellent weight transfer and was even a little surprising as it lifted the skis when I cracked it on tight trails.
The seat was comfortable and plenty long for tall riders. Even with the biggest of bumps it did not bottom out against the tunnel.
The 800 engine was super snappy.  It always had more than what I wanted to give it. It was happiest out on the open trail, but was still quite civilized on slower trails.  The throttle felt a little touchy and was quite easy to give it more than what I wanted in tight turns or narrow trails.
The controls are simple and effective. They are located above the gas cap.  It would be nice to operate the warmers, gauge mode and dimmer with the thumbs, but it's a minor gripe and fits perfectly with the no-frills concept of this machine. Pull once or twice to start. Even the gas gauge is the old mechanical float style.
The PERC reverse is awesome and flawless.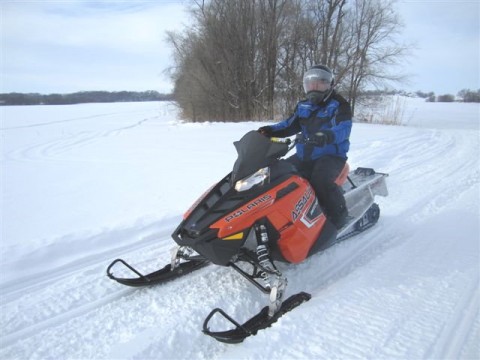 12/19/2010
Miles: 74
Fuel Consumption: 5/8 tank approximately
Trails: Nicollet County
St. Peter to Nicollet and back
Temperature: 16 Degrees
Wind: Calm
I was down to ¼ tank so filled up and added 9.48 gallons at 114 miles for 12.03 mpg. I was on the same trails as last week.  The Nicollet county trails are less than 1,000 feet from our driveway so from here I can go almost anywhere.
I rode from here to Rush River, Norseland, New Sweden, Nicollet and back, along with a loop around St. Peter.  The trails were all freshly groomed so a much better ride. When I put it away and checked the speedometer memory it shows I had a Max MPH of 98. It really didn't feel much faster than last week, which was 75, so the trails were really nice and smooth.  There was a lot more throttle left.
The more I ride it the more I like it.  It's very comfortable and crazy fast but feels it still feels a little top-heavy. It feels like you really need to lean in the powder or tight turns to prevent it from lifting a ski.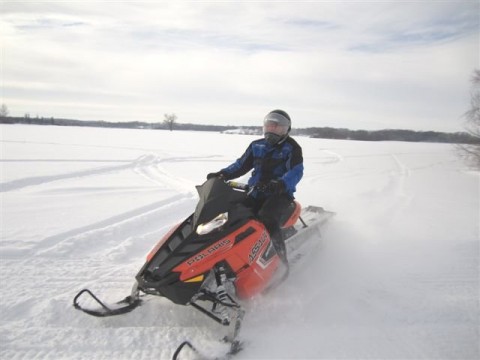 1/2/2011
Miles: 41
Fuel Consumption: 1/4 tank approx
Trails: Nicollet County
St. Peter to Nicollet and back
Temperature: 16 Degrees
Wind: 10 mph
I was out today after the Vikings game with a friend Joey Halsebus from St. Peter.  He has a '09 Dragon Switchback 800 so it was very interesting to see the differences in these two models.
The Dragon body is wider and feels more like you are sitting into the machine than sitting on it.  His track was studded so he definitely had better hookup on icy trails but it also tended to push more into the corners.
The biggest difference was in the ride, handling and mostly the performance.  The Walker-Evans shocks and longer 144″ track give it so much of a better ride.  The seat cushion seems thicker although it could be more of the higher seating position. On bumpy trails, it would ride smoother than the Dragon. When we got into the tighter twisty trails, it would carve through the corners with ease but it always felt more in control and Polaris did a great job of making the rider feel more as one with the machine. As I get more comfortable on tighter trails the ski lift does not seem to be a factor and it corners flatter and more stable than the Dragon.
The fit and finish also seemed to be improved with the body panels fitting tighter and much cleaner and straighter lines where the panels meet.
When we got into the open area, the former hesitation of the 800 Liberty engine is completely gone and the new Assault would walk right past the Dragon. We also noticed some clutching changes that the Dragon ran mostly around 7700 to 7800 RPM and the Assault was between 8000 and 8100. The Assault is most noticeably snappier and provides a higher fun factor in the ride.  Top speed today was 104 with still plenty left.
In the end, Joey was totally impressed with the Assault Switchback 800 over his Dragon. It was both of our impressions that Polaris hit a home run with this model for 2011. He immediately placed his Dragon for sale and sold it in two days.  He plans on ordering the Assault in the spring if Orange Madness is another Snowcheck option.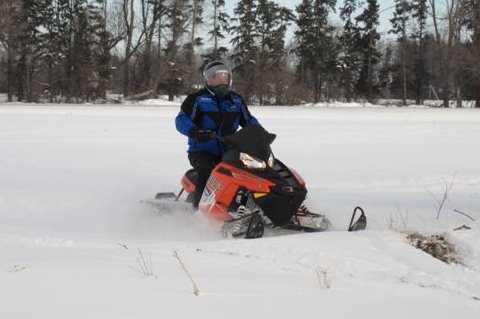 1/8/2011
Miles: 120 (60 by myself, 60 by Shane)
Fuel Consumption: Approximately 1 full tank (10.1 MPG)
Trails: Grand Rapids, MN area
Pinkribbonriders.com Minnesota Snow Run
Temperature: -10 to 0 degrees
Winds: Light and variable
We took this demo sled to the Minnesota Snow Run, sponsored by the Pink Ribbon Riders, which is a non-profit organization to financially help out the families of breast cancer survivors. More on this group can be obtained in another separate article.
We were part of 119 sleds in 15 separate groups.  In our group of 9, led by Maxsled's own Randy Nemitz, we let a couple of the other riders test out the sled and give us their feedback on the machine.  It was the common consensus that this is one of the best models ever produced by Polaris and it had such a high fun factor for being a bigger sled. A rider of an older Polaris noted that because of the seating position, it felt tippy being up so high and that took a while to get used to. Another rider of a 3 year old Yamaha Phazer loved the power and seating position. He said that it cornered like it was on rails and he always felt in complete control. His brand loyalty will probably never sway from Yamaha but he said this would be a Polaris he would consider.
There was always more engine than needed and it was a joy to blurp the throttle and shoot from corner to corner. Another enjoyable feature of this snowmobile is how nice it is to blast through fresh powder and carve through the deep stuff. On trails with "whoop-de-whoops", a blast of the throttle while reaching the top will lift the skis down through to the next hill. That is so much fun and kept us smiling through the entire ride.
Shane's Notes:
"I had a chance to ride the Polaris Assault the second half of the day and put on about 60 miles. I think it needs a little adjustment for me, but overall it felt pretty good. We definitely got the 800 motor promised us last spring. I love the ergos on this machine, but the Pro Tapers are a bit high for me. We knew it would be cold this past weekend, so we stopped at a dealer and picked up a mid-height windshield, which helped keep the wind off you. I could feel some wind come around the hood and into my abdomen area, however it was warmer than one of the other sleds I rode earlier in the day. The power was spot-on, but I felt like I was fighting it through the corners. There was too much ski-lift for my tastes and that motor wanted to push the sled straight and quick. The 144″ track is too long for me and I would rather see this same model with a 136-incher. Don't try and tell me about the tapered rails – I know all about that – I still think 136″ is the all-around defacto standard all short tracks should be. I had to let work the throttle in the corners in order to turn and I did experience a little uncomfortable ski lift. Over the moguls late in the day the rear suspension was a bit rougher than I liked as well, but throughout the day on smaller bumps it felt fine, even though it probably should have been turned up a bit for my weight. I wouldn't have wanted it any stiffer, but I did bottom out on harder bumps. I'll need more time on it, but the first 60 miles were pleasant." – SZ
It's now time to release the Assault 800 Switchback to the other Maxsled team members so that they can have an experience in riding it and give me a chance on the other new 2011 models. I really like this Polaris the more I ride it.  I'm anxious to try the other models but at the same time I am sad to let this one go.