This year was a very big year for the Eagle River Derby Track in Eagle River, WI. The raceway was celebrating 50 years of their annual snowmobile race on January 17th thru 20th. There is just so much history here.  And for the 50th, this was all brought back to the forefront.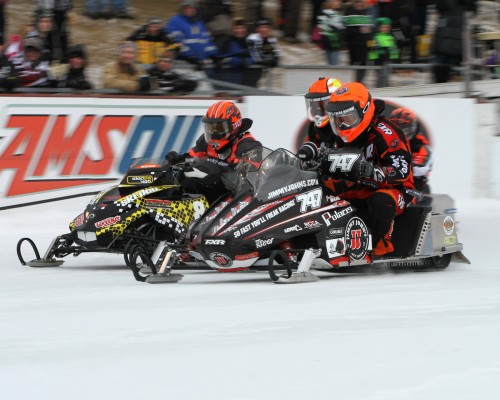 After practice on Thursday and heat races on Friday, the Parts Unlimited sponsored Friday Night Thunder got underway at 6:00pm. Opening ceremonies started with introducing both past and present royalty. Then there were past Champions that drove out on their old race sleds and parked out on the front straight. Some of those past Champions were the likes of Mike Trapp (1971,1972), Chuck Decker (1987), Dave Wahl (1990,1996,1997), Greg Goodwin (1991), Al Fenhaus (1993), Dale Loritz (1994,1995), Terry Wahl (1998), PJ Wandersheid  (2002,2003,2006,2011), Larry Day (2004), Gary Moyle (2005,2007), Brian Bewcyk  (2008,2009), Matt Schultz  (2010), and last year's Champion Nick VanStrydonk. Not only was it cool to see these drivers, but also the sleds. Remember the old twin trackers or the Arctic Cat Phantom? There were also other past Champions I noticed walking around like Bob Eastman (1973), Jim Bernat (1975), Bobby Donahue (1988) and Duane Frandsen (1967!). They also had the Wisconsin Governor and even Bobby Unser was brought in and talked to the standing room only crowd.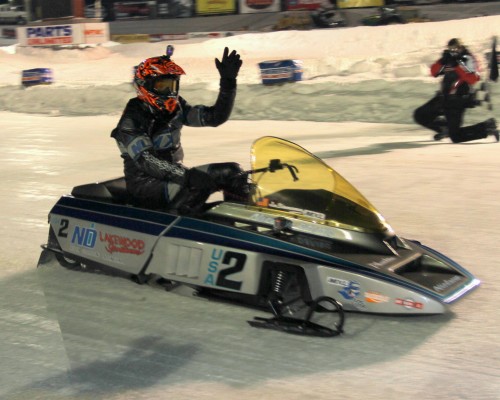 After the fireworks show, the racing started with some high flying Sno-X. Then an Outlaw 600 race which to me looks like a sprint car with ski's and track. After that they had motorcycles racing on the ½ mile banked track. After the oval heat races it was time to find out who would sit on the pole position on Sunday with a 16 lap race for the top ten fastest Champ sleds and drivers. There had been several fast drivers the last two days like Gary Moyle, Malcolm Chartier, Nick Van Strydonk and young Jordan Wahl. But once the racing started, it was clear unless something happened to the sled or driver, Ski-Doo's #33 Malcolm Chartier was going to be in that front spot come Sunday. And that's how this nights race ended up with #13 Nick Van Strydonk following in second and #616 Ryan Kniskern taking third. The last race of the evening was the Pro Open Sno-X. It was a battle between the #837 Polaris of Ross Martin and the #11 Ski-Doo of Tim Tremblay. In the end it was Martin taking the top spot, then Tremblay 2 seconds back, and then #271 Peter Narsa another 12 seconds back. It was a long day of racing lasting from 10am until 10:30pm. But a day of racing makes for a good day, no matter how long it might be.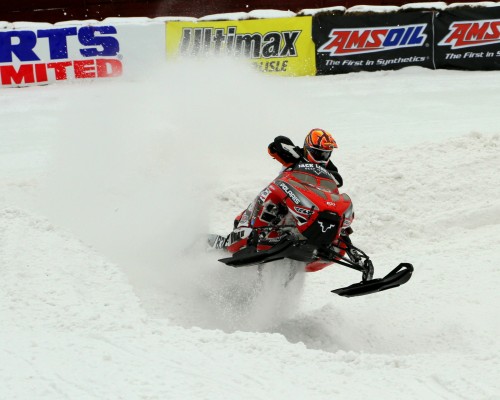 Saturday was another day of fast paced racing with many Sno-X finals like in the 120, Womens, Juniors and Novices. There were also many heat races in the ovals but only one final which was the Factory 600 class which was won by Polaris mounted #13 Nick Van Strydonk.
Sunday is the big day for the racers and the teams. This is when most of the Class Champions are crowned. You win the final for your class and out comes the royalty with a trophy and checkered flag  and you get interviewed by the track announcer and put up on the big screen in turn 3. This big screen was also used by the oval racers as it was a rear view mirror of what was going on behind you when you were speeding into turn 3. The last two races of the day were the two biggest of the weekend.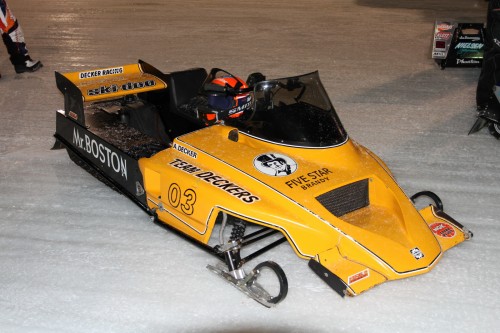 The first one was the Pro Open Sno-X World Championship. The favorite was Ross Martin. But Tim Tremblay actually beat Ross Martin in one of the heats during the long weekend. And then never count out guys like Robbie Malinowski or Peter Narsa. After the start everybody went hard into turn one and two. Ross Martin and Robbie Malinowski got together fighting for position and Malinowski and his #4 Ski-Doo went over the bank. Robbie's sled even had enough momentum to go up the embankment of the ice oval turn 2 and hit the wall. It was then Martin in the lead with Tremblay in second. It remained this way for much of the race. But Tremblay was actually closing in on Martin the last few laps and it might have just come down to the last lap. One place Tremblay was making up huge amounts of time was in the front whoop section just after turn 4. Everyone would come out of the corner and do double, double, and single. But Tremblay had figured out he could come out of the corner, preload the rear suspension like they do in motorcycle Supercross and do a triple and double. It was really cool to watch Tremblay do this. Very impressive. Even though Tremblay had the fastest lap of the race of anyone on the last lap, it just wasn't enough and Martin took the win over Tremblay by 1.2 seconds. Third went to #52 Johan Lidman on a Polaris.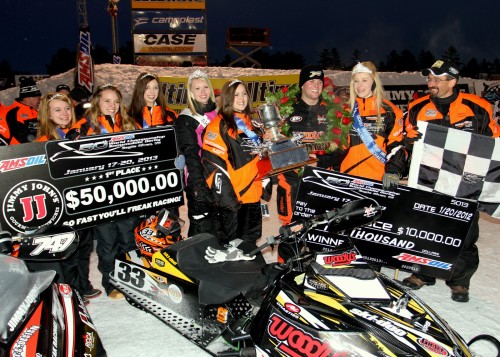 Then, it was what everyone had waited for. The race to be the 50th Champion of the World Championship Snowmobile Derby. But first, they had the presentation of the past and present royalty and some of the past Champions came out again on their vintage race sleds. But they kept circling the track this time. Some were even getting on the throttle hard in front of the huge crowd. But I did notice one that looked like he was having a blast reliving his racing days around this historic track. Faster down the straights, faster around turns as each lap went by was Jim Dimmerman on his Arctic Cat Phantom in his vintage MXL leathers. That was pretty cool. The format for the Derby is 10 laps and then a red flag for a 5 minute window for work to be done on the sled. Then it is a 20 lap run to the final checkers. The drivers were introduced and then the green flag finally dropped. The #33 Ski-Doo of Malcolm Chartier was off into the lead. But in turn 2 it got a little crowded and Dustin Wahl and Travis McDonald ended up on the inside of the track causing a red flag. So it was a race restart. After the second green it was Chartier again out to a lead. The Ski-Doo driver built on his lead to almost 3 seconds as the 10 laps progressed up to the red flag. Then came the pit stop and the time for teams to replace carbides, adjust suspension, or whatever else they could do in only 5 minutes. Now it was a staggered restart with Chartier, Schulz, Jordan Wahl, Van Strydonk, and Dustin
Wahl the top 5. Off the line Chartier took off and Schulz's sled stumbled and Jordan Wahl took after Chartier now in second. But Van Strydonk had bigger problems with bogging on his #13 Polaris and he watched people go by as it took him awhile to get going again. Then after a few laps it was Matt Ritchie off his sled in turn 4 causing a red flag. The race was restarted and a few more laps later, once again the red flag came out for Ritchie sitting inside turn 4 after his sled shut off.
Now, if it went all green, it would be an 8 lap race. When the green dropped it was a familiar sight, Chartier out in the lead. But Jordan Wahl was staying with him! Meanwhile, once again, last year's champion Nick Van Strydonk had issues with bogging on the restart and back he went. After a few more green laps, it was Chartier, Wahl, and Schulz. With only a couple laps left Chartier slid a little high in turn two and Jordan Wahl got a great drive off the corner and made the pass. But the very next lap, Wahl would do the same thing in the same turn and Chartier took back the lead. Now we get to the last lap and it is a tight race. They go into turn two and Jordan makes contact with Malcolm. Malcolm is getting tired and 18 year old Jordan Wahl's brakes are fading. Only two turns left for someone to claim the total purse of $60,000. Into turn three, Jordan's right there, into turn four and #33 slows a little and the #747 makes contact again. They both now slow and Matt Schulz is gaining on both and now it's a drag race to the checkered flag. Across the line and it's Chartier winning with Jordan Wahl in second by .094 and Schulz in third by .001 behind Wahl!! What a close race! One of the best finishes at Eagle River.  And the celebration began for Malcolm Cartier and his team. And it all happened at the 50th. Creating even more great memories for the World Championship Snowmobile Derby history!