Boyesen Engineering would like to introduce the all-new 2013 RC2 Series Rage Cage, designed to increase overall horsepower and throttle response performance in 2011 – 2013 Ski Doo 800R E-TEC sleds. The RC2 Series Rage Cage is Boyesen's new performance intake system designed as a complete bolt-on upgrade. The Race Cage not only increases horsepower and response, but stands as the industry's only solution to the problem of intake boot deterioration failure.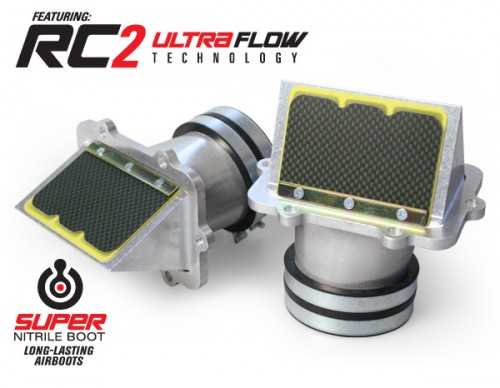 Each RC2 Series Rage Cage is "Performance Optimized" – tailor made to each sled's model, year and displacement. While other aftermarket valves might change flange sizes or bolt patterns, they're basically generic – but with the Rage Cage, there are no compromises in power, and no modifications required to fit the valve while upgrading your sled's reed intake system. The Result: A true, bolt-on Power Boost specifically made for YOUR Ski Doo 800 E-Tec.
The RC2 Series Rage Cage's multi-stage reed petal system has been designed to increase throttle response and acceleration, while also broadening peak RPM horsepower output.  The Rage Cage's seamless, one-piece, precision casting and continuous aero-form surfacing provide maximum flow velocities and instant, explosive movement of air particles the moment you turn the throttle. Standard equipment on each Rage Cage, are Boyesen's dual-stage reed petals. The race-proven reed petals are integral in providing the superior ability to maintain timing with the power pulses of the Ski-Doo 800 E-TEC engine platform. Your 800 E-TEC will gain maximum flow velocity across the entire RPM range, and at all throttle settings. Smooth. Sharp. Smart. The result: Full Spectrum horsepower and lightning –fast response. Independent dyno testing by DynoTech Research shows an immediate horsepower gain of anywhere from 5-10% through the majority of your Ski-Doo 800 E-TEC's power delivery.
Rage Cage research and development is performed in dry, cold winter air to get the most out of each performance valve that we create! During the development of our new Ski-Doo E-TEC Rage Cage, Boyesen focused on controlling the ambient temperature conditions by creating dry cold engine intake air with a custom air conditioning system. Boyesen's Dyno testing environment uses a custom-built, thermostatically controlled system to the best simulation of winter operating conditions. The result of this process guarantees that Boyesen's new Ski-Doo Rage Cage offers one of the strongest performance enhancements that E-Tec owners can buy.
The manufacturer's suggested retail price of Boyesen's Ski-Doo 800 E-Tec RC2 Rage Cage Intake System is $329.95 (USD). Part Number: RAD88-2 (fits 2011-2013 Ski-Doo 800 E-Tec)
The Boyesen RC2 Rage Cage system is available at your local dealer or popular web retailers. If your regional dealership has chosen not to stock this product, Boyesen also makes it available for purchase at our webstore.
Visit www.boyesen.com for more information, or to make your purchase.
— ABOUT BOYESEN —
Since it's inception in 1972, Boyesen sets the standard in which all other high-performance components and intake systems are measured against. For more than 40 years Boyesen has specialized in the design and manufacture of high-performance parts to the power sports industry.
The design knowledge gained by Factory Race Team Research and Development partnerships, such as Boss Racing, bleeds all the way down to weekend warriors looking for the highest performing and longest lasting products on the market. Boyesen's tagline, "Leading Edge Performance", is recognized worldwide. From their innovative industry leading performance reed petal systems, to their complete Rage Cage Reed Valve System, Boyesen continues to consistently set the standard for performance and manufacturing build quality.