Brad Bettin of Northwoods Racing and the Pink Ribbon Riders are auctioning this custom sled hood that he raced in the Ice Oval Series. The hood is signed by top racers and also the famous Bobby Unser. The hood is on eBay now with the auction ending on December 21st, 2011. All proceeds of this auction will go to the Pink Ribbon Riders to help breast cancer patients.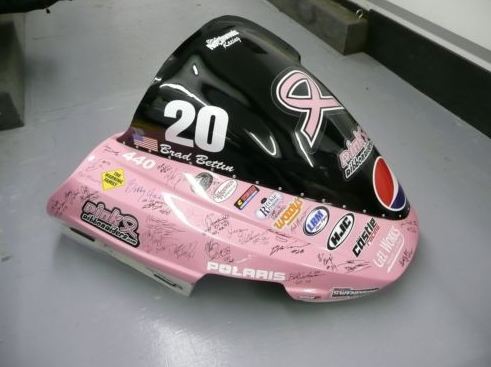 Brad writes, "I drive the #20 Pro Champ 440 sled for Northwood's Racing. I raced this hood at the 2010 World Championship Snowmobile Derby and thought it would be a great way to show my support for Pink Ribbon Riders."
Not only is this hood pink, but it is also signed by many World Championship drivers and other current Pro Champ drivers that you may have heard of, including long time Indy Car Racer, Bobby Unser.  "I would be honored to have Pink Ribbon Riders auction off this hood to help raise money to benefit breast cancer patients," says Unser. "Thank you, Pink Ribbon Riders, for continuing to support all the wonderful people you do!"
Here's a link to the auction. http://bit.ly/uoovjW
If you're budget doesn't allow you to purchase the hood, you can contribute a small amount through our donation page here! MaxSled.com Pink Ribbon Riders Donation Page.