The OHV community joins together today in mourning the loss of one of its greatest activists. On Thursday, April 5th, 2012, Adena Cook–one of the original founders of the BlueRibbon Coalition–passed away.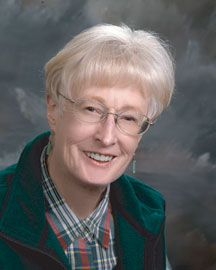 Adena Cook
Adena will be sorely missed, both by those that knew her, and by the recreation community to whom she gave so much. She will forever be in our hearts and thoughts, and her legacy of dedication, perseverance and determination will live on.
Ms. Cook was amongst those that aided founder, Clark Collins, in turning the Idaho Public Land User's Association into a national organization, re-titled the BlueRibbon Coalition (BRC). She served as the newly created group's volunteer secretary until 1989, at which point she became the group's first Public Lands Director, and the second paid staff member.
Adena worked tirelessly in her role as Public Lands Director for the coalition and was a strong advocate for protecting recreational access to public lands. She was among the first to establish the ties to land-managers and agencies that still help BlueRibbon in its vital role to this day. She also had a pivotal role in the efforts of Clark Collins to create a network of grassroots groups and individuals. A network that has become the heart and soul of the organization as it is today.
Always pushing to modernize the Coalition and advance our methods of communication, Adena was instrumental in the Coalition's keeping up with the pace of technology. In her own words, " we were growing, achieving, and improving grassroots recreation activism, communication technology was changing the world. It primed all those pumps in all those springs that flowed into the creeks and rivers. We were among the first to use every bit of it…our timing was right on."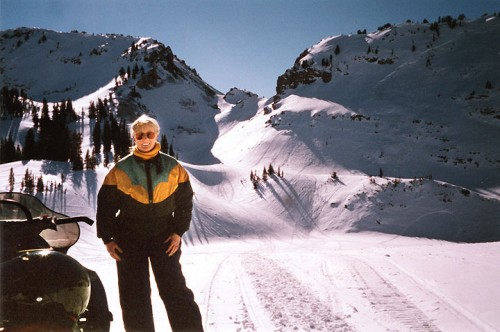 Though she enjoyed a wide variety in her recreation, Adena was aways an avid snowmobiler.‪
As part of her relentless drive to improve the Coalition and make it into a powerful tool for recreational advocacy, Adena initiated some of the earliest contacts with the legal firm of Moore-Smith-Buxton & Turcke, the firm that would eventually be integral to the BlueRibbon Legal Program.
In the Coalition's first Supreme Court victory-defeating a lawsuit filed against the Bureau of Land Management (BLM)-Adena would later say, "I could never have imagined that, a few years after those meager beginnings, we would participate in a case that won before the Supreme Court. Our legal team is now one of the most important parts of BRC."
 In 2002, Adena Cook retired as Public Lands Director, but stayed on in a volunteer capacity as the Coalition's Senior Policy Advisor. She will be deeply missed by those that worked closely with her:
"Adena was absolutely crucial to the BlueRibbon Coalition's evolution as a nationally recognized recreation advocacy group. Her hard work and dedication was an inspiration to me personally and to grass roots recreation access activists across the nation. No one has had more of a positive impact on back-country recreation than Adena."
—Clark Collins, BRC founder
"Adena was a true innovator in the field of recreation advocacy. I feel a deep personal loss at the news of her passing. Adena was my friend, mentor, and colleague and I will miss her. The recreation community lost an iconic champion. I mourn with many others today at this news."
—Don Amador, BRC Western Representative
"The public lands community will miss a pioneer and champion in Adena Cook. Her keen insight helped create BlueRibbon's legal program and give recreationists a voice they lacked before agencies and courts. She was quick, efficient and genuine in her thoughts and was respected even by those with differing views. Not only recreationists but the public lands community should take a quiet moment to reflect on the gifts Adena brought and the legacy she hoped to build."
—Paul Turcke, lead counsel for the BRC Legal Team
"It is a sad day.  We are all the better for having known Adena.  Few ever achieve the level of excellence she demonstrated in her life and in her work.  I am proud to say that generations to come will share the benefit of her efforts.  I am blessed to have been able to call her my friend and colleagu
"I believe there is a bit of Adena's legacy in all of us who remain behind working in advocacy roles to keep the public lands open for people to use. I will carry with me the knowledge and skills she helped me develop over the years. Others will benefit through the years from her research and from the environment created by her presence. Despite her dogged tenacity, she was every inch a lady….all the time, on her beloved snowmobile or in the courtroom and the boardroom. She continues to be a role model into the future and I will miss her."e."
—Greg Mumm, BRC Executive Director
—Joni Mogstad, BRC President
Reflecting on her short biography on the BlueRibbon Coalition website, we cannot help but find it woefully inadequate to describe the wonderful, vibrant woman who had such a large hand in the Coalition's creation and growth. Therein she states her goal as being, "To shape public policy in support of diverse recreation on public lands." In truth, her goal was the same as that of the Coalition itself. It is an ongoing goal. She achieved it with grit and determination, and we will continue to achieve it in her memory.
Rest in peace, Adena. You remain with us forever.