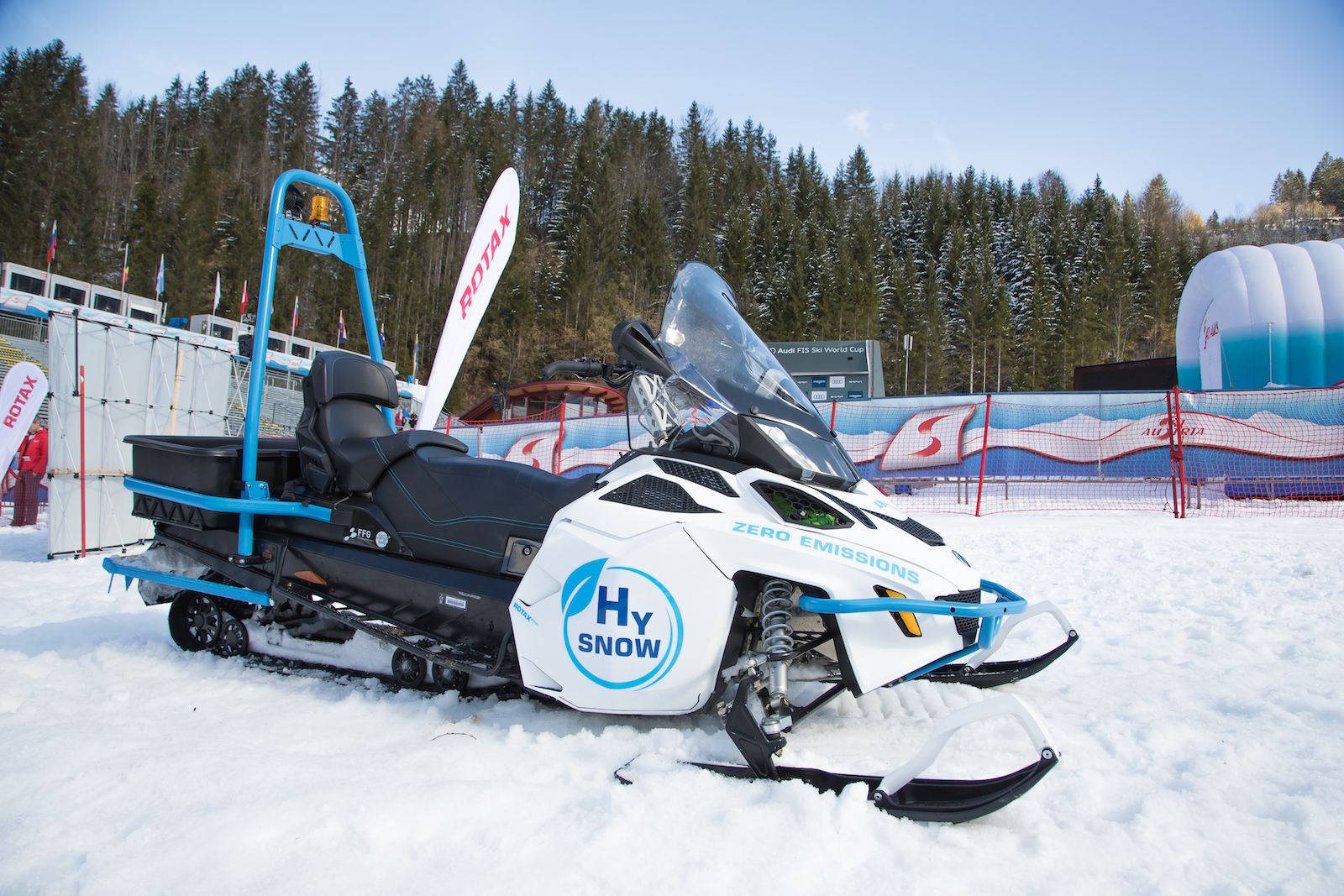 This leading Austrian company is launching its centennial year in 2020 by taking an important step towards the future by presenting its latest beacon project: the Lynx HySnow, Rotax' first zero-emission snowmobile, with an electric hydrogen cell powertrain. Its introduction at the FIS Ski World Cup 2020 in Hinterstoder will include distinguished guests from the worlds of business, science and politics to discuss the key issues of mobility and decarbonization of winter tourism.
"2020 is a very special year for us. We're not only celebrating 100 years of innovation and leadership in engine development and manufacture, we're also starting a real hydrogen revolution for the new decade. Using this renewable source of energy means we are ushering in a new age for Rotax, and expanding our potential for the future," explains Wolfgang Rapberger, GM BRP-Rotax / Representative of the Management Board.
After extensive research and development, Rotax is now presenting a concept vehicle for its first zero-emission snowmobile. The new Lynx HySnow is based on the Lynx 69 Ranger Alpine, a snowmobile that has proven its worth in Austrian skiing areas for many years. The vehicle has been completely refitted and given a high-quality electric powertrain complete with a hydrogen fuel cell. In linking e-mobility and hydrogen, the Lynx HySnow is not only a flagship project for sustainability, it also has many other benefits.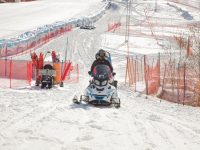 Its innovative powertrain system means the vehicle runs almost silently, regardless of temperature fluctuations, and is able to operate over a greater range and achieve faster acceleration than conventional electric drives. The Lynx HySnow is initially intended for use in the winter tourism sector. "We have invested over four and a half years of intensive research and development in this flagship project. The Lynx HySnow is a technological masterpiece and a key milestone for our sustainable powertrain systems. As an integral part of a real hydrogen ecosystem, the example of Hinterstoder also demonstrates how we and our partners are  successfully driving forward the decarbonization of winter tourism," says Nigel Foxhall, Director Advanced Engineering at BRP-Rotax.
Hydrogen ecosystem constructed in Hinterstoder
Together with hydrogen experts HyCentA Research GmbH and other project partners, in addition to developing the Lynx HySnow, Rotax has constructed an integrated hydrogen ecosystem and filling station in Hinterstoder. Hydrogen is an innovative energy source and works in conjunction with a fuel cell to provide electrical energy. The Lynx HySnow is filled under high pressure, with the hydrogen being stored in its gaseous form. It then comes into contact with oxygen in the fuel cell, releasing electrical energy. This "cold combustion" only produces water, and does not create any pollutants.
"Green hydrogen means that we also generate electricity for the electrolysis needed to produce hydrogen from photovoltaic or other similar systems," explains Dr. Alexander Trattner, CEO and Scientific Director of HyCentA Research GmbH. "And we use sustainably produced hydrogen for the ecosystem in Hinterstoder and the HySnow. We firmly believe that this and other kinds of renewable energy represent the future of mobility. So we are all the happier that we have been able to collaborate with Rotax on this exciting and successful project."
Distinguished speakers at HyTech. HySnow.
The Lynx HySnow was unveiled for the first time on Thursday at Rotax' HySnow. HyTech event to mark the start of the FIS Ski World Cup 2020 weekend in Hinterstoder. In front of an audience of distinguished guests from the worlds of business, science, sport and politics, Dr. Henrietta Egerth-Stadlhuber, CEO of the Austrian Research Promotion Agency (FFG) and Theresia Vogel, CEO of the Climate and Energy Fund, discussed the key issues for the future of mobility. After the fascinating panel discussion, guests had an opportunity to take a picture of the Lynx HySnow at the product presentation on the final downhill of the World Cup course.
The Lynx HySnow project was undertaken in cooperation with the Climate and Energy Fund, the Austrian Research Promotion Agency (FFG), HyCentA Research GmbH, Fronius Austria, the Graz University of Technology, the Hinterstoder and Wurzeralm ski area, ElringKlinger AG and ECuSol GmbH.
100 years of Rotax – 100 years of innovation leadership
The last 100 years for this leading Austrian company have been characterized by success after success and the drive to get things done, and by no means is it finished innovating. The 1,400 Rotax employees at its Gunskirchen site are continually working to develop and produce sustainable new powertrain systems.
Thanks to massive investment in new technologies, a high degree of agility, an integrated management system (BRPMS) and extensive change processes in relation to staffing, over the last few years the company has ensured, step by step, that it is ready for the future. "We are full of pride as we look back on the last 100 years of our company history. But we are not resting on our laurels: we are continuing to work towards an even better future. In our business above all, we know that although it's important to keep your eye on the rearview mirror, you should never lose sight of your goal," says Wolfgang Rapberger, summarizing the Rotax philosophy. "State-of-the-art technology, outstanding agility, and highly trained staff enable us to be even more confident as we rise to the many challenges of the future. So we're looking forward to the next 100 years."