Just when you thought the horsepower unleashed at the Sno-Barons World Championship Grass Drags and Swap Meet couldn't get any bigger, in walks Bully Dog Technologies and their bold display of power. A recognized leader within the diesel and gasoline performance ranks for their expertise and products designed to significantly improve performance; Bully Dog will make its first appearance at the world's largest snowmobile event this September 8th and 9th in Sunrise Township, Minnesota.
Bully Dog is renowned within the heavy-duty diesel and automotive aftermarket ranks for producing serious horsepower especially for tow vehicles with technologies that include turbos, cold-air induction, digital tuners, and intake manifolds.
Despite this being the company's first trip to Haydays, founding Idaho brothers Michael, Phillip, and Daryl Klassen have a longstanding passion for mountain riding. Now that passion and the power and towing benefits of Bully Dog Technologies will come together at the largest snowmobile event in the world.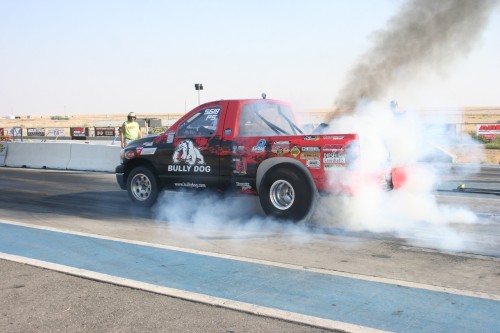 Not satisfied with just "showing-up" Bully Dog stepped up as a major contingency sponsor for the event, and will also have a major presence. Located adjacent to the Motorsports Expo 1 area, Bully Dog will be seen and heard as NHRDA world points leader Jarid "Ironman" Vollmer and his Bully Dog drag truck will demonstrate the serious horsepower Bully Dog can produce by spooling up a portable dyno and giving fans an up close and personal experience of the sights and sounds of Bully Dog power.
On top the hill, where the national snocross and cross-country big rigs shine, members of the Bully Dog sponsored Leighton Motorsports National Snocross Team will be signing autographs and handing out plenty of swag. The sponsorship marks Bully Dog's second foray as a national snocross sponsor; coming close on the heels of the inking a presnting sponsorship deal with the International Series of Champions (ISOC) national snocross series this past March.
Gates open for the 46th annual Sno-Barons Haydays World Championships at 7:00am both days. Admission is just $20 for adults on Saturday, $10 on Sunday, or a two-day pass is just $25. Kids 12 and under are free. To learn more and for detailed directions and site map, visit www.snobarons.com