Cardo Systems, Inc., the world's market leader in wireless Bluetooth communications for helmet headsets, today announced the availability of its new scala rider® G4™, the most feature-rich vehicle-to-vehicle Bluetooth headset available on the market today.  From compatibility with any number of Bluetooth-enabled devices to its embedded FM radio, mobile phone support and voice activation, the scala rider® G4™ is also the first Bluetooth headset to offer group intercom between up to three riders as well as communication among two riders and their two passengers on two vehicles at distances up to one mile*—a new industry benchmark for motorcycle, ATV and snowmobile headsets.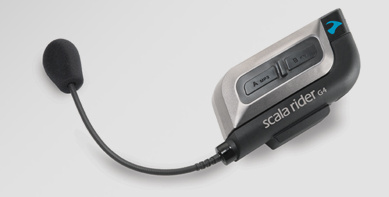 Encased in a rugged and fully redesigned form factor, the scala rider® G4™ leads the pack in Bluetooth enjoyment and safety by allowing the user access to all of their compatible communications and entertainment through one lightweight unit.  Specific features include:
Two/Three/Four-Way Intercom — The G4 allows four riders (two drivers and two passengers), three riders (three separate bikers) or two riders (rider-to-rider or rider-to-passenger), to conduct intercom conversations at distances of up to one mile*.  The headset offers full duplex (simultaneous talking/listening) capability as well as mobile phone call conferencing between riders, between rider and passenger, or with outside callers.
Multi-Device Compatibility — The G4 can connect with virtually any portable Bluetooth device including mobile phones, MP3 players and compatible GPS units (for in-helmet voice instructions).  It can also connect with non-Bluetooth MP3 players, GPS units via its embedded jack, and the entire line of scala rider headsets.**  Each G4 headset can be actively connected to one Bluetooth device and two other scala rider headsets at one time.
A2DP Stereo Music —Taking advantage of A2DP, the latest Bluetooth stereo music transfer technology, the G4 can receive CD-quality music from any MP3 player with A2DP capability.
Built-In FM Radio− The G4 has a built-in FM Radio with RDS and scan and seek features with six station channel memory.
VOX Activation –The G4 allows users to make voice-controlled hands-free intercom calls and phone calls with answer, voice dial and call reject functions.
AGC Technology –The G4 automatically adjusts the headset volume based on ambient noise and driving speed.
PLC Technology – The G4 provides improved audio quality in dense urban surroundings.
Downloadable Cardo Software For Future Upgrades (requires Windows™ XP or Vista based PCs) –This software keeps the G4 always up-to-date with the latest applications.
Spoken Status Announcements – The G4 provides multi-lingual in-the-ear announcements tell users to whom or to which device they are connected to.
"Cardo's new scala rider® G4™ takes all the power of wireless communications and entertainment today and puts it in one amazing package.  There's no Bluetooth headset on the market that revolutionizes a biker's riding experience like the G4," says Abraham Glezerman, CEO of Cardo Systems, Inc.  "This is our most exciting headset yet — a breakthrough that can greatly improve enjoyment and safety for single riders or groups, passengers and drivers alike."   As with all scala rider headsets, the G4 features a noise canceling microphone and weather-resistant design.  Talk time with the unit's rechargeable Li-Po battery is up to 10 hours and standby time is up to 10 days.   The scala rider® G4™ fits virtually all ¾ and full-face helmets and can be self-installed in five minutes.  The headset is now available through select distributors, specialty shops, and directly from the Cardo Systems web site at www.cardosystems.com with a suggested retail price of $279.95.
*Range may vary according to terrain
**Reduced operational range when connected to earlier scala rider models