Cardo Systems, Inc., the world's market leader in wireless Bluetooth communications for helmet headsets, today announced that the company has awarded a snowmobile communications system and $300 grant to each of the following Snowmobile Association Clubs: Cherry Creek Sno-Goers (New York), Eastern Ontario Snowmobile Club (Ontario) and Lake Chelan Snowmobile Club (Washington). The winning clubs each submitted compelling entries detailing how their group would use the funds to promote responsible snowmobiling in their local communities.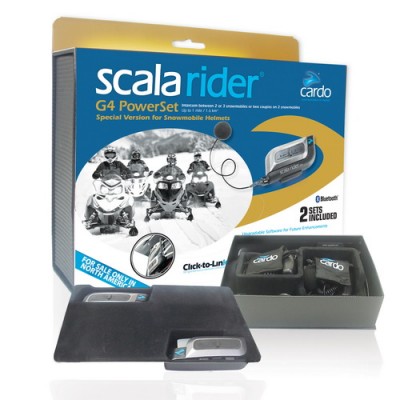 Cherry Creek Sno-Goers submitted the entry that won a scala rider® G4™ PowerSet for Snowmobiles and $300 to establish a youth chapter and encourage trail safety in the next generation. Eastern Ontario Snowmobile Club, received the snowmobile Bluetooth communicator and $300 to promote club trail safety. Lake Chelan Snowmobile Club submitted the entry for the snowmobile helmet communication system and $300, which will be used to improve the warming shelters the club maintains on its groomed snowmobile trails.
"Communication is one of the keys to safe snowmobiling," said Abraham Glezerman, CEO of Cardo Systems, Inc. "With our scala rider G4 PowerSet, club snowmobilers can clearly and safely communicate. We're pleased to help the clubs meet group safety objectives with the $300 grants, and we congratulate all three winning clubs."
The scala riderG4 PowerSet for Snowmobiles is available through select distributors, retail outlets and specialty snowmobile shops. For more information, visit www.cardosystems.com.