Snowmobiling is a sport enjoyed individually with friends. By that I mean you ride your snowmobile feeling every bump, the cold fresh air, watching the scenery; basically the entire experience, by yourself. Most of the time you go with a friend or a group, and some choose to tour in pairs on a two-up sled.
When I'm riding, there are times I like to relax my mind. Then there are times I'd like to enjoy music or need to make a call, or even want talk with others in the riding group. This is the perfect scenario for the Cardo Systems G9 headset. Paired with your mobile phone and another Cardo Systems headset, you stay connected and entertained.
Our team has been using the Cardo Systems headsets since 2005. The first set we tried was the early version of the Q2. I think we were the first to use them in the snowmobile media and immediately saw the benefits of a decent helmet communication system. While the first set we used worked ok, it needed some improvements. Cardo Systems didn't stop developing and continued to improve their Scala Rider headsets and today the features cannot be beat.
Two years ago we wrote about our experience with the G4 set made for snowmobiles. This year, we got to try the new G9 headsets, albeit made for motorcycles. Now the G9 is also available for snowmobiling.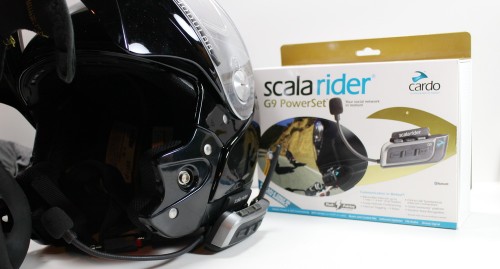 The Scala Rider G9 includes new features, and the firmware can be upgraded to add more features as Cardo Systems releases them.
The G9 PowerSet includes Bluetooth to connect to your mobile phone or even a GPS. This allows you to listen to music while you ride, or talk to someone on the phone. It also features a built-in FM radio if you don't want to stream music from your cell phone. The FM radio can include 6 preset stations or locks onto the strongest radio station nearby.
New voice commands let you receive, reject, or place calls, or receive or make intercom calls while you ride, although during my testing voice commands wouldn't always work correctly.
With the G9, you can connect with up to 8 other riders. You can toggle between riders or even do a 4-way intercom. The new "Click-to-Link" feature allows you to spontaneously talk to other G9 communicators close by. Pairing is easier than ever now, too. You can Flash-Pair a set of G9s by simply clicking them together.
One very nice feature is the ability with the G9 to choose the type of microphone that fits your helmet. They include an adjustable boom mic that works great in modular helmets, and a corded mic that works perfect for snocross style helmets. The headset units are also waterproof and dustproof.
On a recent ride, I had the G9 and my riding buddy had last year's G4 headset. We were able to easily connect them and communicate. We found that the range was acceptable (Caro claims up to 1 mile), but as you rode woods and hilly terrain, the reception diminished and connection would break as the gap widened. Not much of a problem as when I got closer to the other rider, I would tap the "Rider A" button and it would connect. If we got too distant and needed to talk, we would simply call each other on our mobile phones through the headsets.
Bluetooth allowed me to play music through my iPhone 4s and at times even stream Pandora. Volume levels were just fine and easily adjustable either through the phone or the headset itself. The Scala Rider G9 will increase or decrease volume depending upon ambient noise as well.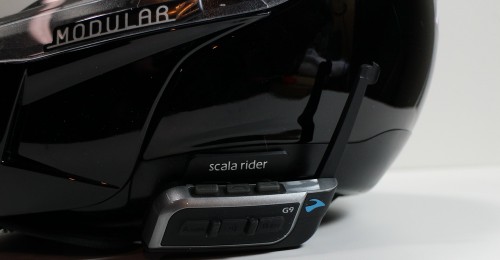 The entire system is amazing, but one thing that really stands out is the battery life. They claim 13 hours talk time and 1 week stand by. We've ridden all day with them on the entire time and never ran out of juice, even on cold days. This has been an improvement over the years.
Cardo Systems developed a web site called "Cardo Community" where you can set up an account and create a buddy list where friends can find and connect with you. You can even make setting for you headset, connect it to your computer, and sync those settings. You can also upgrade firmware right from there.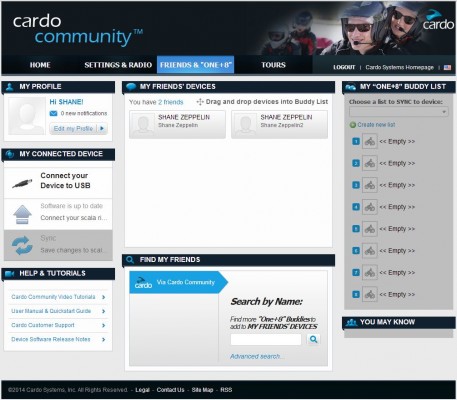 If you have an older set of G4s, they work great and unless you really want the upgraded features of the G9, you would be happy with the G4s. If you want the ability to upgrade firmware and be part of the Cardo Community, allow people to find and connect with you, and save or change your settings, then get a set of Scala Rider G9s and enjoy your ride even that much more.
The G9 PowerSet retails for $499.95. They are something that makes riding that much more enjoyable and you can transfer these from helmet to helmet and use them in the summer on your motorcycle or ATV rides. We think these are a must-have for our rides and highly recommend them.
Cardo Systems has gone to great lengths to include the most features you can get while keeping the Scala Rider as hands-free as possible so you can just ride, communicate, and have fun.