Yamaha's FX Nytro has been their star bump sled and deep snow sled for a few years now, but the 2012 model sees some improvements. Last year the MTX model got a super lightweight all-air sprung rear suspension that shaved pounds from the mountain version. Now you can add a choice of either a Supercharger or Push Turbo if you spring order your FX Nytro MTX. Not only that, the cost is only $1500! This is a $4000 value and if you plan on buying a Yamaha mountain sled, you would be money ahead to order one of these options. In fact, we can't see any 2012 FX Nytro MTX leaving the dealership without it.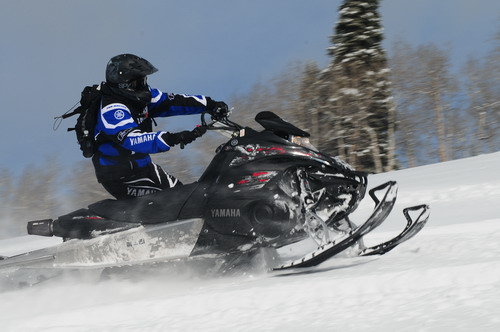 Which one should you order? Well, either one will provide you with gobs of horsepower. The difference is where that power comes on. The Supercharger is powered by the crankshaft of the engine and is essentially always "on". Power starts from low RPMs all the way to the top. The turbo is powered by the exhaust and comes on once the exhaust pressure is high enough, at a higher RPM. We didn't notice any "turbo lag" on the one we drove at Snow Shoot, but the power seemed to come on pretty suddenly. Depending on how you ride, if you are a boonedocker who likes to volley through trees and play in the bowls, the Supercharger might work better for you. If you like to highmark and play king-of-the-hill, the turbo might be better. We don't think you would be disappointed with either one, but you would be disappointed if you ordered a new MTX without one. One last thing you might want to consider when you order your spring "charged" Nytro is to get Yamaha's mountain rack and fuel canister. Both of these systems will use more fuel than a non-charged motor, so be prepared.
Some noticeable improvements on the FX Nytro RTX for 2012 help stabilize it on the trails. A new ski has been added to minimize the darting and give you better steering control with less fatigue. It also gets new lightweight 8-tooth extrovert drivers on the drive axle. This reduces vibration and eliminates track ratcheting during acceleration. Finally, it gets a brand new Rip Saw II track with a single ply design and new lug profile. This track was developed jointly by Yamaha and Camoplast and allows the FX Nytro RTX to glide around the corners easier due to an angled outside lug. These improvements tame the handling of the 2012 Nytro RTX.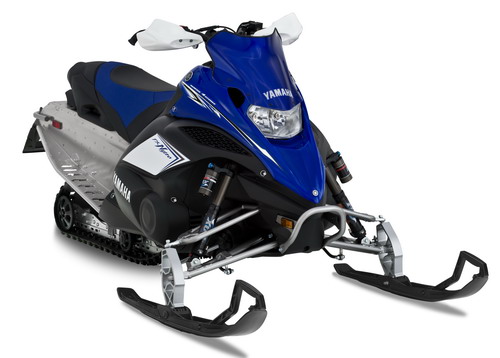 We were impressed with the improvements Yamaha made to the Nytro models and even quite surprised with the supercharger and turbo offerings.