MaxSled contributor and photographer, Jim McMillan, went to the Amsoil Snocross Race in Mount Pleasant, Michigan, where he interviewed Kyle Pallin. Jim lives in southern Michigan where he travels from track to track taking motorsports photos. You can learn more about Jim by going to his website here.
This week we caught up with Kyle Pallin before the second night of racing of round seven, at the Soaring Eagle Casino and Resort in Mt. Pleasant, Mi.  Coming fresh off of a podium finish in Chicago the week before, and getting on the podium the previous night in Mt. Pleasant, we wanted to get to know Kyle a little bit better and ask him a few questions.
Max Sled: Kyle, congratulations on your podium last night, and also on last weekend as well.  Where you from, and what are was your inspiration to get into racing?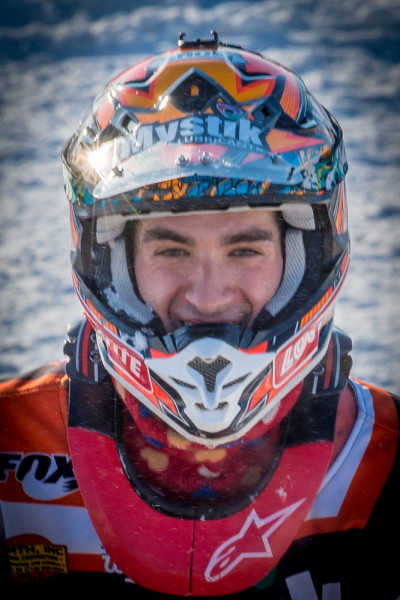 Kyle: "I'm from Ironwood, Mi. up in the U.P., and it's kinda big snow country. We always get between 150-300 inches of snow every year. And as a young kid, my parents had trail snowmobiles, and they'd go trail riding and I had a kiddy Kat, and I kinda got started out on that. I just kinda got involved in it but my brother was more of the hard core snowmobile guy, he would be going every weekend with friends and that and he actually went to go see a couple races and I was interested in it. I think the first two or three races it kinda looked fun and I asked if I could take his sled around the track. I just got hooked, and fell in love with it and here I am today, and now I get to do it as my career."
Max Sled: How long have you been on the LaVallee team now, and what has helped you the most from this move?
Kyle: "This is my 3rd year of racing with team LaVallee, I'd have to say I've been really fortunate with Levi LaVallee, and Glenn Kafka. They have tons of experience and have been around this sport for so long, and with Levi being a Pro for over ten years he's got so much knowledge and he's able to share with me and teach myself and my teammates.  I think that and just the atmosphere that kinda fits in with my personality, ya know the easy going kind to joke around. I think it's just been a really good home for me, and really allows me to express myself.
Max Sled: With all of your accomplishments, describe how it felt to podium last night, and last week at a new Venue down in Chicago?
Kyle: "It's amazing whenever you get on the podium. Like, it doesn't matter 1st, 2nd or 3rd…(laughter erupts) don't get me wrong, if you take the win, it's really great!  It's hard to get up on the podium.  One night you may not make the final, and the next night you could be up on the podium. It's pretty hard, there's 14 other guys on the line that want it just as bad as you, and they're not gonna make it any easier on you. So anytime you're up there, you gotta be thankful and grateful for it."
Max Sled: Running 3rd in points, and the momentum you're carrying, do you feel you have what it takes to move up tonight?
Kyle: "Ahh yea, I think so. You have to keep trying to progress and I am sitting 3rd and I'd love to leave here top three, we still have 4 more rounds of racing and that's a lot of racing and a lot of points to be gained. So, I'm looking forward to it."
Max Sled: How much work and training goes into your short 8 race weekend series?
Kyle: "The amount of work and training is more than what the average person thinks. I'll take off a little time after the season, but we start right back at it around April or May.  You start doing your training and ridding your dirt bike and motocross and that carries right thru to the end of the year. It's pretty busy for sure, but absolutely all worth it."
Max Sled: What do you enjoy doing as hobbies or sports in your off season?
Kyle: In the off season I do ride dirt bikes, mostly practice but I do a few races just for fun. I keep that more as a training tool, and don't take that quite as seriously as some of the other guys do. I do it more of a fun type of training, kind of a laid back type of deal."
Max Sled: What kind of sound advice would you give the youngsters and their goals for the Pro level of SnowX?
Kyle: "Ya know, to all the young kids out there, you really gotta have fun, you really do. I mean if you think about it, really at the end of the day we get to race snowmobiles. (With a big smile) You know what I mean, how cool is that?"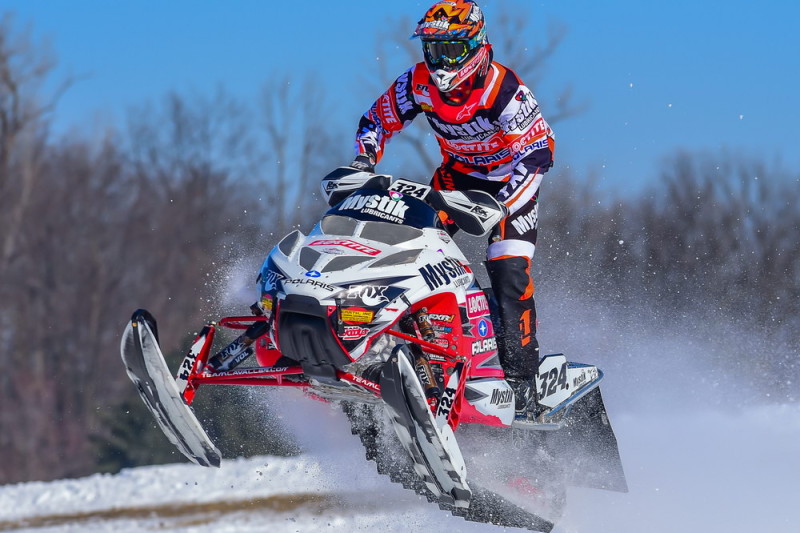 Max Sled: Who did you look up to in this sport growing up?
Kyle: "Um, I always looked up to the Pro riders. Ya know when I was little coming up through the ranks.  Even Tucker (Hibbert), ya know he was always the guy on top and Blair Morgan. Ya know even Levi (LaVallee), he was ripping back in his days winning championships. You know, just all those guys, just wanting to be one of them someday.
Max Sled: With this being a home race, do you have a lot of family and friends here to cheer you on?
Kyle: "Yea, my Dad and some friends made the drive down from Ironwood. Also I have some friends that go to school or have moved down to lower Mi. area that are here, so yea. So I had a pretty good fan group last night, and to get on the podium in front of them, that made it all the better."
Max Sled: Is there any special person or Sponsors you'd like to give a warm shout out to?
Kyle: "You know, it's hard to thank just one person. It's such a team effort. There's so many people and things that go into it.  It's a puzzle, and you really have to have every piece. Here at team LaVallee we've got a good solution to it".
Max Sled:  Thanks a lot Kyle for taking time out of your busy schedule to talk with us this morning.  Best of luck tonight and we're looking forward to seeing you running strong the rest of the series and on that podium more often.
Kyle and his whole team there at LaVallee racing is going to be one to watch out for in future events for years to come. With the best equipment, knowledge and talent backing them, it would be no surprise to see this team rise to championship form in the near future.