Air Temp: 10 degree F
Terrain: Various, ditches, ungroomed trails, fields, some deep snow
F8
Fuel economy: N/A
Oil consumption: N/A
Renegade
Fuel economy: 14MPG
Oil consumption: N/A
It's been a number of years since I've been able to ride much before Christmas, and equally a number of years since my friend was able to ride with me. We grew up riding snowmobile together and he recently moved back into the neighborhood after living a couple hours away. He's more into the vintage sleds and hasn't ridden a model newer than a mid-90's, so it was a treat for us to go on a ride together today.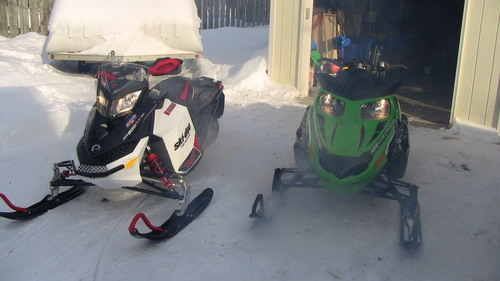 We took out the Max Sled Arctic Cat F8 Sno Pro and Ski-Doo Renegade-X E-TEC 800 demo units for their first run; well, at least for the Cat. The Ski-Doo did have 24 miles on it from one of the other Max Sled Team members. We put on 66 miles in about 3 hours on ungroomed trails.
Both sleds are in the break-in period and use heavier amounts of fuel and oil. Both manufacturers recommend 91 octane fuel for these models, but we couldn't find it at the fuel stop. The Ski-Doo did have a full tank, but the F8 was empty. I put a few gallons of 89 octane fuel in the Arctic Cat just to go for a ride today and it performed pretty well all day. I did fill both sleds with 91 octane from a different station at the end of the day. Since I didn't fill the Cat, I can't give a fuel economy report, but on the Renegade it took 4.25 gallons to go 60 miles, or just a little over 14MPG. That's not bad considering the break-in period and the various conditions we rode in.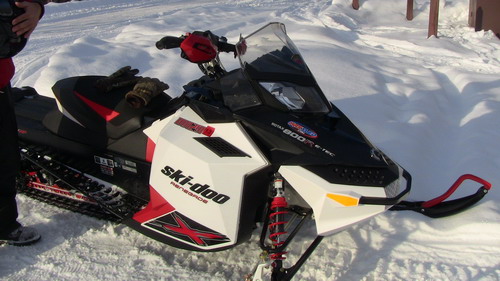 Both sleds are very different and each one shines in different areas. The AC F8 has a much better suspension and can handle any of the terrain we rode in today. The ride was smoother, bumps were less harsh, and you always felt in control no matter how far you turned the handlebars. I did experience one area where I had a little inside ski lift, but nothing uncontrollable. The adjustable seat and handlebars are nice, but the seat does move and doesn't lock solid in place. The material on the seat is also slippery, unlike the seat on the Renegade. The combination of the slippery material and the seat movement does get a little fatiguing. The seat on the Renegade is rock-solid and has just enough stickiness to keep you planted, yet allows you to move when you need to.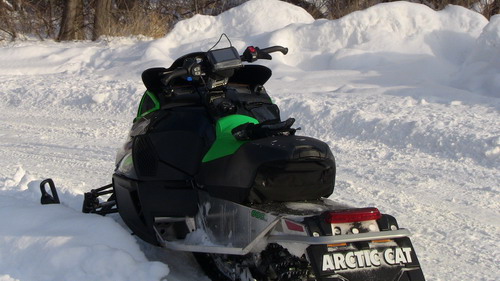 Both of these models are cool to ride, but they both throw the cold air on you in different places. The Cat tends to direct air to your head and the Ski-Doo to your chest. Hand and thumb warmer performance is also different between these two. The F8 kept your hands and thumb plenty warm, but doesn't allow for more than high or low. The Renegade's warmers didn't perform too well and we may have to have it looked at. My throttle hand was freezing cold while my brake hand was super-hot. My friend had the opposite happen where his throttle hand was ok, yet two of his fingers on his brake hand were cold. It could be the position we are riding with our hands, but I think something might be wrong with the right grip on our unit.
We also used our Cardo Systems Scala Rider headsets and were able to talk back and forth during our ride. Once you have a headset system like this, it's hard to ride without one. I have the new G4 model installed on my helmet that has a range of up to 1 mile. I put our Q2 model on my friend's helmet and that has a range of about 1/6-mile. I thought that maybe with the G4 having a longer range it would pick up the Q2 at a longer distance, but it didn't. I'll have more on these headsets, but I just wanted to mention that we used them today.