The 2012 season has been kicked off this past weekend at the Duluth National Snocross Races. This year Maxsled.com Team Member, Randy Nemitz, wanted to see the races through the eyes of a 7 and 9 year old.  After all, they are the future of our sport and we need to get them involved.  We have covered races for many years, but never like this. My 9 year old was running the camera (for most of the shots) so the photo credit goes to him.
The day started off with a 2-1/2 hour drive and both of these kids were stoked. Sometimes its hard to keep kids focused but that was not a problem as we arrived at the track. We walked out to the track and their eyes were locked on the sleds flying in the air. It took us 2 hours to get in the building for a scheduled meeting because they were so into the racing.  We lasted 12 minutes before I heard 'Dad lets get back outside to see more racing'.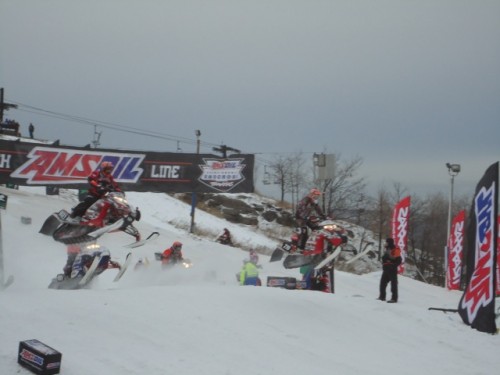 We spent a little time walking through the pits but most of the time was spent freezing in the stands. I asked over and over if they wanted to go inside to warm up. The answer was "No way Dad, we might lose our spot".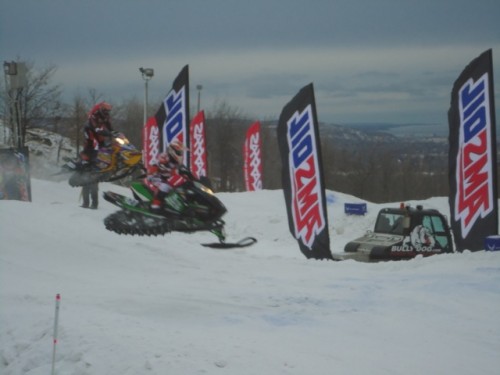 A great moment was my 7 year old yelling 'Go Tucker, Go!' We stayed all the way to the Pro Open Final to see #4 Robbie Malinoski on his Amsoil Ski-Doo take first place. Ross Martin on his Dupont Polaris had the lead until his sled broke 60 ft. from the finish line. He finished 2nd. On Friday night, #837 Ross Martin took the win to score him $10 Thousand for the second year in a row.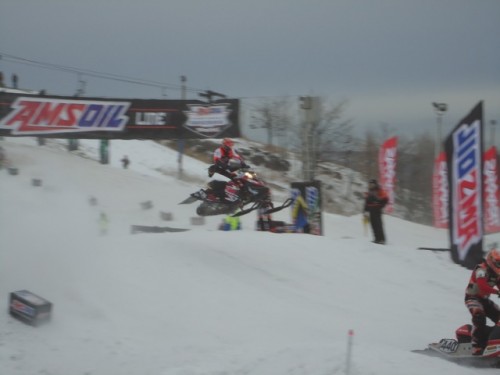 Sunday's racing brought something very special at the end of the day for Scheuring Motor sports; it was a Tri-Fecta. All three Amsoil Ski-Doo's were on the podium at the same time with Robbie Malinoski taking first place. For the results you can go to Isocracing.com. My thoughts on the rest of the racing was "T-train" Tucker Hibbert and the rest of the Arctic Cats were having a tough weekend. The Polaris sleds were dialed in very well and for the most part looked very strong the entire weekend. The Ski-Doo's looked pretty good and were just in the right place at the right time to take home the gold.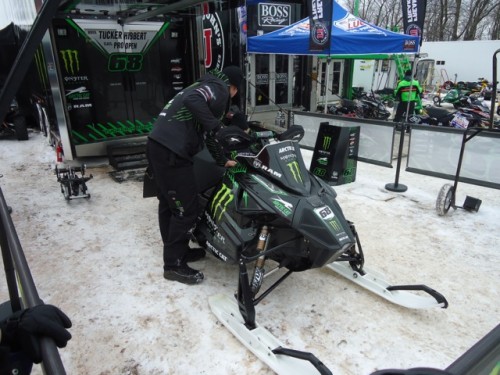 In the end we watched some great racing and had some great memories to share for many years to come. That's what it's all about. Get your kids involved in the sport and share some memories of your own.