56,000 miles snowmobiled in 180 days over three winters and over 500 miles in a single day all on one snowmobile by one man. These are the goals set by Nick Keller and the Keller Family Community Foundation, Richmond, MN with their annual snowmobiling fundraiser Snowball Cancer Challenge which started this year on January 15 and The Valentine 500 set for February 14, 2012.  To put these accomplishments into prospective, the average snowmobiler in North America rides about 1,400 miles in a snowmobile season according to the International Snowmobile Manufacturers Association.  Snowball Cancer Challenge is an interactive fundraising event hosted by the Keller Family Community Foundation that allows other snowmobilers to ride during the attempt to break the records for snowmobiling distance and bring awareness and support to people living with cancer. The Valentine 500 is a single day event dedicated to honoring loved ones battling cancer and in memory for those who have passed away from cancer. For the Valentine 500 event, Keller and a group of volunteers will attempt to ride over 500 miles in one day to raise money from pledges and donations.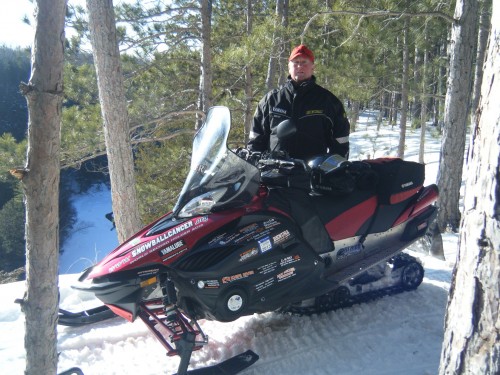 Snowball Cancer Challenge 2012 is well under way with attempting to achieve the 56,000 miles total on Nick Keller's 2010 Yamaha RS Vector GT and holding a single day personal best high mileage challenge—The Valentine 500.  Keller has been snowmobiling the trails of Minnesota, Wisconsin, and Michigan.  As of Saturday, February 4, Keller has 51,254 miles on his odometer and has logged 5,844 miles for this year's challenge.  Keller and KFCF are accepting pledges and donations for Snowball Cancer Challenge and the Valentine 500.  You can learn more about the foundation, these events, and how to donate by visiting the KFCF website www.snowballcancer.org
The past two Snowball Cancer Challenge events, Snowball Cancer Challenge 2010 and 2011, took place the winters of 2009-2010 and 2010-2011. The goal was to raise money for the Keller Family Community Foundation during the Snowball Cancer Challenge 2010 in which Nick Keller attempted to break a world record for "the Longest Snowmobile Journey" in 60 days. Nick finished his challenge on Tuesday, February 23rd at The River Station in Richmond, MN with 20,131 miles on his 2010 Yamaha RS Vector GT odometer. Nick started with 625 miles on the odometer prior to the start of the event for warm-up/break-in miles and had 19,506 logged and documented miles for the record–far surpassing the current record of 12,163 miles currently held by Robert Davis of Maine. Nick's 60 consecutive days of snowmobiling spanned from Saturday, December 26, 2009 to Tuesday, February 23, 2010.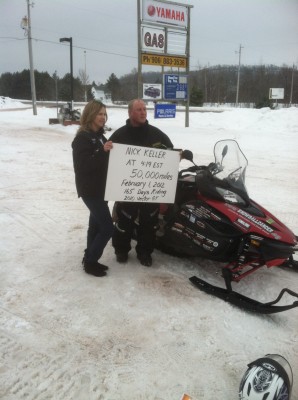 Snowball Cancer Challenge 2011 saw Keller set the bar for himself even higher by attempting to break the previous year's challenge record and to have a personal best high mileage day set for February 14, 2011. Nick Keller reached his goals in a big way!  He snowmobiled 22,150 miles in 60 days; 552 miles in a single day; 41,656 miles in 120 days; and a whooping 43,150 miles in two snowmobiling seasons!  Keller started the 2011 Challenge on December 26, 2010 in Richmond, MN by snowmobiling to Ironwood, Michigan.  He finished the snowmobile challenge back at Grandpa Jerry's in Richmond, MN greeted by family, friends, and supporters again on February 23, 2011—which happens to be Nick Keller Day in Richmond, MN.
Nick Keller and KFCF's Snowball Cancer Challenges have been featured in various newspapers, magazines, internet blogs, Yamaha advertising, and SledHead 24/7 on Fox Sports Net which featured him in a three part story, available to view via a link on the KFCF website.  The true focus of Nick's snowmobile riding has and is to raise awareness and funds for people with cancer as part of the Snowball Cancer Challenge sponsored by the Keller Family Community Foundation, a 501(c)(3) organization, formed by Nick and his family.  Nick's journeys from past years are available to see via the Snowball Cancer website www.snowballcancer.org under "Nick's Blog" which features his daily miles driven, a daily blog, and links to his beacon system to see his daily routes.
Nick Keller's mother passed away 25 years ago of breast cancer at the age of 56 and has many other family members and friends that have been affected by cancer.  Nick's sister Carol recently passed away from her fight with cancer just prior to this Christmas. Nick, a founding member of KFCF, said, "Everyone knows someone with cancer and is affected by it in some way."  Nick has been an avid snowmobiler for the past 38 years.  He is a distance snowmobiler averaging, in the past, 200+ miles a day and over 5,000 miles a season.  Nick is known throughout Minnesota, Wisconsin and Michigan in the areas that he snowmobiles in as the "mileage man."  He is active in his local snowmobile club and participates with the local and state snowmobile associations.  Nick is also involved in various community organizations volunteering his time, talents and financial support.  Nick's family also enjoys snowmobiling and is actively involved in other community organizations.  Nick and his wife Janet Keller along with their daughters Julie Keller Dornbusch, Carrie Burhop Keller, and Melissa (Keller) Ngeno founded the Keller Family Community Foundation to support research, education and informational activities to increase public awareness; and prevent and treat chronic health conditions and diseases, such as cancer, diabetes and depression.  Nick said, "We (KFCF) want to make a real, tangible difference in the lives of people affected by cancer." Since KFCF started, additional members have joined the foundation along with many volunteers for the various events hosted by KFCF.  The Keller Family Community Foundation is people helping people—the community.
The money KFCF has raised each year through their fundraising efforts is central to supporting the KFCF mission, which aims to fight cancer through research, education, advocacy, and service, which is dispersed by grants. With the generous support of the Keller Family Community Foundation (KFCF)'s Snowball Cancer Challenge, the KFCF has been able to fund over $12,000 in programs such as a Free Wig Closet and transportation programs for chemotherapy and radiation treatments at 9 area hospitals throughout Minnesota, Wisconsin and Michigan. During these tough economic times these funds are providing families an additional fighting chance to overcome cancer.  None of these additional programs would have been possible without the help of supporters.  Your tax deductible donations to the foundation are accepted year round and there are Snowball Cancer t-shirts still available for purchase through the KFCF website.  Visit the Keller Family Community Foundation website for more information, to donate, apply for a grant from the foundation, information about other events, or to view photos and Nick's Blogs. The site is updated often.  The KFCF website is www.snowballcancer.org, also on Facebook or Twitter under Snowball Cancer or Keller Family Community Foundation.  You can also contact by postal mail at KFCF, PO Box 164, Richmond, MN 56368.  The Keller Family Community Foundation is a 501(c )3 non-profit organization.