Alpine Parka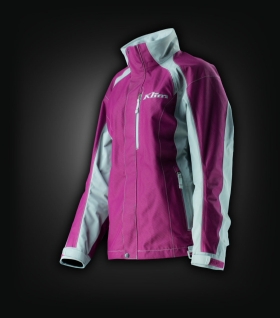 The most technically advanced Women's outer shell on the snow is here. The all-new KLIM Alpine Parka features a unique combination of GORE-TEX® fabric technologies to deliver maximum toughness, breathability and the confidence of our GUARANTEED TO KEEP YOU DRY Promise® in a style and fit perfect for the female rider.  Patterned aggressively for highly active riders, the Alpine incorporates leading-edge features not found anywhere else.
Perfectly matched to the KLIM women's line of performance layering products, the Alpine is exactly what active female riders have been asking for: unbeatable waterproof/breathable shell performance, high-end features and fabrics, supreme functionality, unmatched durability and the highest level of motorsports fashion. This is THE jacket for the real female rider who stops less and rides more.
PRODUCT VIDEO LINK: http://youtu.be/C1xDD4lhYMY
Materials and fabrics
–          Highly breathable GORE-TEX® Two-Layer Performance Shell Technology
–          Embossed/Textured GORE-TEX® shell Fabric
–          Thinsulate™ insulated Fleece-lined comfort collar
–          Max visibility 3M Scotchlite™ reflective trim
–          Internal comfort liner
–          YKK® Zippers throughout and water resistant zippers in exposed areas
Sizes: XS-2XL
Cost: $329.99
Waterproof: KLIM and GORE-TEX® GUARANTEED TO KEEP YOU DRY® PROMISE
Windproof: 100% Windproof
Cargo: 3 External pockets (1 chest, 2 hand), 2 Internal pockets
Ventilation: Three-port Max-Flow ventilation (Wide-Open Pit Zips with interior Storm Flap, Horizontal Lower Back Exhaust Vent with Snow Dust barrier Mesh)
Reflective: 3M Scotchlite™ reflective trim
Alpine Bib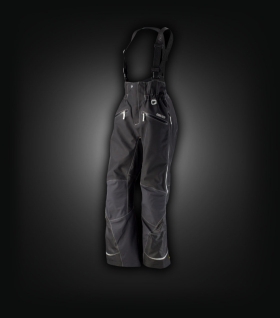 KLIM innovation continues in the Alpine Bib. Starting with an all-new high-waist bib design built in tune with real-world female body shapes; the Alpine Bib refuses to compromise fit and performance and is dedicated to satisfy the most demanding female riders' needs. Non-insulated to take advantage of supreme breathability and KLIM's layering system versatility, the GORE-TEX® Three Layer Performance Shell construction keeps aggressive riders on the snow longer.
This is the first full-featured premium shell bib built for women that incorporates all the proven men's KLIM-product technology (wrap around full-length side zips, KLIM Seat Dry Tech construction, high wear fabrics in key zones, intelligent gaiter design and more).  Unique embossed GORE-TEX® fabric adds just enough female styling to finish off the Alpine package—This truly is the next step in women's riding gear.
PRODUCT VIDEO LINK: http://youtu.be/M2D3PHua0IQ
Materials and fabrics
–          Highly breathable GORE-TEX® Three-Layer Performance Shell Technology
–          KLIM Exclusive Seat Dry Tech Construction
–          Embossed/Textured GORE-TEX® Shell Fabric
–          Integrated Powder-Hater boot gaiter design
–          Non-slip adjustable suspenders
–          Removable anatomically shaped comfort knee/shin pads
–          Max visibility 3M Scotchlite™ reflective
–          Water Resistant YKK® Zippers
Sizes: XS-2XL Regular — S-2XL Tall
Cost: $329.99–$349.99
Waterproof: KLIM and GORE-TEX® GUARANTEED TO KEEP YOU DRY® PROMISE
Windproof: 100% Windproof
Cargo: 2 External zippered hand pockets
Ventilation: Full-length wrap-around side zips
Reflective: 3M Scotchlite™ reflective trim