KLIM has developed the most advanced snowmobile goggle in the world. The KLIM Radius Goggle is completely revolutionary and is the result of tirelessly sourcing technical solutions to pain points riders can encounter every day they ride.
KLIM defined the superiority of the Radius Goggle by setting uncompromised goals in the following performance categories during the project's inception four years ago: fog proofing, field of vision, lens durability, ventilation and comfort.
The result is a snowmobile goggle that exceeds all expectations and is truly the new standard in winter optical performance.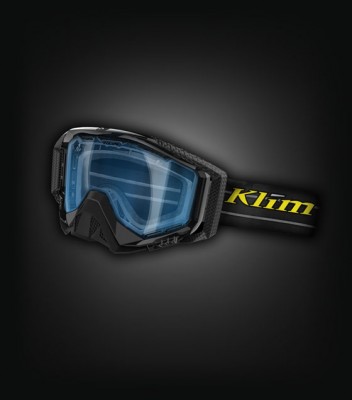 Here's what makes the Radius Goggle the best:
PolyCarb2 Premium Lens: KLIM developed snowmobiling's most advanced lens system for the Radius Goggle. PolyCarb2 Premium Lens construction provides maximum durability to both exterior and interior lens surfaces, high-tech coatings and industry leading ventilation.
With solid Polycarbonate (PC) inner and outer lenses, KLIM's PolyCarb2 Premium Lens system is inherently more durable and scratch resistant than the competition.  KLIM can utilize the durable benefits of PC throughout the Radius thanks to the highly advanced application of the exclusive ZERO FOG Technology. ZERO FOG bonds to the toughest PC lens material beautifully where inferior, off-the-shelf and temporary anti-fog coatings only stick to softer, scratch-prone Cellulose Propionate (CP) lenses.
Adding to the PolyCarb2 story is the application of premium hard coatings and the development of the most effective FRESH AIR ventilation system in eyewear.
ZERO FOG Technology: KLIM pioneered the use of the first U.S. military-spec, fog-eliminating technology for consumer eyewear in the Radius Goggle. ZERO FOG Technology (ZFT) was developed in conjunction with suppliers and the treatments they apply to the facemasks of U.S. military pilots and special operations personnel.  KLIM has brought a new level of clear vision to the snowmobile market through proprietary chemical superiority. Fogging is not only reduced with the KLIM Radius Goggle. It's practically eliminated.
Applied by hand and thermally bonded for 24 hours to the inner lens of the PolyCarb2 Premium Lens system, KLIM ZERO FOG Technology is perfected for advanced fog-killing performance and real durability. In fact, ZERO FOG has a military-spec 10-year shelf life and provides the same hardness rating (scratch resistance) as most goggle brands' exterior lens hard coatings do.
If you're looking for a fog-eliminating treatment that lasts and outperforms all others, ZERO FOG is it.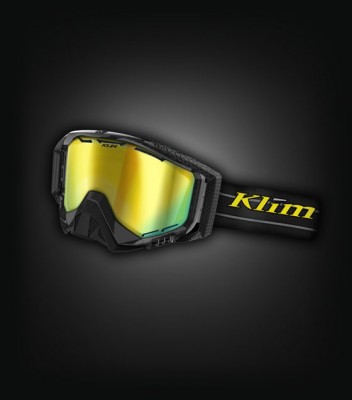 AIRCHAMBER Volume Boosting Dimensions: The KLIM Radius Goggle is designed with more volume between your eyes and the interior surface of the lenses. This higher volume of air created by KLIM's AIRCHAMBER are affected less drastically by changing temperatures and humidity levels, keeping condensation saturation to a minimum. The KLIM Radius Goggle's AIRCHAMBER maximizes the volume of face-to-lens airspace so the chance of fogging and having your vision compromised is diminished.
FRESH AIR Ventilation System: The AIRCHAMBER airspace in the Radius goggle is managed by the Radius Goggle's dynamic FRESH AIR ventilation system—perfected to maintain clean, clear air in front of your eyes and across the lens interior without drying your vision. In-frame directional intakes, massive lower and upper frame vents and substantial in-lens vents all combine to keep the KLIM Radius goggle's AIRCHAMBER restored with clean air. Combine the Radius Goggle with a KLIM F4 Helmet and you get the first fully integrated helmet and goggle ventilation system ever developed—the ultimate in comfort and clarity and the absolute best combination to fight poor visibility on the snow.
FOV+ Geometry: Every dimension of the Radius goggle skeleton has been meticulously engineered to provide the most unobtrusive peripheral Field of View (FOV) available. From frame dimensions and strap outrigger angles to the width of our dual-lens gasket material and FOAM3 system, every component of the Radius goggle is designed to disappear from your vision as soon as you put it on.  Horizontal and Vertical Field of Vision is greater with the Radius than the competition. Intense engineering allows the Radius to combine high-peripheral vision with AIRCHAMBER maximum volume construction—providing the unique benefits of a deep-chambered goggle that doesn't impede your vision.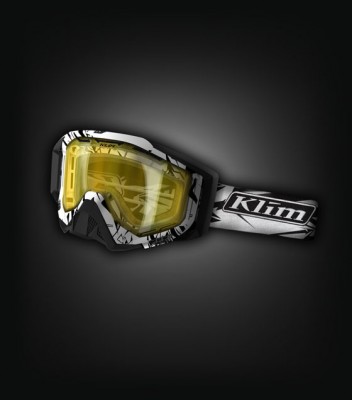 RADIUS Foam Systems: KLIM utilizes two exclusive foam structures in the Radius Goggle to provide maximum breathability, durability and comfort.
By sourcing unique foam composites, KLIM enhances rider comfort by completely managing moisture throughout the Radius Goggle system. The key is to move and remove moisture.
Combined with AIRCHAMBER dimensions and FRESH AIR ventilation the Radius Foam Systems continue the focus on providing clear vision in all conditions.
FOAM3 Face foam:
1: High-wicking face contact fabric transports sweat off your skin quickly to keep a fresh, dry junction between your face and the goggle. Antimicrobial properties keep this thin layer of hyper- wicking fabric fresh while it constantly transports moisture into Stage 2.
2: Medical-grade foam absorption properties make KLIM's Stage 2 foam the most potent sweat dispersing foam structure available. Its superior encapsulating functionality encapsulates and more moisture, allowing it to evaporate quicker and more completely than any other foam. Stage 2 also incorporates high-quality antimicrobial properties to reduce funk and eliminate foam failure due to microbial attacks.
3: Strong Barrier Foam adheres to the Radius frame and provides the foundation for the FOAM3 System. Its higher-density structure is perfect for holding tight to the frame and provides awesome durability and adhesion. The Barrier Foam also provides a cold-air-blocking barrier around the perimeter of the goggle that kills wind chill and that frozen forehead sensation open foams can let through.
RADVENT Frame Vent Foam: KLIM, in conjunction with GORE Labs documented breathability and air-permeability performances of numerous frame vent foam structures. Through this research, KLIM found the perfect lens ventilation foam. Our RADVENT foam provides snow and debris-blocking properties with air permeability and breathability performance equal-to much less dense foams. This allows maximum air and water vapor to escape without allowing snow or other debris to penetrate into the AIRCHAMBER
LENS:
SMOKE POLARIZED LENS FINISH
POLYCARB2 PREMIUM LENS CONSTRUCTION
ZERO FOG TECHNOLOGY
FRESH AIR VENTILATION SYSTEM
POLARIZED ANTI-GLARE LENS TREATMENT
MEETS OR EXCEEDS ASTM AND ANSI STANDARDS FOR
IMPACT RESISTANCE
FOG RESISTANCE
ABRASION RESISTANCE
UV400 INHIBITOR BLOCKS HARMFUL VISIBLE LIGHT SPECTRUM
FRAME:
AIRCHAMBER VOLUME BOOSTING DIMENSIONS
FRESH AIR VENTILATION SYSTEM
FOV+ GEOMETRY
FOAM3 FACE FOAM
RADVENT FRAME VENT FOAM
SNOWMOBILE-SPEC OVERSIZED FACE FOAM WITH DEBOSSED KLIM LOGOS AND RELIEFS AROUND NOSE
45MM WIDE GOGGLE STRAP HAS TWO WIDE STRIPS OF SILICONE FOR SECURE FIT AS WELL AS HIGH-QUALITY RAISED TEXTURED DETAILS IN PATTERN
TWO-PART, REMOVABLE NOSE PIECE INCORPORATES A FIRM OUTER FRAME AND SOFT RUBBER NOSE CONTACT CENTER SECTION
REAL METAL LOUVERS ON FRAME INTAKE VENTS PUSH AIR TO SIDES OF FRAME TO MINIMIZE EYE-DRYING WHILE STILL MOVING MAXIMUM AIR THROUGH GOGGLE VENTILATION SYSTEM
PREMIUM METAL FLAKE PAINT WITH MULTI-SHEEN FINISH (GLOSS AND MATTE BLACK ACCENTS)
CASE AND EXTRAS:
THERMAL-FORMED RIGID GOGGLE CASE WITH INTERNAL FOAM PADDING AND EXTRA LENS STORAGE
SOFT DUAL-FABRIC MICRO-FIBER WET/DRY GOGGLE CLEANING CLOTH AND STORAGE BAG WITH SEPARATE CHAMBER FOR EXTRA LENS STORAGE
Go here to see the new Klim Goggles.