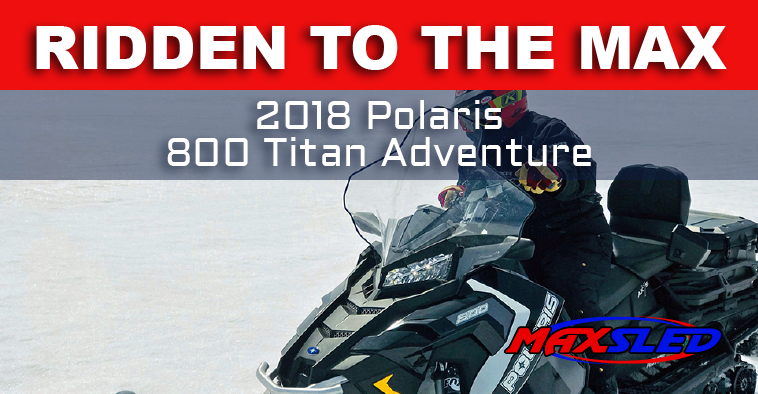 For a Minnesota "city" flatlander, ending the snow season late in April — April 18
th
to be exact — by circumnavigating the shoreline of one of the state's largest lakes is a big adventure. Doing it on a big Polaris 800 Titan Adventure 155 makes it a touch more special.
Understand, the Titan is a particular fave. When we first encountered the Titan prototypes at Polaris' media reveal in Roseau, MN, back in early 2017, we fell in serious "like." You know, like this is a whopper of a sled — 658 pounds claims the company. Like this sled has surprising power — Polaris' Cleanfire 800cc twin that can lift the skis on full throttle acceleration. Like this sled is both roomy and actually fun to ride. Like totally amazing. Those are serious likes.
In honest reflection of the three Titans my favorite is the SP, the "base model." But the Adventure would be my runner-up, with the more aggressive XC a close third.
Were I a true diehard high mileage weekend adventurer, the fully outfitted Adventure would be my first choice. It comes with all the bells and whistles, save one (more on that later), like the unit I rode on my season-ending ride. The 2018 black Adventure comes with a huge cargo trunk and removable passenger seat, complete with backrest and heated grips. It has wide Pro-Float skis, which came in handy when cruising the uncertain blown snow, hard ice surface of Mille Lacs. And, of course, we had to love that super long 155-inch circumference Cobra track for its ample flotation and bridging ability over small ice ripples. Its 1.35 lug height kicked up a serious snowstorm making it hard to see my fellow adventurers from the rearview mirrors.
We started at mid-day and managed about 60 miles around the lake from our Izatys Resort starting point until our late afternoon return. Located on Mille Lacs southern shore, Izatys graduated from being a mom-and-pop summer fishing resort in the 1930s to today's stylish destination that caters to golfers, tournament fishermen, ATVers and adventurous snowmobilers. Along the way we stopped for burgers at Garrison's Y-Club on the western shore and on the eastern shore at Nitti's Hunters Point Resort. Rare as it was this late into winter — or early into spring — to have 36-inches of lake ice, the lake surface, which more commonly would be piled with ice heaves and stretches of open water, proved smooth and fast.
The Titan with its 800cc twin could charge ahead at 70-plus miles per hour speeds, but we decided on a more prudent 40 to 50 mph speed, just in case we ran into areas of thin ice and needed to drive away from trouble. We did test out that 800's power though as we ramped it up from 22 mph under full throttle just to feel the skis lift, that big 155 by 20-inch-wide track grip and launch us to a surprisingly quick 70-something mph. The Polaris engineers had told us this sled could drag head-to-head with most of the company's single rider sport sleds for an eighth mile. Point taken and proven.
Despite its sizeable avoirdupois this sled handles quite easily, defying its bulky dimensions and room for two. Its Polaris Alpha multi-gear transmission easily shifts from high to low and on into neutral or reverse. It has a tall manly lever conveniently located in the dash just below the throttle. Combine that with the generous track and you should be able to maneuver in just about any snow country terrain. While equipped with a colorful screen on its Polaris Interactive Digital Display, it does not feature a back-up camera that could be useful when hooking up to a trailer or carryall sleigh. Maybe a future feature?
We found the AXYS A-arm front suspension compliant through its 9.3-inches of overall travel, made so in part by its lever-operated Fox QS3 reservoir shocks. Equally plush is the QS3 assisted 16.5-inch travel of the Titan articulated parallel rail slide rear suspension. Equipped this way the Titan can tow upwards of 1200-pounds.
As an end of season final fling, the conditions proved exceptional. Temperatures hovered in the high 30s, probably hitting 40-something when the sun broke through the haze. Regardless, wind chill would be minimal thanks to the Titan's oversized AXYS 24-inch windshield. Its integrated and extended "Wind Foils" deflected wind to create an effective dead air cocoon around the rider.
Although we didn't use it, we did have the benefit of the Lock & Ride Versa Touring Passenger Seat that comes standard on the Titan Adventure. The passenger seat offers passenger handwarmers and an RCA plug (cord sold separately). In addition, the Titan offers standard passenger footrests for passenger comfort and security.
Had the day been warmer and the lake icier and short on cooling snow, the Titan's radiator-assisted cooling system would have ensured consistent engine operation in such extreme or low-snow conditions.
This cooling system features a Titan-specific and quite efficient radiator with fan assistance to assure maximum cooling airflow.
Royally equipped as is, we would choose one available option that we feel could help us on some occasions. We would add the 1500 lb. winch accessory. The winch with its 1,500-lb line pull rating can be mounted on the rear of the sled or, as we might choose, mounted at the front of the sled with accessory bumpers. Able to be operated with the sled engine idling or the engine off we can envision using its versatile, mobile pulling power coming in handy when loading the sled onto a trailer with a steep angle ramp. Or assisting unwary riders who may have gotten stuck.
All in all, my end of season Adventure proved great fun thanks to the rider-friendly Titan and made more so in the company of our MAX SLED flatland test riders, snowmobile athletes who shared in this late season adventure.
Specifications

 

 
 
2018 Polaris 800 Titan Adventure 155
Engine
Polaris Liberty 795cc twin cylinder 2-stroke; liquid-cooled; Polaris Cleanfire electronic fuel injection; two-into-one exhaust; CD ignition
HP
160+ (Estimated)
Drive
Polaris P85 drive with Team BOSS and High/Low/Neutral/Reverse gearbox
Suspension:
Front
AXYS dual A-arm with Fox QS3 adjustable piggyback reservoir shocks; 9.3-inches of travel; Pro-Float skis
Rear
Titan articulated parallel rail slide suspension with Fox QS3 shock on rear arm; 16.5-inches of travel
Dimensions:

Length

Width

Height

Ski Stance

 

Track:

 

129.0 in

48.0

57.0

adjustable 39-40-41 inches

20 x 155 x 1.5 Cobra

Brake
Polaris AXYS radial race-type disc system with external cooling intake
Weight
658-lbs (claimed)
Fuel Tank
14.0 US Gal
Features
STANDARD: Pro-Float Steer skis; electric start; gearbox with high. Low, neutral, reverse; AXYS modular passenger seat; one-piece Steel handlebar with mountain strap; 3.5-inch fixed riser; multifunction Interactive gauge/display; on board storage; OPTION: security system
BASE PRICE US$
US$14,999.00 (2018 MSRP)