Once you have been bitten by the snowmobile restoration bug it tends to change your life. You find yourself looking behind sheds, and in the woods or in barns on farm sites. My line of work in the construction industry allows me to be outside a lot and takes me many places to bid jobs. As I travel around central Minnesota, I've always got my eyes out for cars, motorcycles and snowmobiles.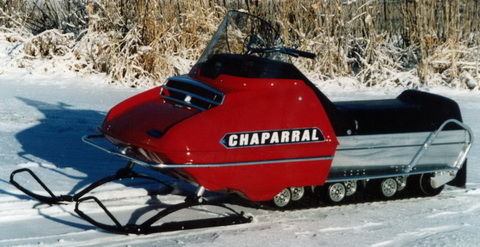 As I drove through my home town one day I noticed two red snowmobile covers in a garage. I knew the owner of the house so I stopped in to check it out. Chaparrals! Chaparral was ahead of its time a lot like Rupp. They used an all aluminum chassis with weight, performance, durability and appearance in mind.
I asked the owner, "Would you be interested in selling your Chaparrals?"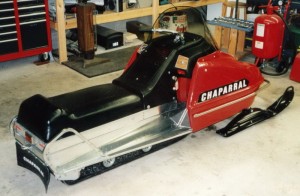 He told me, "My father and I bought those two sleds new in 1971. One is a 440 Executive wide track and the other is a 634 Firebird narrow track. The 634 Hirth blew up on the Firebird so we put the 440 in that chassis. Those were some great memories with my Dad and I really don't think I could part with them. Neither one has run for over 20 years now."
I totally understood because I had the same great memories with my dad.
I asked him to please let me know if he changed his mind, because I would like to restore one of the sleds.
About two months later I got a phone call. "Brent, we are moving to another house and don't have room for those two old sleds. Are you still interested in buying them?"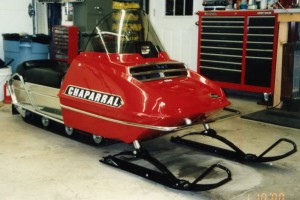 I told him I had started on two other sleds and really didn't have time or room for them.
"If that's the case I guess we will haul them to the junk yard." NO WAY CAPTAIN!!
I called my good friend Randy Worden and we picked the sleds up that afternoon. They sat in my shop for about 8 months before I got a start on them. The 634 Firebird still had the original seat with embossed "Chaparral" on it. Pretty tough to find those any more. I could hear the Big Blue 634cc Hirth engine saying 'please fix me and put me back in the right chassis'. After looking over both sleds it became apparent the Firebird was the ticket.
I shipped the Hirth engine to my Chief Engine Guru, Steve Hellwig, and all fiberglass parts to Brad Latham at Rainbow Auto Body in Litchfield, MN and it was started. With an all aluminum tunnel and other aluminum parts, Mothers Aluminum Polish made them look better than new. It's hard work but it's tough to beat Mothers. The leaf springs and skis got black powder coated and I spray painted other miscellaneous parts. The re-construction now begins. This is the fun part!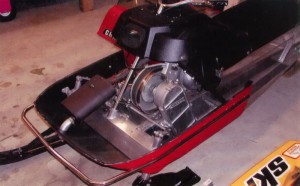 These older sleds were so simple compared to the new ones I work on. A lot like old and new cars. I can't imagine working on any of our new cars or trucks. Anyway, the process was complete in about 2 months. My local sign shop was able to do new hood decals from scanning an old Chaparral ad. It was now time to bring the big 634 to life. After some priming the big boy fired right up. Everything was shaking but after adjusting the idle that got better. The all aluminum chassis was very light weight and the big Hirth felt like it weighed as much as the chassis did.
I took the Firebird to "The Vintage Snowmobile Club of America" (VSCA) show in Waconia, MN the next year. If you need information or parts check out their website, www.vsca.com. They have a great website and awesome magazine if you become a member. I have met so many wonderful people in this organization that I couldn't keep a count.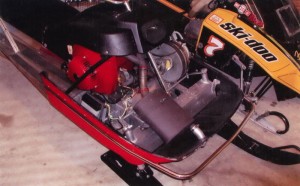 I was very fortunate to take home a 1st Place Award for this sled but that's not what it is all about. It's about good memories and meeting good people to share them with.
After winning an award something totally unexpected happened. I got a visit from the original owner of the Chaparral's. He had heard I had won an award and asked if he could see the sled. I met him at my shop the next day. With some tears in his eyes he said, "Would you consider selling the sled back to me?" WOW, that was totally unexpected!!
He had given me the sled for free but I had my time and cost of new parts. I said, "Sure, but you only have to pay the cost of repairs and parts. I had a great time restoring it!!" What a great ending!