It was April 1993 and I was looking for a summer project. I have always enjoyed working on any type of equipment in my garage; be it a car, lawnmower or snowmobile. Since I love snow and winter I decided to restore an old snowmobile. I wanted to work on something unique and rare and I remember seeing an older Polaris I saw at a friend's farm site a few years before. As I remembered correctly, it had two headlights with a free-air engine sticking up through the hood.

Placing a few phone calls I tracked it down to a hog farm in central Minnesota. After a little small talk and $175, the old Polaris was on my trailer headed home. I was surprised finding triple cylinders sticking up through the hood…very cool! Triples have always had a sweet sound.
When I got the sled home I started to look it over and discovered the engine was a 500cc. The model was an ATX 500 and my journey had just begun.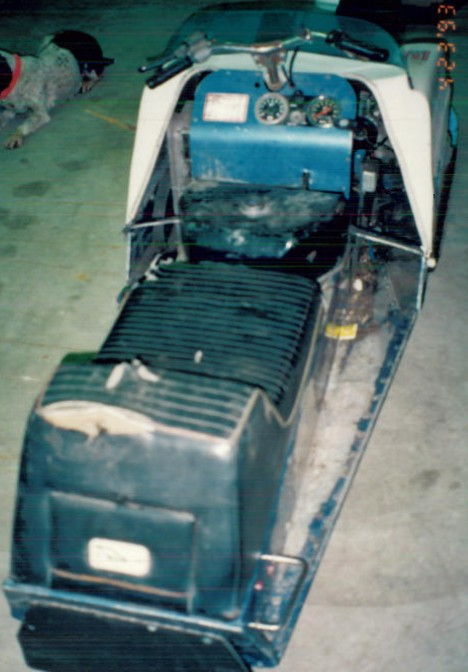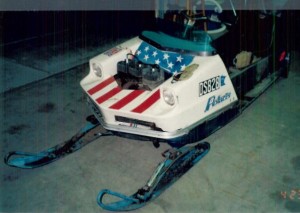 We had a Polaris dealer in my home town back in the 1970's, so I decided I'd start with them. They were still in the plumbing and heating business, but had long ago dropped the Polaris dealership. The sweet thing was they still had a few old sleds around and a ton of original Polaris parts. Plus they still had the old Polaris Parts and Service manuals – bingo!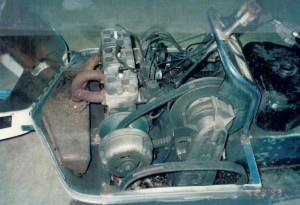 I also located McCallum Sales in Minneapolis/St. Paul, who claims to be the oldest surviving Polaris dealer anywhere. I could believe it with their knowledge and inventory of old Polaris parts.After many phone calls and meeting many wonderful people who used to race Polaris in the 1970's, I found all the parts I needed to restore this gem. The restoration took about five months and as you can see in the photos, it was quite a project. I did have a pretty good base to start from, though.
At 375-pounds and with the 500cc triple cylinder engine, this thing was quick. It went about 60MPH, but felt more like 80. In its prime, this sled rocked! I really enjoyed the journey this sled took me on. I learned a lot about it and met a lot o people along the way. You learn a lot when taking on a project like this and I've been hooked on old sled restorations and modding new sleds ever since.