Snowmobile riding gear has evolved over the years into hyper-technical clothing with space-age materials, several panels and pockets, and flashy designs that truly do keep you warm and dry as you scurry along in sub-zero wind chills. There are a lot of brands, each with several styles and colors, giving all of us mind-boggling choices.
I'm very particular when it comes to clothing, not so much for the style aspect, but more for the fitment. As a full-sized plus guy it's hard for me to find the right fit. Once you get past XL, the new jacket styles seem to be hit or miss (more on the miss) when it comes to fitting properly. The manufacturers seem to think you can still have a tapered fit with broad shoulders. Sorry, but 99% of larger Americans aren't shaped like upside-down pyramids. We are shaped more like kegs. Simply widening the pattern from the European design won't work for some of us.
I'm short and wide, which means I'm stable with a low center of gravity, but I shouldn't be relegated to wearing Dickies outer-work wear to go snowmobiling. I want to be included in the styles and technologies todays' snowmobilers get with the new clothing. The hunting industry gets it, why not the aftermarket snowmobile industry?
I normally wear a 3XL. I've tried several brands and have compromised by getting a 4XL and sometimes even a 5XL just so it doesn't feel like I'm wearing a corset. The problem with this has been that the shoulders are too wide and the sleeves get way too long. It makes for a less than ideal riding experience.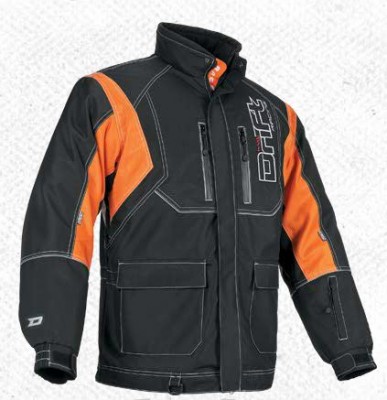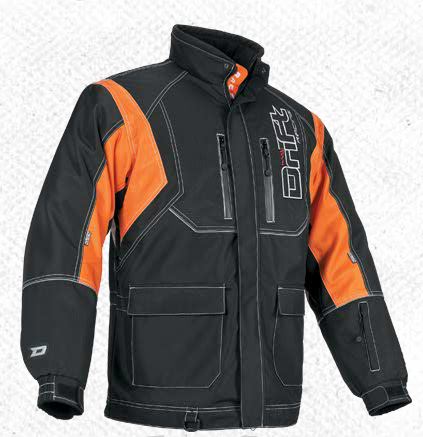 Enter DRIFT. They are based in Plymouth, Minnesota, and they design and produce high-performance gear for snowmobile and motorsports enthusiasts. I have to say that Drift gets it. I ordered the Drift Diesel Coat and in a 4XL based on my passed experience. They were out of that size and sent me a 3XL to try. I was skeptical, but when I tried it on, I thought to myself "wow, they got it right"! In fact, this is the first 3XL jacket I've tried in the last few years that fit correctly right off the bat. In fact, there's plenty of room in the 3XL that a 2XL might even fit. But after putting on my TekVest, the 3XL is just perfect.
There are other features on the Diesel that tell you Drift puts a lot of thought behind their designs; things I've noticed after wearing so many brands and styles over the years.
I'm all about layering, but it seems like a lot of aftermarket gear has trended toward shells only or shells with zip-out liners. I'm not a fan. While I don't want a bulky jacket, I ride most of my time in the Midwest where temps rarely get above 30, and riding is long and fast, producing wind chills below zero. Shells keep the wind off, but don't keep the heat in. The Drift Diesel has 100 grams of Unifil insulation so you don't have to contend with a bulky zip-out liner or put on that extra layer just to stay warm. If you want to cool down, you can unzip the front zipper and utilize the under-arm zippered vents.
Hook-and-loop (Velcro) is a great invention, but it has been overused, especially on clothing. There are places it's required, but there are places it should be forbidden. Drift knows this and that's why the only place hook-and-loop is used is on the cuffs where you can adjust it to your liking and keep it there. The cuffs are also comfortable with a soft material inside that doesn't scratch your wrist.
The place where hook-and-loop is overused is in the wind flap over the front zipper and on the pocket flaps. Drift uses magnets in both places which is a welcome feature. In fact, this is where the hunting clothing industry should take notice. Magnets are more user-friendly, quiet, and don't have sharp corners that dig under your fingernails when you're trying to separate it. Hook-and-loop also tends to reattach as you're trying to unzip, which is always annoying.
There is plenty of storage on the Drift Diesel Coat with two zippered chest pockets to store your phone, GPS, camera, or trail snacks. And here's a hint; put a charcoal heat pack in there to keep your electronics warm. There are also two large cargo pockets with magnetic flaps, and two zippered hand pockets behind them. On the left sleeve is a zippered pocket for easy access to things you might want to quickly get at, and on the inside is a zippered pocket to put an MP3 player with headphone cord access. Drift also incorporates a tangle-free neck cord system for the MP3 player.
Inside there are draw-straps to cinch the jacket at the waist and at the bottom to adjust the fit and keep snow dust out. The outer shell is Teflon coated to repel water and there is a D-TEX waterproof breathable membrane to keep you warm and dry.
With safety always a concern, the Drift Diesel has 360-degree 3M Scotchlite reflective trim so you can be seen at night.
I also find this coat to be lighter weight than some others I have. Partially it has to do with the sizing because larger jackets simply weigh more, but also because the Unifil insulation is lightweight compared to other insulated jackets.
Drift offers several styles and colors to match your brand or stay neutral, and they offer styles for guys and gals. The Diesel is the more conservative style, which I happen to like, but they do offer it in all black or with some orange accents. Both appeal to me, but got the orange for rider safety, and to add a splash of color.
I've tried a lot of snowmobile gear over the last 12 years and some of it has been excellent, some of it has been ok, and some of it has been not-so-good. The Drift Diesel Coat has all the things I like about a snowmobile jacket including proper fitment. They also offer it at a much more reasonable price. In the world of $300 to $400 jackets, the Diesel retails at $199.95 US ($229.95 CAN). That's a bargain with all the technology and well-thought out design Drift offers.
I found a new favorite riding coat. If I was to design a snowmobile jacket, it would be like the Drift Diesel. Check out www.driftracing.com for more information.