One aftermarket item that no boondocking, ditchbanging, sled should go without; this all aluminum gauge pod lifter bracket is a must for every freestyle rider. The Gauge Cage, manufactured by MadSigntest, is one hot product in 2011.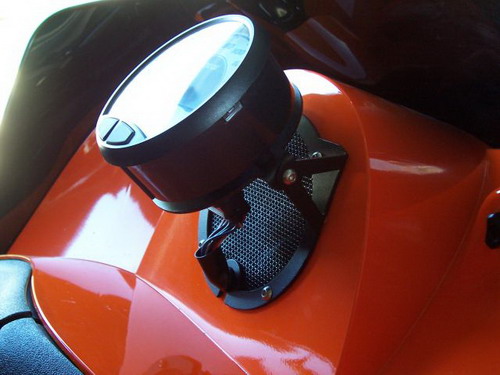 This gauge pod lifter offers the freestyle riders easily-to-see tach and track speed. The history of the Gauge Cage is based in the mountains where riders rigged their gauge pod facing towards the sky so they could see their tach to keep rpm and track speed constant. There are uses for riders on flat lands as well.  In the recent couple of years there has been an upswing to upright freestyle styled sleds.  The manufactures have left out one important fact, and that's the gauge. With the bar risers moving higher, the pod now faces directly into the risers. The Gauge Cage by Madsigntest is an inexpensive and easy fix to this problem.

Constructed from, powder coated aluminum it is extremely light weight, only adding ounces to your ride. In the design of the lifter it offers folding/breakaway ears. So in the event of a rollover there is no destruction to the gauge pod or your expensive hood. Parts can be purchased separately from Madsigntest. The inventors also have added an almost infinite numbers of angles that the gauge can be set. Having the adjustability allows for all sizes of riders for the best viewing angle. Bracket baseplate comes with a ballistic super-breathable mesh pre-installed to cover the dash hole in the hood. Quickly turns the stock hole into a huge vent to rid unwanted pipe and under hood heat. Plus, it makes a great place to defog goggles by placing them on top of the bracket while stopped. In the deep powder an additional vent in this area will make it so you never choke your sled.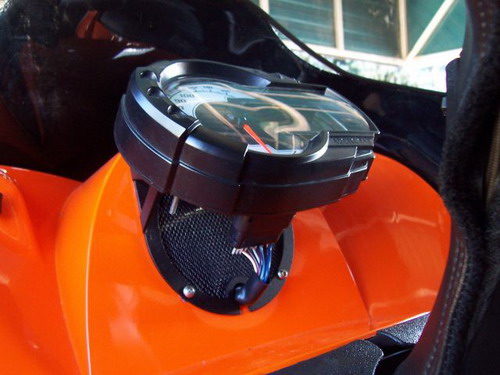 Once you Ride with a Gauge Cage you will never go without. You can order them direct from Matt Patten. Here is the information for ordering:
Part number and pricing:
08-11 SnoPro Models: 08-11 SP……..$64.95 msrp
08-11 Standard Models: 08-11 SN……$64.95 msrp
05-07 All Models: 05-07 AM ………$104.95 msrp
Matt Patten
Summit Graphic and DeSign, Inc.
Office: 801-426-6533