Well Happy 50th Birthday to Arctic Cat. If you have a 2012 F-Series Arctic Cat in your garage or you're waiting to pick yours up from the local dealer, you might be asking yourself some questions. How is it going to ride and handle? Will I like this new Procross chassis? Well the MaxSled crew spent time on them last season at Snow Shoot and have great news for you.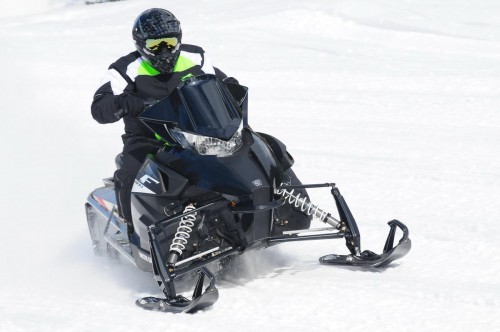 There are tons of excitement and sometimes a little concern when manufactures bring out a new chassis. Will they work and just how good are they? Time usually tells, but what we can say at this point is "hats off" to Arctic Cat for spending the necessary time needed to bring the consumers some of the very best Arctic Cat snowmobiles to ever leave Thief River Falls.Arctic Cat put a lot of thought into every inch of this new chassis and it showed from the moment we took our first look and then had our first ride. The entire sled feels like it works from every point. From the seating position to the new tapered tunnel, it gives you the perfect feel.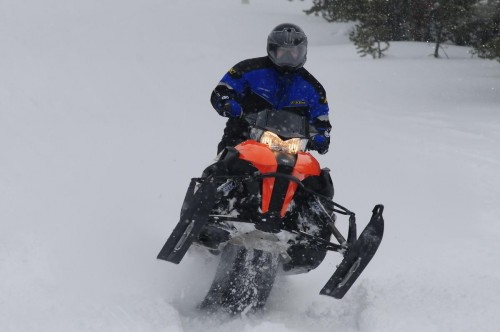 Once you take that first corner you feel more confident than ever before. I was a little taken aback with the new taller spindles because they look so different, but they really work well. The rear suspension was spot on over the bumps and it was amazing at how smooth it performed. Arctic Cat earned a reputation for a smooth ride over rough trails, and they continue with that reputation on this new chassis.Belts are getting very expensive to replace these days. Arctic Cat wanted to make them last longer and perform better so they now have the new Torque Control Link. It connects the engine with the jackshaft with a free-floating plate. This gives the clutches perfect alignment all the time.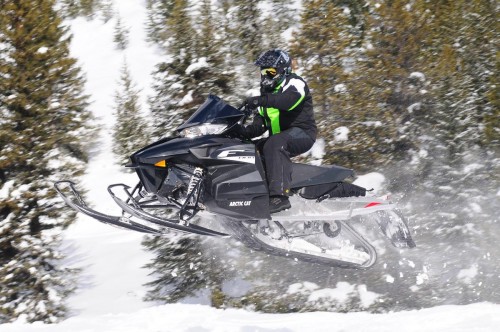 The 800CC HO motor feels very balanced, Light and fast. This engine was introduced a few years ago and gives the quick-revving feel of a 600, but with the added torque an 800 offers. After spending some time on them I felt the calibrations were off just a touch. Keep in mind; we were on early prototypes and riding in 8000+ elevation. Still, it left me thinking if they run and feel this good being a touch off I can't wait to try the production models.
With the SnoPro package, you get Fox Float 2 shocks in the front, Zero Pro rear shocks, a low windshield, and 1.25-inch Ripsaw track. The LXR features Zero Pro shocks all around, a mid-height windshield, 1-inch Hacksaw track, rear storage bag, and electric start. Both models handle well, but the SnoPro seemed to handle the rougher stuff better.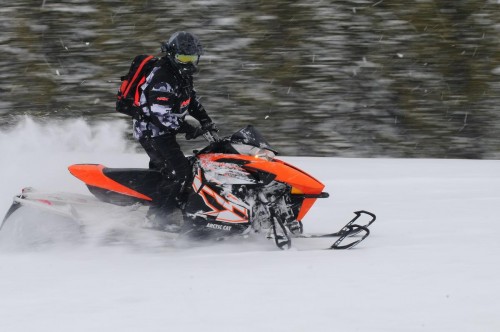 Arctic Cat has done well with this model. If you are one of the lucky ones to get one this season, you'll have no regrets.