I suppose it would be easier to talk about what isn't new in the 2012 Arctic Cat mountain sled lineup than what is new.  Actually it wouldn't, because everything is new and it would hard to find something that isn't to talk about.
Introducing the ProClimb chassis for 2012.  For 2012 the Thief River Falls team completely redesigned their chassis lineup.  The major goal was to come out with a single platform chassis that would be able to be tailored to both the mountain and trail world and be a platform that all their motors could find a snug little home in.  And that's exactly what the 2012 Cat is.  Based off the race chassis that was first introduced in 2008, the new chassis gets a host of items that have been proven on race tracks around the country.  Check out some of the other articles for more details on the flat land versions… I'm going to spend my time on the ProClimb.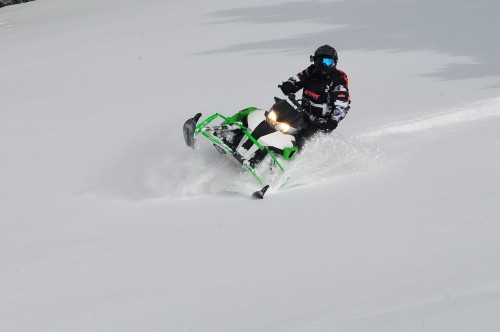 Let's be perfectly honest here, improving on the 2011 M sleds is not a simple thing.  For the past couple of years I've been pretty impressed with the M sleds, especially the M8.  With a crazy strong motor, good chassis and a great track, the former M sleds were a terrific all around mountain sled.  Room for improvement, sure, but we are picky, we always want improvements.  With the 2012 ProClimb chassis we get a bunch of changes, which we look forward to finding out if they are improvements or not.
With the new chassis, there is not a big weight loss over previous M sleds, and the ProClimb remains the 3rd lightest chassis behind Polaris and Ski-Doo.  But the Cat engineers were focused on way more than weight.
Motors
The first thing that will catch your attention is that for 2012 we get 3 motor options in the M sleds.  The 800 returns in its same form as last year and that is a good thing.  In stock trim, the 800 is a terrific motor and if you have the urge to mod it a bit with pipe and porting the gains are truly impressive.  The 2012 800 is not EPA compliant but because of the fleet averaging rules, Cat can still use that motor.  If you want details about the 800, go read any number of our articles on the motor.  It's durable, smooth, well calibrated and is a terrific power plant.
Then things get interesting.  For 2012 Arctic Cat is putting the 1100 4-Stroke in the M chassis.  You get 2 choices here, the naturally aspirated M1100 which is classed with the 600 2-Strokes, and the M1100T with the T standing for Turbo.  Yes, the mad geniuses in Thief River took the turbo 4-stroke that has been available in the flat land chassis and put it in the M chassis.  Yes, boys and girls, factory 4-stroke turbo mountain sled with a full warranty.  Makes my knees shake just saying it.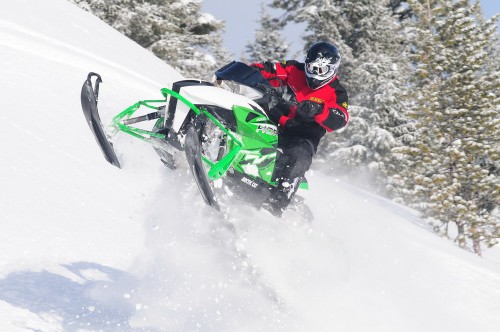 The M1100 and M1100T are really completely different feeling beasts.  We understand why the non-turbo version is available, but it really isn't that fun of a sled to ride.  It rides great, has all the benefits of the new chassis, but at 6000'+ where we were riding it the lower power and more weight really were a hindrance compared to the other 600 class sleds.  But stick the squirrel cage on it and boy howdy does it get fun.  The 1100T has gobs of power, no turbo lag that we could feel, and runs super well.  Plus an added bonus is that it sounds really cool when you have the loud lever fully engaged.
Front Suspension
ARS is what is called, that stands for Arctic Race Suspension, and it's probably the first thing that jumps out at you.  It is a tall spindle with wide spaced A-arms design that offers a significant amount of torsional strength.  The lower A-arm is mounted at an off-set angle from the chassis center line which virtually eliminates bump steer and jarring feedback to the rider when hitting bumps and trenches.  The A-arms are 11 inches apart and we heard all sorts of comments like "I'm going to snag those things up on stuff".  It's an optical illusion.  We rode the ProClimb through tight trees and never once did we hang up.  The look is just so different that it takes a bit to get your head around it.  The 2-strokes have vertical steering posts with the wonderfully simple and functional adjustable height system.  The 4-stroke does not get this vertical post, but as of this writing there is work being done on a kit to be offered for the 4-strokes to get a vertical post.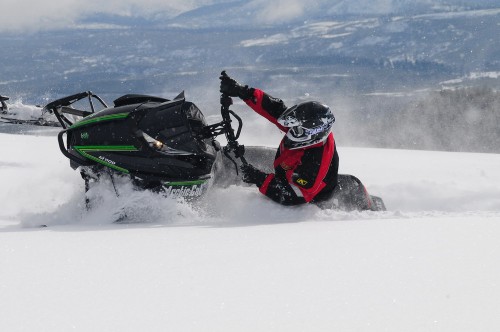 Drive Train
Another big change for 2012 is the switch away from the ACT to a chain case system with TCL (Torque Control Link).  The TCL is a plate piece that links the PTO side of the motor to the jack shaft mount.  This is designed to keep belt center to center and alignment consistent to improve belt life and performance.  The new drive system is designed for better efficiency which should translate to lower belt temps, always a concern on those long, steep grinds in waist deep powder.
Chassis
Ok, most of all that stuff could be considered chassis changes, but the actual chassis itself gets some big changes.  The new chassis puts you in a more rider forward position than the old chassis did.  It's not as far forward as the Ski-Doo XP is, but it is further forward than the old M chassis.  We found it to be a pretty good balance.  Running boards are a bit wide, but they have a great snow elimination system that keeps snow buildup to a minimum.  The seat is new and has had the very welcome storage from last year removed.  Not a good thing.  But there is a cool accessory pouch available to mount right in front of the bars that you can stow your extra goggles in and they stay dry or actually dry out if they are wet.
The whole thing rests on a new rear suspension that is a significant improvement in ride quality over previous M sleds.  That was one of our complaints from the previous Ms, their trail manners were lacking.  Not the new rear suspension, with its coil over design and Fox Zero Pro shocks, it does much better on those rough single tracks that take you in to your favorite back country areas.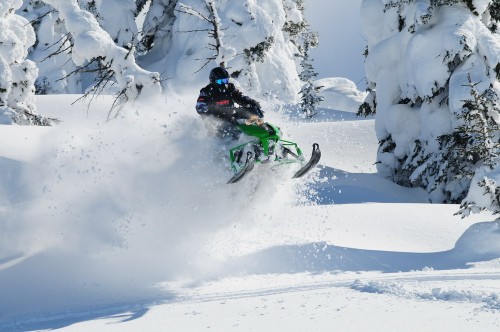 Overall
With 3 motor platforms, and several models with each of them, Cat's new ProClimb has something to offer everyone.  The M8 comes in around the 160hp range and as stated earlier, is a great motor.  The prototypes we rode felt a little less nimble than last year's M8, but that may well be a matter of getting used to the new chassis.  We were a little discouraged that the Ms didn't lose weight.  Cat says they are about the same weight as last years.  We would like to see them lose a few pounds to get down in the Polaris and Ski-Doo range.  The 4-strokes come in about 80lbs heavier than the M8.  At first blush, that is a lot, and you feel it on the M1100, but the turbo feels lighter and frankly is a great sled.  Even being 80lbs or so heavier, it's still in the range of the mountain sleds we rode in the late 90s and early 00s.  The 1100 makes in the range of 125hp, putting it in the 600 class, but the M1100T is speced at 177hp and it makes pretty close to that even at altitude.  Put it on a hill with an 800 class 2-stroke at 10,000 feet and you are riding a sled that is 80lbs heavier, but making 50% more power… if something can make you forget about the extra weight that will.
We found the M1100T very well-mannered even in the tight trees.  Pick your way through tight snow goblin trees and then punch at a steep uphill and the M1100T will pick its nose up and pack it up over the top.  Is it as nimble as the M8, no, but our test riders did not find it difficult to ride at all.
The new ProClimb is a good platform and has lots of improvements.  As with any new chassis, we expect to see a few refinements over the next year or so, but we're pretty confident in saying that this is the best first year chassis Arctic Cat has ever released.  Their fit and finish as well as quality control are very good on the new sled.  The new look really grows on you, especially after you spend a little time riding it.  We'll give Cat high marks (pun intended) for a job well done.
Photos by Jim Urquhart