Maxsled.com test pilot, Randy Nemitz, took the brand new 2014 Yamaha SR Viper for a spin. This is the Yamaha/Arctic Cat hybrid with Yamaha's 1049cc "Nytro" engine in Arctic Cat's chassis with Yamaha modifications and bodywork. This new chassis is dubbed the SRV Chassis and while it is built by Arctic Cat, Yamaha has placed enough of their own DNA in it to call it their own. Dealers are excited about it because it adds a new dimension to the Yamaha lineup. Randy Nemitz took it for a spin and here's his first impressions.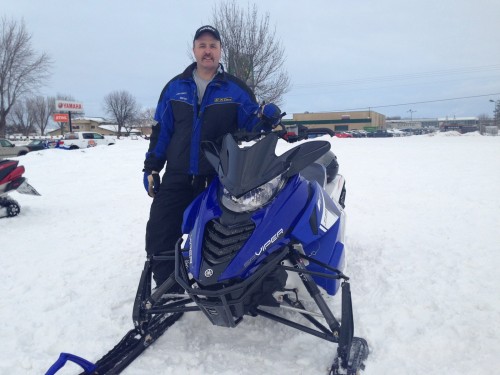 There is always excitement and a ton of anticipation before jumping on a brand new model and the new Yamaha SR Viper was no different. Yamaha is on the road to many different locations in the snow belt letting consumers test the new SR Vipers, and they just happened to be down the road from me. I just could not resist. I called up a riding buddy of mine, Dave Moss, and we headed to the test ride. Let me tell you,  we were blown away.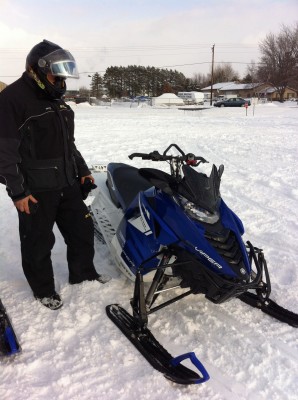 First of all they look much better in person than they do in pictures. After turning the key, I noticed the sound of that new exhaust coming out the front. It sounded so cool. It has a very deep throaty growl. I started out on the 141″ track and it pulls like you wouldn't believe. I was able to lift the skis off the ground and it carried them for quite some time, even at mid range it pulls the skis. The 128″ didn't have the same traction and would not pull the skis, and the rear end was all over the trail. It felt a little unstable at times. The 141″ had the perfect balance in all conditions and was just pure fun.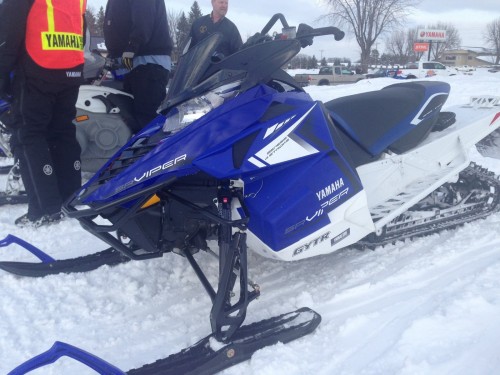 One very special note was the steering and how light it felt. It felt effortless to handle in the tight twisties. The seating position is very comfortable and the whole sled just felt like you were at home. The front and rear suspension soaked up everything I threw at it, even that big hole everybody finds on the other side of most jumps. The 2014 Yamaha SR Viper 141″ is a very well balanced and super fun sled to ride.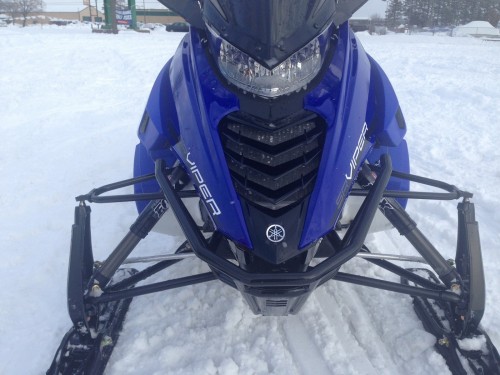 My buddy, Dave, had the same experience as me. He is an Arctic Cat rider and was very impressed with the whole package.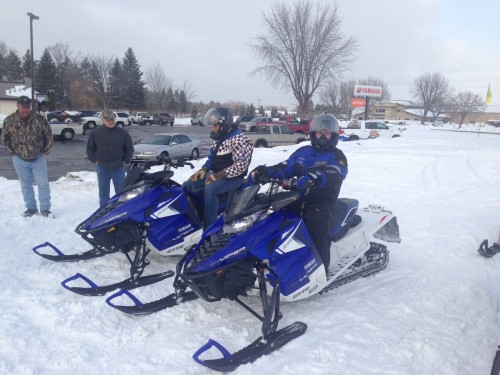 For me it always comes down to the 'fun factor', and I have to say the 2014 Yamaha SR Viper 141″ was very impressive in every way and has huge fun factor from the very minute you jump on. What a great marriage between Yamaha and Arctic Cat. Would I put my cash down on this one?  In a heartbeat!