The team at MaxSled has had the opportunity to test a lot of snowmobiling products over the years. Some of them have been great and some, not so great. One of the most sought after products for our team has been some sort of communication devices. We've tried a few and quite frankly, none have performed as well as the Scala Riders.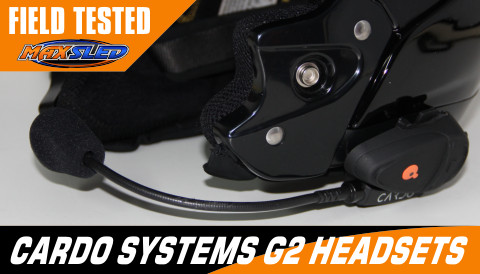 We've always stated that snowmobiling is a personal group sport, whereas when you are riding you have a oneness with your machine and the elements, but you enjoy that oneness with a group of others. When I ride my mind thinks of many things such as life, the Universe and everything. Mostly I'm enjoying the snow and the scenery, but sometimes it's nice to talk to another snowmobiling buddy in the group about the scenery or how the sled is performing. You could wait until the next stop on the trail and yell it through your helmet, but by that time the fleeting thought has vanished and been replaced with another one. This is where some sort of communication would be nice; an intercom system if you will. The Scala Rider is just that, but they do it right.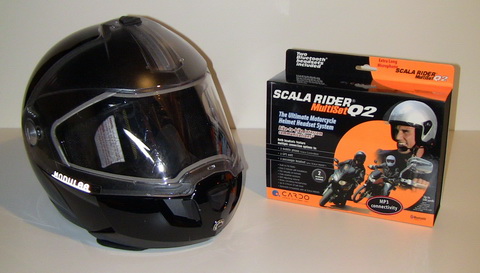 We've tried other brands in the past with little luck. We've tried microphones that pick up your voice box vibrations, which do work, but the spoiler is that you have wires and tubes running all over your neck and in your ears. I've even tried FRS radios attached to my helmet with no luck. As I was about to give up my search we were contacted by Cardo Systems to see if we wanted to try out their  MultiSet Q2 headsets. We did and they work.
While the Scala Rider box calls them "motorcycle helmet headset systems", they work equally well for snowmobiling. The Q2 system comes with two radios that are "connected" (wirelessly) with each other, two helmet mounting choices, rechargeable batteries, chargers, carry pouches, and the necessary hardware to mount them to two helmets. They are neatly packaged in one of the nicest looking packages we've seen on the market.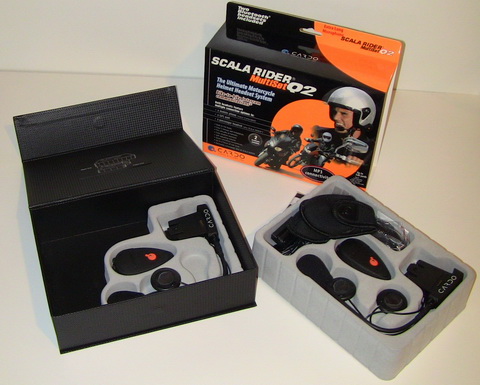 Installation was quick and easy. You can either mount them using a glue mount or a clamp. We used the clamp because the tape didn't seem to stay as the helmet got cold in below zero weather. Once the headset was mounted to the helmet in the proper location, we routed the speakers to the hollow cavity where your ears are positioned inside the helmet. Velcro pads are included so the speakers can mount to them, but some helmets work well without having to mount the Velcro loop material. That's all there is to mounting the Scala Rider Q2 headset to the helmet. After charging it, the battery pack can then be placed onto the headset units. You then pair the radios with each other and you're ready to communicate.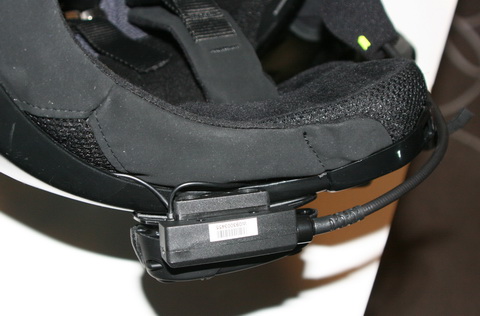 That's not all, however, as the Scala Rider Q2 includes Bluetooth 2.0 technology and can be paired with your Bluetooth enabled mobile phone and/or GPS. The Q2s will allow you to make voice-activated calls (provided your phone has that feature) and will reject buddy conferencing while you're on a phone call. After the call, the Q2s automatically go back to buddy conferencing mode. If you have a GPS with Bluetooth, you can hear the GPS instructions through the headsets. I don't have a Bluetooth enable GPS system but do plan on getting one by this upcoming season to try out this feature. Another thing the Scala Riders can do is receive FM radio. This works pretty well. You can scroll through stations and it will pick up the strongest signals. When you're finished with a conversation, the Q2 will pick up the last station you were listening to. I used this feature quite a bit while riding in areas where FM stations could come in. Sometimes in the backcountry stations were hard to pick up. If you'd rather listen to your own music, the Scala Rider Q2 will also connect to your MP3 player or iPod with a 3.5mm headphone jack. The music will mute when you are in a conversation whether on the phone or with another headset and return once you are finished.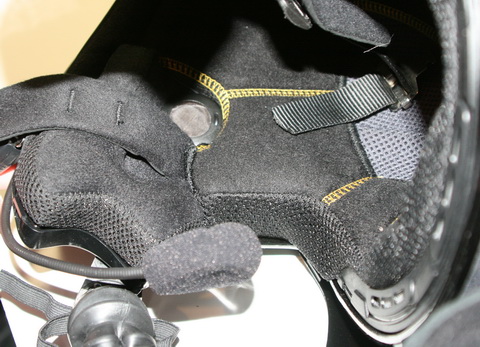 The Q2 range is typically 1/4 mile depending upon line-of-sight. We found this range to be acceptable, but there were times we would drop a conversation as our sleds got too far apart. As we got back into range, the radios automatically picked each other up so we could talk again. As we rode through heavy trees and hills the range would be even shorter. We did manage to bypass this shortcoming by simply calling each other on our mobile phones through the headsets. The only issue with that is that it uses up minutes (if you are not on an unlimited weekend minute plan), and your cell phone battery drains quicker. We'd like to see a range of about 1/2 mile or so with the headsets.
Battery life is said to be about 8 hours, and we did get a full day's riding in with time to spare. Having a second battery for each headset would get you through a day and night of riding. A 12-volt charger would also come in handy as a lot of today's sleds come with accessory plugs for charging or running electronics.
As stated earlier, the Scala Rider Q2 headsets come paired with each other, but you can pair the main headset with another Scala Rider headset so that you are paired with two headsets. The only drawback is that you can only carry on a conversation with either/or headset and not both, and the other two headsets cannot communicate with each other. The second headset could, however, communicate with its other paired headset as shown in the diagram. It would be nice to have a feature where you could choose to carry on a group conversation along with switching back to the two headset configuration.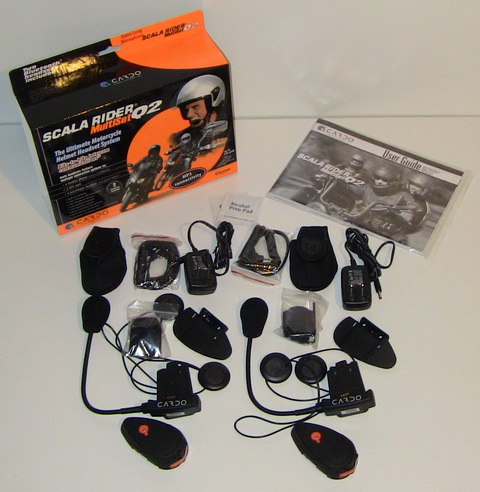 The MaxSled Team used the Scala Rider Q2 headsets during several rides and we now feel naked without them. As we are testing sleds and other gear, we communicate with each other, bounced ideas and talk about the ride in general. These headsets enhance the overall snowmobiling experience for our team and we can't see riding without them. There are a few improvements we'd like to see; more range, group communication, 12-volt charger, and Bluetooth MP3 streaming. Other than those minor things, we give the Cardo Systems Scala Rider Q2 our MaxSled Editor's Choice for "gotta-have-it" products for the snowmobiler.
For more information on the Cardo Systems Scala Rider Q2 Headset System, visit their web site at www.cardosystems.com.