Snowmobile boots are getting more high-tech each year. HMK has been specializing in footwear for many years bringing high-tech features to the snowmobile gear connoisseur. One of their more recent entries is the Voyager Boa.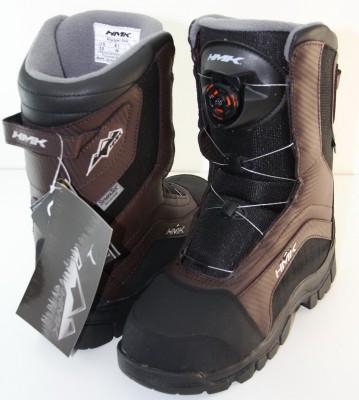 The Voyager Boa is a boot that offers a balance of tech, support, and price. Some of the HMK boots I've tried in the past were designed for the rider-forward position. They worked if you were riding the original REV snowmobile, or if you were a snocross racer, but for the trail rider and the new rider positions the sleds have gone to, they were angled too much at the ankle. You couldn't comfortably walk in them either. But HMK has changed all that in their recent designs.
The Voyager Boa is built with a frame that offers excellent ankle support with the ankle in an upright position. The stiff boot is a little tough to walk in and I find they aren't going to be your "all-day walking around an event" boot, but after they are broke in it gets a little easier. Riding with the boots gives you confidence by keeping your ankle straight and foot planted.
The soul design offers good stability and traction in snow and they do a pretty decent job on ice. They use Sympatex waterproof barrier to keep your feet dry and I haven't had issues with wet feet in these boots.
My favorite feature on these boots is the Boa lacing system. I've seen this system on other boots, but have never used them until these HMKs. It consists of a continuous wire lace that is threaded through low-friction guides sewn into the boots and attached to a reel dial system. You turn the knob to pull the wire and the boot tightens evenly around your foot. As you ride, you can tighten them on the fly if you feel them getting loose. When you want to loosen them or take them off, simply pull the knob and the laces loosen instantly.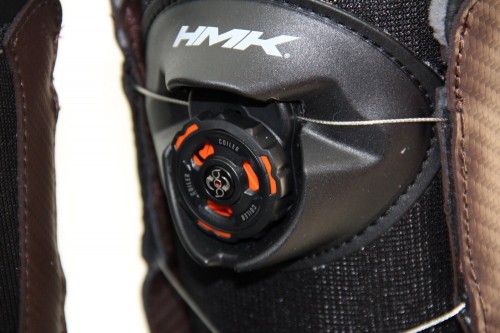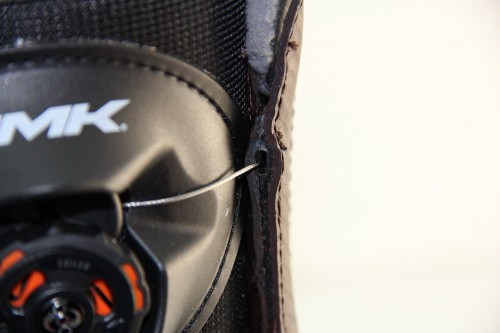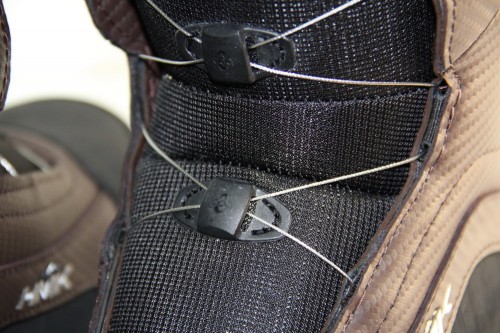 With standard laces you have to pull on them in several places to tighten the boot. Then when you want the boots off your feet, you have to do the same to loosen them. Nothing is faster than the Boa system to tighten or loosen your boots.
HMK also offers these boots in a more contemporary color scheme. Black boots are always standard, but so cliché. The Voyager Boa is available in brown and black or gray and black color combinations. HMK tells us that the sizing on these boots is a true-size fit. In other words, if you wear a size 10 shoe, you should order the size 10 boots. My boot sizing has been pretty consistent with the different pairs I own. They are always size 11. I've tried both the size 10 and 11 HMK Voyager Boas and while the size 10 fits a little snug, the size 11 is a little roomy. I'd rather them be a little roomy so I can put on a thicker pair of socks than be too tight and cut off the circulation in my foot. If you wear a size 10 Wide shoe, I'd try on the boots before you get them to make sure.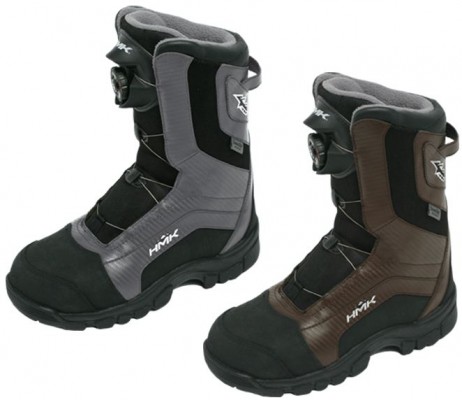 I like the HMK Voyager Boas for my snowmobiling boot as long as I'm not planning on walking around a lot at an event. You can easily loosen the boots to make walking easier, and then tighten them up when you get back on the sled. They do give you tremendous ankle support and have good traction. They also keep your feet warm and the colors are modern as is the design.
I recommend trying these boots for riding, especially in the mountains where you do a lot of moving around on the sled. They work equally as well on the newer upright riding position sleds, but I wouldn't recommend them if you ride the older machines with your feet forward. They will dig into the back of your calf.
You can find out more about them at the HMK web site.