My wireless company was bought out by Verizon, so in October of 2011 I was eligible for a mobile phone upgrade. I waited until December to finally make my purchase, but the decision wasn't easy. Up until that point I had an Android phone. I liked it for the most part, but there were some things I didn't. I've also had an iPad for a year and a half, starting with Gen 1 and now an iPad 2. I am accustomed to both platforms, and I like certain aspects of each one. I can't say whether iOS or Android is better because each have their pros and cons. My decision to upgrade to an iPhone 4S was made by the available accessories you could get for it.
As a content provider for the snowmobile enthusiast and a gadget geek, I've had to travel with a camera bag to carry all my gear. I'd shuffled through many renditions of a still camera and video camera. I have both a DSLR (Canon T2i) and an HD video camera (Canon HF20), so either one takes video and stills. But they tend to be bulky and require a bag to carry, which gets cumbersome.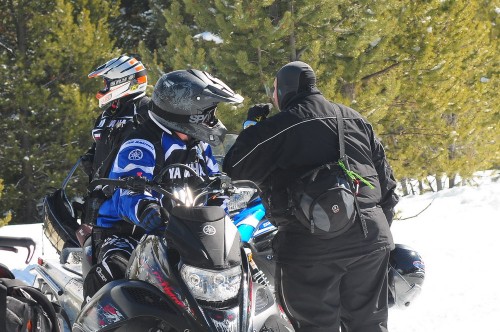 The last couple of seasons I've started to use a GPS on my snowmobile trips. In the past I've carried a handheld Garmin Vista C GPS, but lately I've been using a Garmin Nuvi with snowmobile trail maps installed. While this isn't as cumbersome as taking a camera, it's another electronic device to have to carry. All the while I've carried a cell phone.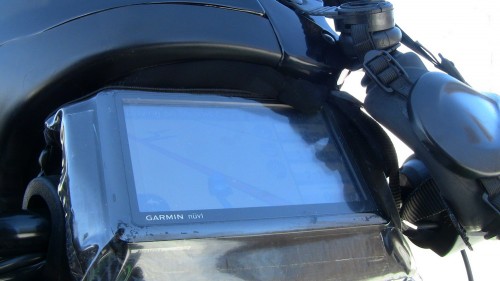 We've come to the age of information where cell phones can now replace point-and-shoot still cameras, take High Definition video, and receive GPS signals. Yes, one device is now sufficient to take along on a ride and capture the moment, take a video clip, and get you there and back without getting lost. So why did I choose an iPhone 4S as my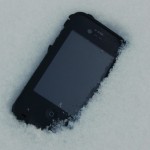 main gadget phone? The cell phone case by LifeProof.
When I was deciding on what phone to get, I thought about what else I would use it for and in what conditions. I enjoy hunting, fishing, snowmobiling, camping; basically the outdoors. The phone I choose will be carried in a wide variety of conditions and outdoors. There are many rugged cases for many types of phones, but LifeProof has engineered a case that protects, is waterproof, and yet is compact.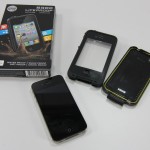 LifeProof allows you to use your iPhone 4(s) in many conditions, like when it's snowing or raining. You don't have to cover up the phone if you happen to be caught out in a rainstorm, or if you use it outside while it's snowing. LifeProof protects your investment from moisture and water. If you drop your LifeProof protected phone on the ground and it ends up in a water puddle or snow bank, you don't have to worry because your phone will stay dry.
The LifeProof case is a rugged design that fits snugly around the iPhone. The phone sits inside a plastic frame that features a rubberized outer area to help shock-proof an impact. The case comes in two halves that are snapped together with an O-ring seal between them. The front of the case looks like an iPhone with a colored part where the white or black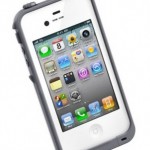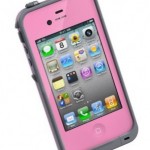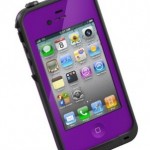 would be on the phone, and clear over the screen. There's no need for a screen protector underneath the LifeProof case, and in fact they don't recommend it. The case itself will protect the screen. Speaking of the colored part, you could change the color of your iPhone by purchasing a different colored case. LifeProof comes in black, white, pink, or purple.
The case also has a door over the charge port that is sealed with a foam gasket, and the headphone port is sealed with a screw-in cover that has an O-ring. You'd think with the phone being sealed, that the sound would be muffled when listening or talking, but that isn't the case at all. In fact, there is no differentiation between the case being on or off when it comes to calls. There is a benefit, however, that the case has when it's installed, and that's when the sound is coming out of the phone speaker. The case actually enhances the sound. It acts as a resonator and sound is distributed from the speaker around the phone. The microphone and speaker ports are also covered in a Gore-Tex type material that won't let water in, yet let's sound through.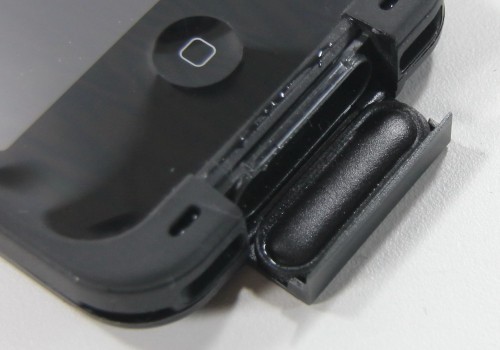 The buttons and ringer switch of the phone are covered in a flexible rubber and while it takes a little effort to push them, it's a small price to pay for waterproofing your phone. With the LifeProof case properly installed, the phone can be submerged under water up to 2 meters deep. You can take underwater photos and video with this case.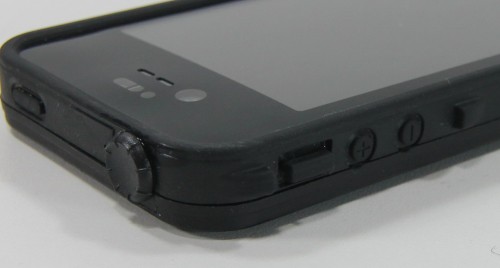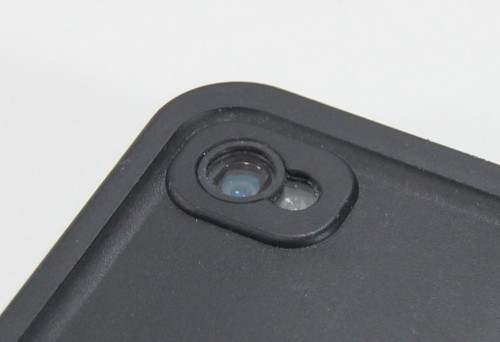 When it comes to image quality, the LifeProof case doesn't degrade. LifeProof uses an optical quality lens over the camera lens. This lens is a double anti-reflective coated optical glass lens and as you can see by the images below, the case does not affect the quality. All of these images were taken with the iPhone inside the LifeProof case.
LifeProof also allows you to do more with your iPhone through accessories. You want to listen to your tunes while in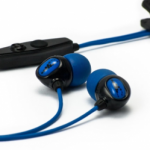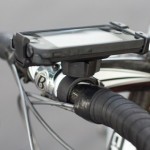 the shower or tub, in the rain, or on your Sea-Doo? LifeProof has waterproof headphone accessories that allow that. Do you want to mount your phone to your bike and take video? There are mounts for that. In fact, I purchased a bike mount to use on one of our demo units so I could use the iPhone as a GPS, which I'll write about in another article.
So now I can trim down my riding gear to simply taking my iPhone on my rides instead of bags full of gear. While there are times I would be doing more media shooting where I would need my big gear, a lot of times I can get by with my iPhone. The occasional trailside shot or quick short video clip can be handled with the iPhone, and my big GPS can stay in the truck because I can use my iPhone and the Polaris trail map app.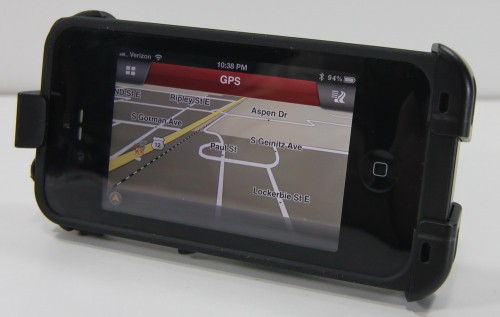 LifeProof made my decision to purchase an iPhone 4S a lot easier, but they are working on cases for other brand phones so Android users stay tuned. If you plan on upgrading your phone, I would stick to a popular brand and model, like the Nexus, Galaxy, or other style that would have a longer shelf life. They are working on cases for the most popular brands. If you have an iPhone 4 or 4S, you can protect it now with LifeProof.
LifeProof cases are relatively expensive at $79.95, but when you take into consideration the patent pending technology put into it along with the optical glass lens, the cost starts to make sense. I look at it as being insurance for an expensive piece of hardware.
The only complaint I have with the case is that the case's screen can scratch easily if you place it in a pocket with keys and other metal items. I tried sticking an iPhone screen protector on the case screen, but to no avail. Plastic doesn't work to well on plastic. LifeProof does sell replacement parts, so you can easily replace the front if it gets too scratched up.
As far as using the iPhone for image capture, the higher ISO adds more noise, but it's not bad as seen in the night shot. The idea with using the iPhone for images isn't to capture an award winning photograph, but to capture memories. Adding the LifeProof case simply allows me to bring the iPhone out into the elements so I can capture those moments without fear of damaging my phone either from an accidental drop, or snow or rain.
There's a lot to like about this case, especially if you are an outdoors person. I highly recommend it. Check out the LifeProof web site for more information and videos.