We've raved about the Twin Spar chassis since its second year (the first year we were unsure), and the Cat 800 motor revs so quick it almost feels like a 600. All told the F8 is probably Arctic Cat's best 2-stroke package, but they went one better for 2011 and put a longer track under it. Now those who like to cross over to the deep side can enjoy the F8, too.
Ergonomically satisfying, the Twin Spar chassis doesn't seem to get the limelight like some of the other brands. Maybe it's been around awhile and the other new sleds steal the thunder, but Cat's chassis is pretty comfortable. Yes, we've weighed it and it's heavier, but it rides better than most and you can make adjustments to make it fit you well. There are a few caveats; namely that if you raise the seat it's not as rock-solid as it should be, and the seat is quite wide when standing up if your feet are back away from the cowling, but it is comfortable when sitting and the handlebars can be placed exactly where you want them.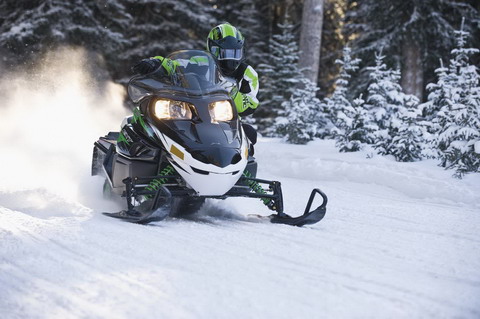 The suspension is also very comfortable. Arctic Cat has made adjustments here and there to make the F-series corner well and turn easy, all while nearly eliminating any sharp bump feel when hitting hard-edge drifts. You always feel in control and you don't feel the sharp spine-jolts that the other suspensions just can't seem to get rid of. The F8 EXT goes one step further and puts on a 144-inch track and suspension to bridge the bumps and give some deeper snow capability.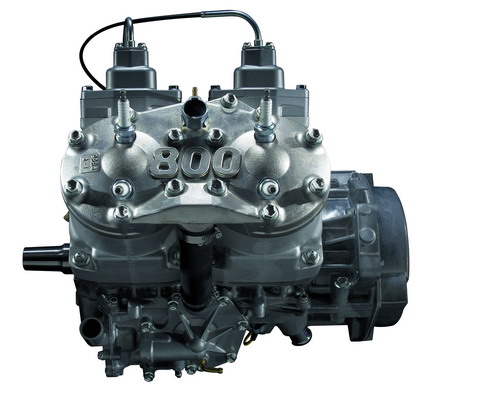 Arctic Cat's relatively new 800cc motor has a lighter crankshaft that allows it to rev faster, making it feel like a 600cc all the way up to arm-straightening 800cc torque. The motor is strong, it's quick, and it goes. Placed in the EXT chassis, you might lose a little on top end, but you won't notice it much in the middle. We like this engine and quite frankly this package overall. If we had one wish about the F8 EXT, it would be that it should have come in the sublime green spring-only package.
We don't know what Cat has up their sleeve for 2012, but we do hope that the F8 EXT stays (and comes in a black tunnel version). We like Arctic Cat's 2011 F8 EXT.