As a snowmobiler, I like to be prepared. Even in the Midwest where towns are six miles apart and there's a bar in between, it's no fun being stranded in the middle of nowhere. In more remote areas knowing where you are and how much fuel it will take to get you home is crucial.
I remember during a trip Larry and I took in 2003 to the northern part if Minnesota to ride the 2003 Firecat and 2003 Yamaha RX1. We ventured out and decided that it might be fun to explore a small lake. We headed to what we thought was a boat landing (as it turned out it wasn't), and went down a steep hill onto the lake below. We drove around, found open water, stopped and took pictures and decided to head back. We could not get off that lake. The hill we came down was sheer ice, and there wasn't any other place to get off the lake. It was surrounded by steep banks and trees.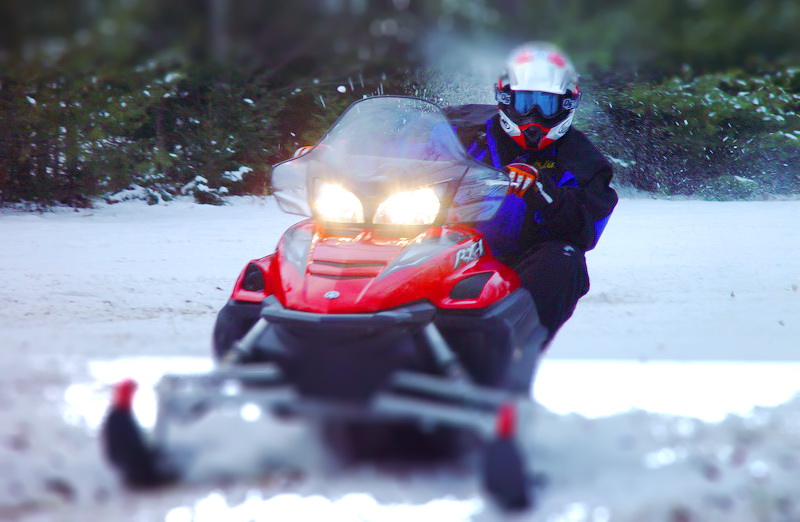 We traveled down a river and thought we saw a cabin off in the distance. The river ice soon turned into flowing rapids and the cabin we thought we saw was simply a large uprooted tree. The only way off the lake was the way we got on. We managed through sheer determination to get off that lake just as it was getting dark.
As we headed back, we got turned around and ended up taking a trail in a circle. We were lost. It was 20 below zero, and we were running out of gas. Cell phone service was spotty at best and we only had one phone with nary a charge left and it wasn't the one with the phone number we had to call in its recent call list. To make a long story short, we found a road, called the ( bar here ) and they gave us direction based on where we told them we were and we got back there just as we ran out of fuel. We were still 25 miles from the truck and trailer, but we refueled, ate a burger, warmed up and I vowed from that day on I would not go riding without a GPS ever again.
This was back when a cell phone's main purpose was to make phone calls. This was also in the days where portable chargers didn't exist, and sleds didn't have 12v. accessory plugs (although the RX1 did), and you didn't carry a cord with you if it did.
As a snowmobile journalist, I would also carry a digital camera and camcorder, but we weren't planning on being out much after dark so we didn't prepare like we should have. No extra water, nothing to start a fire with, nothing to eat; just a day's ride. I'm more prepared now, but with the advent of smartphones I can travel much lighter.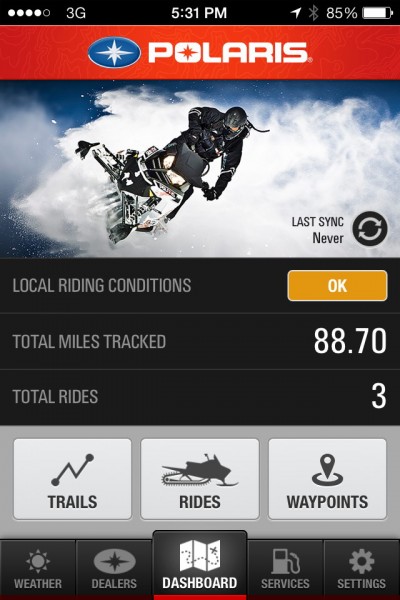 One of the recent additions to my arsenal is Polaris's RiderX Snow Trails App. By recent, I mean when it first came out. It is now on version 2.2 and has improved over the last year and a half.
The main feature of the Snow Trails App is the snowmobile trails. This app shows most of the snowmobile trails across the US. It combines that data with the built-in GPS chip in your phone to show your location, whether on trail, off trail, or following a road ditch. Combined with a paper map, you will be able to tell exactly where you are and plan your destination.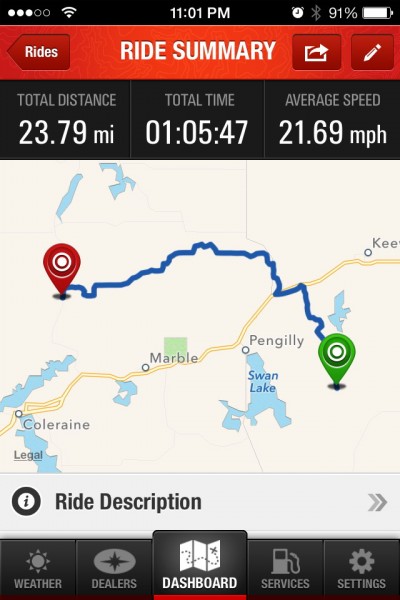 This app also tracks your rides by showing where you traveled, how far you've gone, and your average speed in that distance. This information can be synced to an online account you sign up for future planning or reliving the memory. You can also share your rides with friends on Twitter and Facebook. Maps are cached in the phone's memory so you don't always need a cell data connection, which is paramount to remote riding. Data can also be exported to other devices in GPX or CSV format.
The app also shows current weather including temperature and snow cover, and it gives you an indication of how the trails are based on your location. Looking for fuel or need a new belt? The app shows you the nearest fuel and Polaris dealership, which is pretty cool.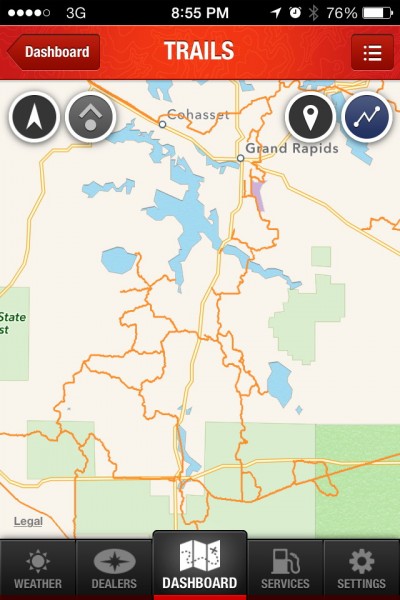 At the Polaris Media Event, they showed us a glimpse of what is coming in the next version of the app and hinted at some features in the pipeline. One thing they are doing with the app is working with local clubs offering an opportunity for the club to earn revenue. Clubs rely on paper map advertising as a portion of their income. That income helps pay for things like signage, groomers, maintenance, fuel, and more. The trails you enjoy don't just appear by magic, it takes money and volunteers to keep them in tip-top shape.
Another feature they are working on is the ability to pick a destination and plan a route. The way you plan a ride now is to simply use the app to plan where you want to go ride, not a trail route plan.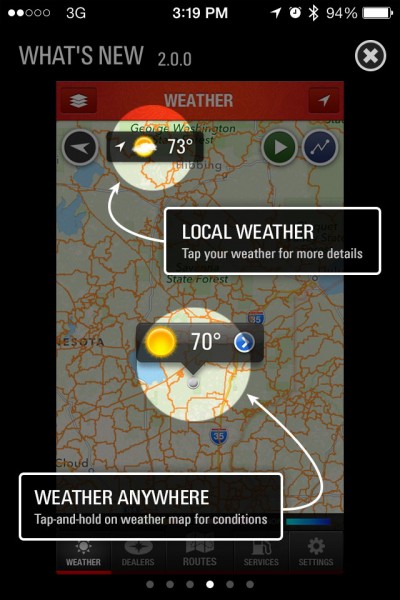 I've used this app and while there are a few things I'd like to see improved, it's currently the best one out there. One of the things I had trouble with was that the app would not go into landscape mode on my iPhone. After talking with one of the app developer at Polaris about it, it turns out the Android version 2.2 and iOS version 2.2 don't necessarily offer the same features. The Android version will go into landscape mode while the iOS version doesn't, but I was told will after the next update.
Another issue I had was that if the phone shut off (which it did a couple times in the cold, as they don't work well in the cold) you lose the route altogether. An auto-save function here would be nice where it would save on the fly. I would also like to see it override your phone's sleep mode. While you can go into settings and turn off the sleep mode, my Garmin GPS app automatically overrides the phone's sleep mode so I don't have to think about it.
One of the biggest improvements that I'd like to see the app do is work with software such as Garmin's Basecamp where you can plan a route and upload that route to the phone. Then allow the app to give you turn-by-turn directions so when you come to a crossing or junction in the trail, you know exactly where to turn. I was told this has been thought of, but may be a year or so off.
With this app and my iPhone, I've managed to lighten my gadget load when I go riding. Even as a snowmobile journalist I no longer need to take a bulky camera, video camera, GPS, MP3 player, as well as my phone. Now it can all be done with the iPhone. OK, so the MP3 player wasn't a necessity, but it's really cool listening to Thunderstruck while you're riding.
I've used a Garmin Vista eTrk (and still do in the woods while hunting) and a Garmin Nuvi while riding and while they worked OK, this app is so much better and adds so much more information. Plus the ability to allow you to save and share your rides is the cherry on the shake.
One thing I will mention is that using a GPS on your smartphone will chew up power like Pacman chomping dots. I've purchased an external charger and while using this app I keep the external charger plugged in. I'm able to go all day with enough juice left to recharge the iPhone the next day. I highly recommend this.
I also purchased a zippered window pouch and made a foam liner to fit the iPhone and power supply in, and strap it around the handlebars.
If you haven't downloaded the RiderX Snow Trails App, do so now. It is one of those things you'll be glad you did when you're lost in the middle of nowhere, stuck on a lake until dusk, and low on fuel. They also have an ATV/Dirt off-road sister app for summer trails as well.
Go here to find out more information on the RiderX Snow Trails App.