If snowmobiling to you means rip-roaring down the trail, white knuckled and heavy leaning, the 2012 Ski-Doo Grand Touring ACE 600 isn't for you. But it is for some people and if you want to know what it's all about, read on.
When Ski-Doo announced a brand-new 4-stroke last year, we didn't expect it to be smaller than the 4-TEC 1200. I mean horsepower-wise anyway. Once we learned it was a 600cc-twin rated at only 60HP, we looked at each other like we were handed a plate of Rocky Mountain Oysters; wondering what are we supposed to do with this? Well, turns out it became a huge hit and this motor probably accounts for more non-snowmobilers giving the sport a chance than anything else in recent years.
T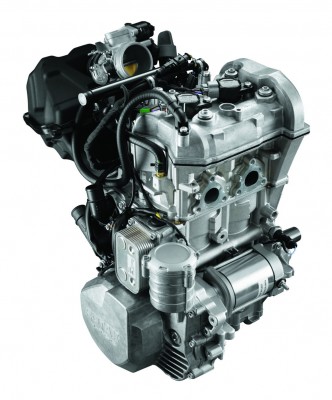 he ACE (Advanced Combustion Efficiency) engine is a sweeeeet motor and placed in the Grand Touring offers an experience for snowmobilers that let them enjoy the winter similar to how I imagine a dog sledder might. It is very quiet; you can hear the snow scrape against the skis. It has great fuel economy – nearly 30mpg. It also has a very smooth and controllable powerband.
We rode this engine in an MX Z at Snow Shoot a year and a half ago, and while it didn't have as much power as we would have liked at 8000 foot elevation, in the Midwest, that motor makes the MX Z fly and a very fun sled to ride. While it is a great motor in the performance suspension'd ditch banger, it really shines in the 2012 Grand Touring Sport.
The Grand Touring Sport is Ski-Doo's entry-level machine in the touring class. Unlike some other brands that relegate their older chassis to the entry tourings, Ski-Doo offers a current REV-XP chassis. You get everything you need; Motion Control shocks, SC-5M suspension, Brembo brakes, 1"
-Ripsaw SilenTrack, and even J-hook handlebars. Plus, you get the option of the ACE 600 motor, which we felt was perfect for this type of sled. It will go on long distance cruises just fine, but at moderate trail speeds. The thing that stands out is the fuel economy, over 300 miles per tank!
The Grand Touring Sport ACE 600 will let you and a rider talk while you're going down the trail. When you stop and let it idle, you can hear the birds sing. It gives you an overwhelming peaceful feeling and lets you go on a serenity cruise getting in touch with nature. I like to ride semi-aggressive most of the time, but there are times when I just want to go out and enjoy the sun, the snow, see the woods and absorb winter in all its glory without passing it by at high-speed. This machine allows that.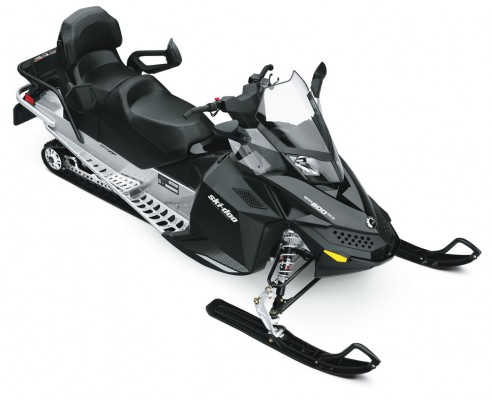 If you are a couple who have been snowmobiling for many years and are slowing down and want to enjoy the scenery, this sled is for you. If you are a person who is intimidated with the bigger and louder motors and high horsepower, this sled is for you. If you are a person whose wife won't ride with you because you "go too fast and it's no fun", this sled is for you. If you are new to the sport and have little to no experience, this sled is for you. If you enjoy ice fishing and want something to also enjoy on the trail with your spouse, this sled is for you. And if you are one who simply wants to get the best mileage on the most comfortable touring snowmobile and enjoy winter's bliss, this sled is for you.
So you see, there are a lot of people this sled is made for. If you get a chance to ride one at your local Ski-Doo dealer, we encourage you to do so. It's quite an experience and offers a little different view of what snowmobiling can mean to some people.