Back in March of 2010 at the SnowShoot in West Yellowstone the 2011 Polaris Pro-RMK was getting a lot of attention.  Let's face it, in the mountain sled wars Ski-Doo had been leading out with some pretty big things over the past couple of years, not the least of which was the feather weight of the XP Summit.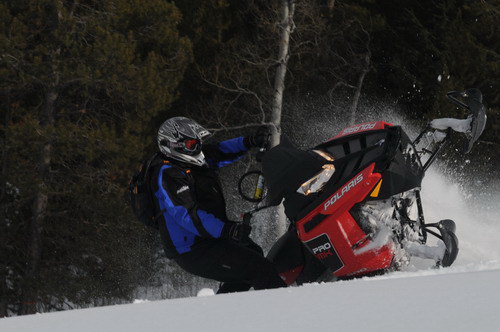 So naturally we were interested when we heard the rumors about the new mountain sled coming from Polaris.  Could it live up to the rumors?  Well at SnowShoot it seemed to do just that.  We were introduced to the 155" version and we all admitted that what we rode in March was quite the sled.
Now we have the advantage of looking back over a few months and the better part of the season to see what the Pro-RMK really has been.  And to be honest, we like what we see.  In March we happened to find a Pro-RMK 155 that fell on a digital scale and with 1 gallon of gas and all fluids topped off with an extra belt and plugs the digital truthsayer said 452lbs.  Now prototype and production numbers don't always match up so when we got our hands on a release 155" this past fall and the same digital scale under the same conditions showed the same weight we were pleased.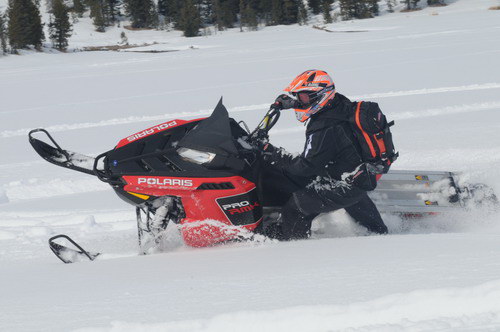 So let's say it plain and simple, the Pro-RMK is a great sled and lives up to the hype.  The new 2 injector motor has left all the 4 injector drivability issues behind.  Its calibration is spot on regardless of temperature or altitude.  The new motor really does run well.  We have found it to be smooth, although not as smooth as the Arctic Cat motor, with terrific throttle response and a snappy, revy feel.  It makes good power and has no funny gurgles or hesitations like the old motor often had.  We will reserve long term judgment until this motor has a couple of seasons under its belt, but as of now it is performing very well and showing good durability.
We also have to give credit to the Polaris factory clutching guys.  Our Pro-RMK riding has been in the 7000-10,000 foot elevation range and the factory clutching has been very good.  Someone will always want to tweak and improve, but we have found the stock setup to work very well.  The sled engages smooth and pulls hard all the way through the top end.  On and off throttle through the trees is spot on with great backshift and quick response when needed.  And the Pro-RMK is dead nuts consistent in RPM, something that the previous Dragon RMK wasn't always so good at.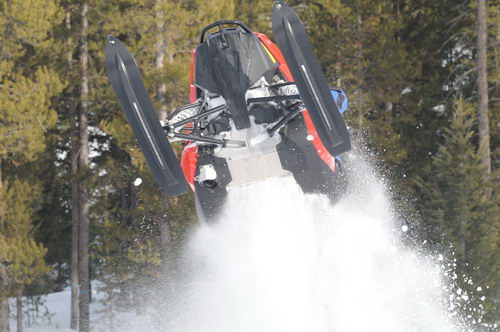 The biggest changes in the Pro-RMK come in the chassis department.  It really is light and it feels even lighter than it is.  The Pro-RMK suspension with the new Walker Evans shock package is a considerably upgrade in ride and durability over the old air shock suspension.  Yes, a couple of more pounds could have been shaved off with air shocks, but we are happy to give up those couple of pounds for the performance and durability of the spring shocks.  The suspension works great both front and rear and the new rear suspension clears snow out very well so you don't have a bunch of weight build up in the rear end.
[ad code=4 align=center]
Ergonomics are pretty good on the Pro-RMK, but this is where we have a couple of complaints.  The buttons for the gauge, bar warmers and hi/low beam are between your legs on the lower console.  They aren't lit and are fairly small which is an issue when you have gloves on.  After a few rides, we learned where they were and which one was which, but the design isn't very rider friendly.  And we still can't figure out why Polaris thinks it's a good idea to have the thumb and bar warmers tied together.  On other sleds we almost never have the 2 heating elements set on the same setting and on the Pro-RMK we find ourselves either cooking our thumb to keep our hands warm or vice versa.
The bars, seat, seating position and standing position are all good and allow for easy movement back and forth on the sled.  The sled is perfectly balanced front to rear and doesn't change ride characteristics too much if you are short or tall… it's just very consistent.  Running boards clear the snow very well, but we would like them to be a bit wider at the back.  The windshield is really just for show, if you are riding in deep powder you'll be forced to stand up or you will be getting a helmet full of powder all the time.  That's not too big of a deal because in deep powder we typically stand when riding.  But it does become an issue when sitting and turning in not so deep powder as the skis throw a constant stream of snow right in your face.  And if you have to bomb a trail to or from your riding area in the cold you will find little wind protection for your hands.  The footwells are another area that could be improved.  They are open and don't allow you to lock your foot in very securely which makes it hard to hook your toe in when pulling a sidehill.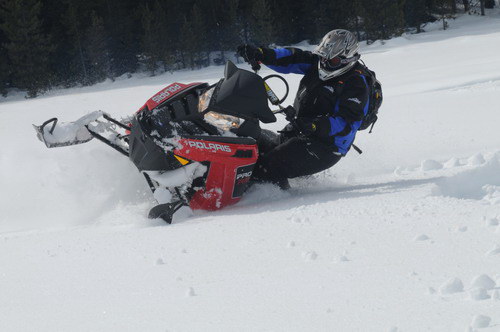 All in all the Pro-RMK has to be considered a home run for this year.  We really like the sled… power, performance, ride and deep snow capability really are second to none in the mountain sled segment.  Durability seems to be good.  We have heard of some minor issues with motor mounts but they don't appear to be widespread and Polaris has taken care of anything that has arisen quickly under warranty.  A few minutes on the phone with a handful of dealers we know revealed that customer issues have been below what they have seen with the Dragon RMKs of the past 3 years.  That all bodes well for the future but we are still eager to see what the long term durability and performance of the Pro-RMK is like.