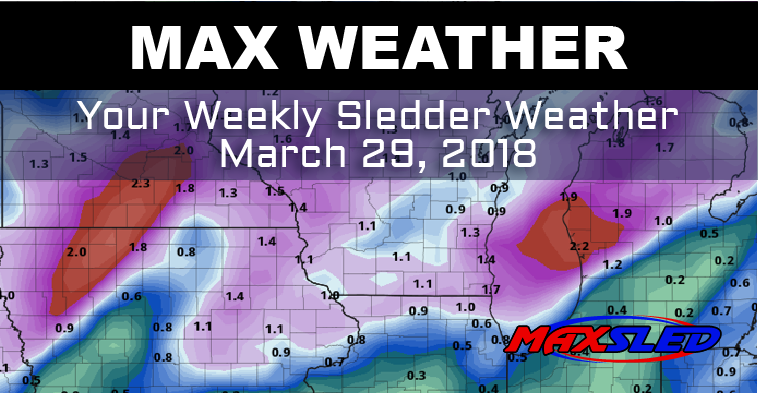 After the storms in the Northeast, the winds quieted down last weekend with warmer temperatures. There was some snow melt, but, some areas still hold a good depth where you can get some spring riding in.
Trail Conditions
With spring here now, the days are getting longer and warmer. With that being said, snow melt is increasing and trail conditions are worsening. There is still plenty of snow cover in higher elevations. Please be aware of the snow cover on the ground before going out.
Forecast
Winter still trying to hold on with a wave of cooler temperatures in the Midwest over the weekend. Temperatures will be below freezing in the Northern Plains, which is below average for this time of year. It may be enough for snow fall over this weekend to get one last ride in.
In the West, temperatures will be warmer to accelerate the snow melt. Your best bet for riding would be to find some elevation. Montana may see precipitation late this week with higher elevations receiving snow.
Another storm for the Northeast this Friday. However, this time the temperatures will be on the warmer side and most of the precipitation will be rain. Higher elevations may receive some snow.
Enjoy the last rides!
-Megan
---
About MaxWeather: We have partnered with the University of North Dakota Dept. of Atmospheric Sciences to give students a practical internship experience, providing weather forecasts for our readers. We will bring you a weekly, student-developed weather update throughout the snowmobiling season.
About the UND program: Located in the heart of cross-country racing territory, the University of North Dakota Dept. of Atmospheric Sciences provides high quality undergraduate and graduate education. Embedded in an environment of significant research and discovery, students have the opportunity to participate in hands-on forecasting and research activities. http://atmos.und.edu/