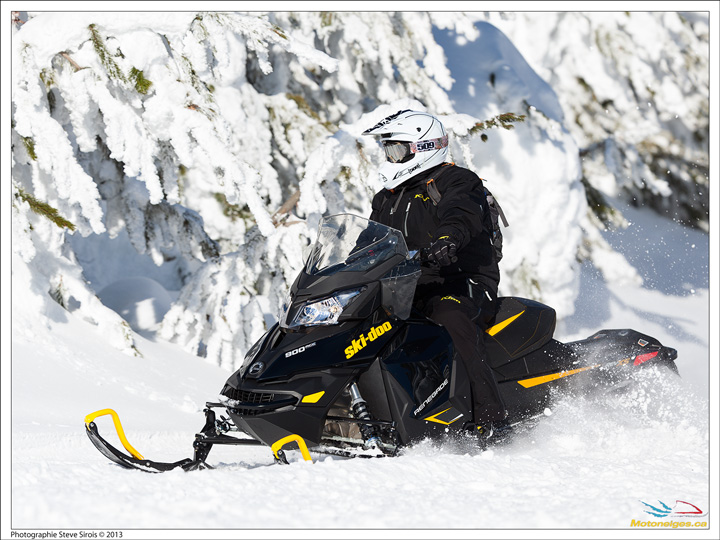 Back in the spring of last year, after SnowShoot, we were pretty excited about the new 900 ACE from Ski-Doo.  To refresh your memory, a couple of years ago Ski-Doo released the 600 ACE which was a new, little 4 stroke and for the intended market, it was pretty slick.  But we found ourselves wanting a little more go out of it, especially in the longer tracked, 2 up or utility models.
So for 2014 Ski-Doo did just that, they slapped another cylinder on the ACE motor and gave us the 900 (yeah, ok, a little more work than just 'slapping another cylinder on').  If you read my SnowShoot report you know I wasn't really expecting too much from the 900 ACE but after spending a couple of days on it in different chassis configurations I was pretty impressed with it.  And Doo went all in, offering the 900 ACE in just about every chassis other than the mountain chassis.  You could get it in the MXz, Renegade, GSX, Grand Touring and Expedition lines.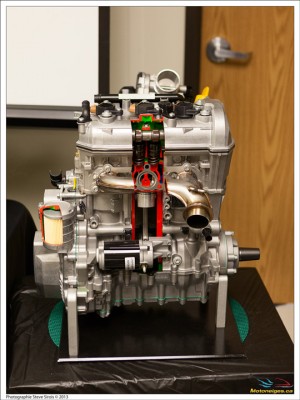 So here we sit half way through the season and the 900 ACE has continued to impress.  I believe the packaging across all the segments has worked out great.  The fly by wire throttle has proven to be a great addition and a couple of rental fleet operators I've talked to simply can't say enough about the different drive modes available.  The 900 ACE motor is a different beast than what you are likely used to.  Even if you have been riding a 4-stroke, you will find the 900 ACE may take a little getting used to.  It makes it's power instantly off of engagement and Ski-Doo engineers worked hard to make it very quiet.  So I find myself a bit deceived by it, clipping along a lot faster than my senses, especially my hearing, is telling me I'm going.  Nope, in the MXz chassis for example, it isn't going to snap your head back, but I found the 900 in the MXz to be stupid quick to ride.  Many a wanna-racer thought they were going to leave the 900 in their snow dust only to find that especially when the trail is twisty the 900 is stuck to their rear bumper like good looking sticks to Kate Upton.
As I expected when I rode it early last spring, the Grand Touring 900 ACE has proven to be everything Ski-Doo told us it would be.  Again, refreshing your memory, the Grand Touring got Ski-Doo's new SilentDrive system.  Ski-Doo's claims of 65-70% decrease in noise and vibration seem to have panned out.  Again, I'm not sure how to measure that, but first words out of every single person I've talked to that has been on one has been "Can you believe how quiet and smooth it is?".  And riding 2 up on it, you can even be heard by your passenger without having to shout at the top of your lungs.  I would hope that for 2015 Ski-Doo would expand the use of this system to at least the rest of their Touring line-up if not to the whole trail segment.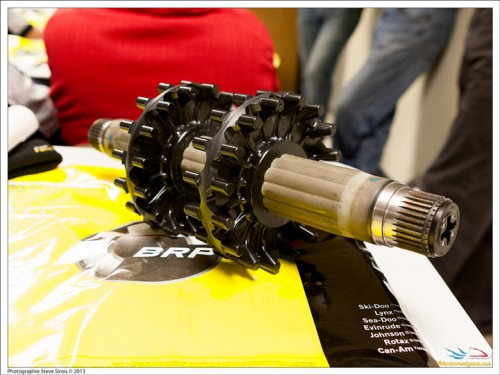 Randy Nemitz, MaxSled TestPilot, has this to say about his experience on a 900 ACE:
"I had a little time on the 2014 Ski-Doo 900 ACE and it left me with great surprise.  At first appearance, it looked  to be something that wouldn't appeal to me. After only a minute on the machine, that all changed. The power was very impressive. I really like the concept about the three different modes and two different keys."
He continues, "This is a snowmobile any adult could buy and have a great weekend; it has plenty of power, gets incredible fuel economy, and is so quiet you feel like you are in stealth mode. Then you can bring it home and put the "beginner" key in and feel comfortable having your younger child ride it around the yard. I was surprised how it handles so well, has enough power to make most people take notice, and will leave your buddies wondering  how you keep passing all of the fuel stations. If I'm "hotdoggin' it with my buddies, I can put it in "Sport" mode and keep up with anything out there. As I'm cruising down the trails, I put it in "Economy" mode and get great fuel mileage, and then I give the "beginner" key to my son or daughter, and they can ride it around the yard without feeling out of control. I can't wait to spend some more time on this one. I think Ski-Doo is on to something here."
Randy has a young family and he is the target market for this sled. My final words to  you about the 900 ACE are these.  If you are the person who likes to ride in that mid-HP sled range (Ski-Doo claims 90hp out of the ACE), then find a 900 ACE and throw your leg over it.  I think you will be pleasantly surprised at the way the 900 works and how much fun it is to ride.