As sledders, we all dream of the future, even though today's sleds are more than suitable for winter enjoyment. It almost seems ungrateful for wishing for more when our snowmobile cup runneth over, but it's a curse of sledders none-the-less. So here are my predictions (and maybe some wishes) for the upcoming 2012 models (keep in mind we have not seen anything yet).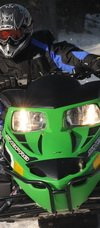 Arctic Cat
We've heard rumors of new chassis designs for a while, and maybe 2012 will be the year. Arctic Cat seems to have the racing sleds dialed in, and quite frankly the trail sleds as well. You won't find a suspension that is easier on the body than what Arctic Cat offers now (Yamaha's Mono-Shock II is a close second). The chassis is dialed in, the steering is near perfect and the adjustable rider positions allow you to fit the sled to your liking. So what's to wish for? Well, more 4-stroke offerings, lighter weight, and a narrower adjustable seat that locks in more solid for starters. Freshen up the looks (even though they don't really need to be), and that's our predict for Cat's 2012.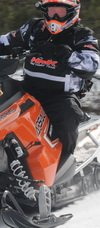 Polaris
Can you get any more Rush (Pro-Ride) than you have now? I think so, and I'd like to see more short-trackers in the same Pro-Ride front/conventional tunnel rear as in the 2011 Switchback Assault. And could we finally get a 4-stroke that performs on par with the rest of the group? Sure, the IQ Turbo goes, but that's about it. It still lags in throttle response and fuel economy. I'd like to see a new 4-stroke supplanted in the Rush chassis, now that would be cool!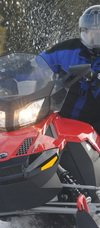 Ski-Doo
Boy, what hasn't Ski-Doo given us already? It has two different 4-stroke engines, E-TEC on 600cc and 800cc two-strokers, a chassis that just fits, and super-tight control. Fit and finish could be better on the bodywork, but overall great looking sleds. What do I expect? Well, the 600 ACE motor should be adjusted for better trail response so it truly can replace the 550F. Maybe even a turbo-charged version to really surprise us. How about bringing back the Mach-Z in a Turbo'd 1200 4-stroke? The rest of the lineup is perfect as it is.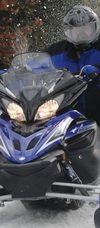 Yamaha
Yamaha has been burning the midnight oil since 2003 and turned the snowmobiling world upside down with their all-4-stroke agenda. They made it, and then this year they made it better. So what's to expect from Yamaha? I don't expect more than one new model from Yamaha next year because they have covered the bases so well. What is it? How about their best model even better! The RS Vector in the standard (2011) configuration and also in a new config with the same power steering and EXUP found in today's Apex. The higher seat profile would be welcome, and can you imagine the smooth and predictable power of the Vector engine with the mid-range torque the EXUP provides, all controlled with the ease of their power steering? My mouth is watering already!
So there you have it, my predictions for 2012. No E85, no electric motors (although I can see that one coming), and no Honda.