If you have learned anything from Carl, the big news out of Thief River Falls for 2012 is technology.  For its 50th Anniversary, Cat has raised the bar with two new chassis designs a completely new and different looking front suspension and loads of other new technology.  Here we will go through each model line to show you everything new about the 2012 Arctic Cats.
ProCross F (6 models)
The 2012 F and XF models feature the new ProCross chassis. This all-new design has a tapered two-piece tunnel to add strength to the rear of the chassis, while tapering the top of the tunnel to 15-inches for improved ergos. The new ARS front suspension mounts the A-arms to the frame in a 30-degree angle to improve cornering and reduce bump/steer. The taller ski spindles are designed to reduce loads on the spindle and the distance between the upper and lower arms adds chassis strength.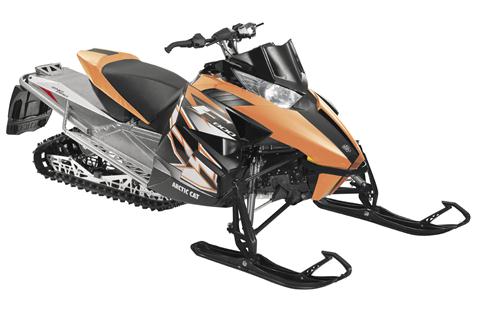 The new Arctic Drive System replaces the ACT diamond drive for an additional weight savings. It consists of a self-tightening chain and sprockets, and the oil reservoir is incorporated into the new magnesium chaincase cover. It features a torque control link between the engine and drive system, which maintains consistent center-to-center distance and proper alignment.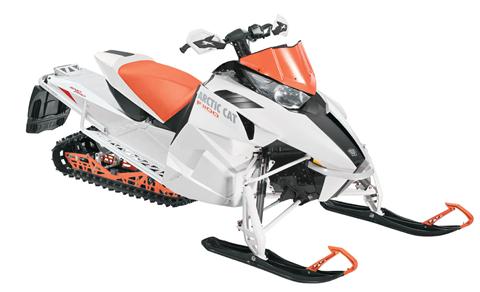 The F-Series sleds include the F800 LXR, F800 Sno Pro,  F1100 LXR, F1100 Sno Pro, F1100mTurbo LXR and F1100 Turbo Sno Pro
ProCross XF (6 models)

The XF models, formerly the Crossfire, offer similar chassis design, but with a longer tunnel and 15 x 141 x 1.5-in. Cobra track (Sno Pro) track for off-trail performance, while maintaining the on-trail handling characteristics of the ProCross F. This delivers a tighter turning radius than the Crossfire, a more natural handlebar position and improved ride quality while either standing or sitting.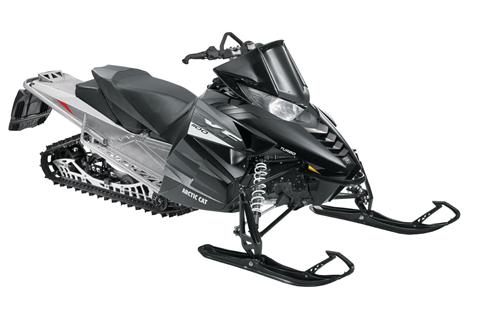 The XF800 LXR incorporates a 4.5-in. handlebar riser block, rear storage bag, electric start, medium-height windshield, 1.25-in. lug track and Fox Zero Pro gas shocks. Select models feature a heated seat for added comfort. The other XF models feature the spring-less Fox Float air shocks to reduce weight but still provide a full range of tuning options.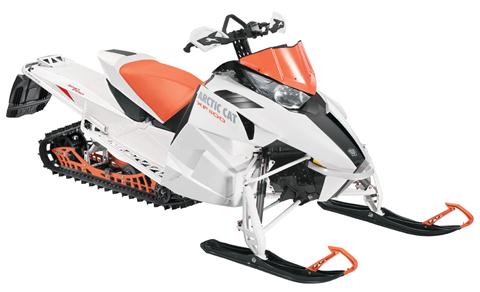 The XF is available in the following models: XF800 LXR, XF800 Sno Pro, XF1100 LXR, XF1100 Sno Pro, XFTurbo LXR and XFTurbo Sno Pro
ProClimb (7 models)
All of the M-Series mountain sleds from Arctic Cat are in the new ProClimb chassis for 2012. The ProClimb is similar to the ProCross, but with a vertical steering post and single bell-crank for a more standup riding position. It also features the new ARS front suspension with wider A-arm spacing, and tall spindles with ball-joints. On the rear suspension, the new Tri-Hub rear axle system adds strength and cuts weight, while a combination of Fox Zero Pro and Fox Float  shocks handle dampening duties. The M800 and M1100 models come with push button reverse, a 15 x 153 x 2.25-inch Powerclaw track,  as well as a 162-inch option on the SnoPro. The standard M-Series has Fox Zero Pro shocks, while the SnoPro versions feature Fox Float 2 shocks plus a low windshield, deluxe speedometer and front swaybar.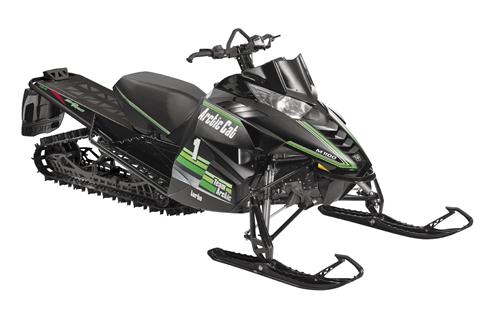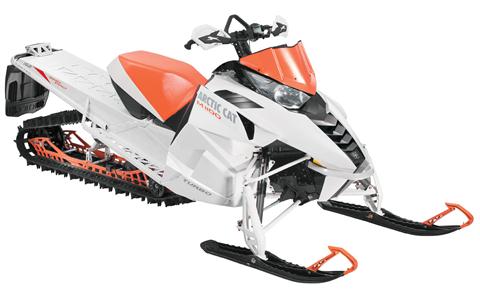 The HCR (Hill Climb Racer) is available as a 800 or 1100 Turbo. Special elements separate the HCR from the other M-Series models. With no
rear heat exchanger, the HCR holds up to 40 lbs. less ice and snow while riding. Ice-scratchers are standard, as are the Fox Float EVOL ski shocks and a 15 x 153 x 2.25-inch Powerclaw track.  Its adjustable ski stance is 42-43-in., and the competition mountain skis have deeper keel than the other M sleds.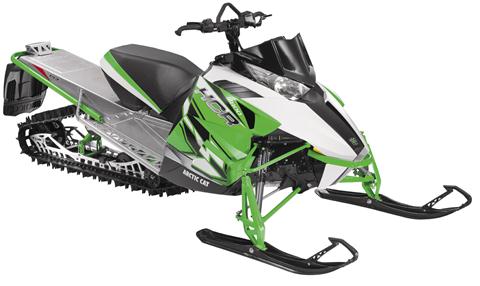 The ProClimb models are M800, M800 HCR, M800 Sno Pro, M1100, M1100 Sno Pro, Mturbo, MTurbo HCR,  MTurbo Sno Pro
[ad code=4 align=center]
Entry Level (3 models)
The F570 is the value leader in the Twin Spar chassis with a 570 fan-cooled two-stroke engine, push button electric reverse, electric start, ACT Diamond Drive, FasTrack rear suspension, zippered rear storage compartment and is available in either Green or Orange.

The F5 LXR adds some convenience features like a 500cc liquid-cooled two-stroke engine, batteryless EFI, push button reverse, IRP adjustable handlebar and seat system, deluxe speedometer, seat with zippered storage and rear storage bag.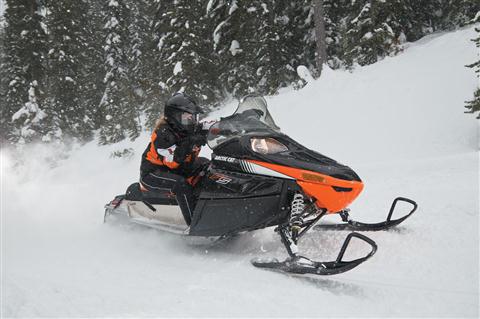 The Sno Pro 500 is suitable for circuit racers or ditch bangers as an entry-level machine. It utilizes the  Sno Pro tubular  chrome-moly race chassis and a 500cc two-stroke engine. It features batteryless EFI, oil injection, progressive steering, 15 x 128 x 1.0 Hacksaw track, Fox Zero Pro shocks, Race Slide-Action rear suspension, plastic skis and digital gauges.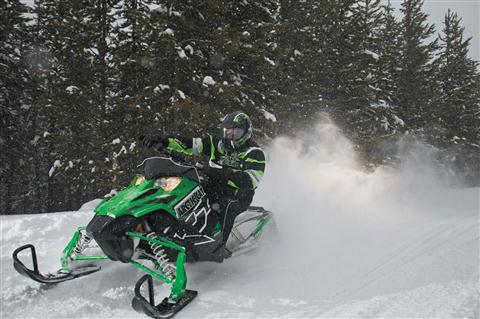 Entry Level models are the F570, F5 LXR and the Sno Pro 500.
Two-Up Touring (4 models)
The T570 is the entry-level model for two-up touring but still features many comforts of its bigger brothers. Housed in the Twin Spar chassis, the T570 offers push button electric reverse, ACT Diamond Drive, FasTrack rear suspension, electric start and a two-up seat with detachable passenger backrest.

The TZ1 models are loaded with every possible comfort and convenience feature and is powered by the 1100cc 4-stroke engine. It is built on the  Twin Spar chassis. The long list of comfort features includes a heated driver seat and passenger seat, removable passenger seat, fiberglass overload springs, electric start, push-button reverse, heated passenger grips with wind deflectors and a 12-volt accessory outlet.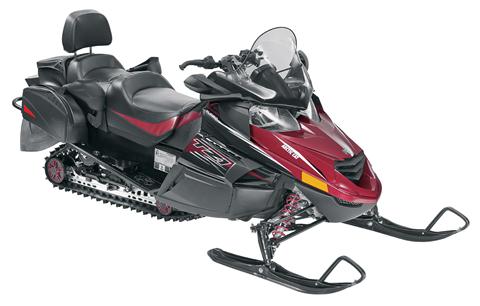 The LXR models take comfort to the next level and include Fox Zero Pro ski shocks, adjustable handlebars, premium gauge package and three removable storage bags. For an extra boost of power the LXR is available in a 177-hp Turbo model for the ultimate in comfort and performance.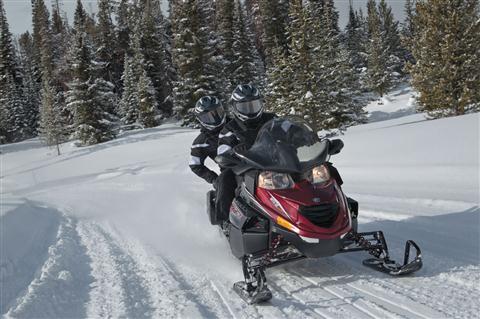 The Two-up Touring models include the T570, TZ1, TZ1 LXR and TZ1 Turbo LXR.
Bearcat (5 models)
The Bearcat can be a two-up touring snowmobile, a utility sled or both. Designed for more work than play, the lineup starts with the Bearcat 570. It is available with either a 570cc fan-cooled two-stroke engine or a 1100cc four-stroke with EFI. It includes electric start, push-button reverse, 8-inch wide plastic skis, detachable passenger seat and a 15 x 151 x 1.25-in. Ripsaw track.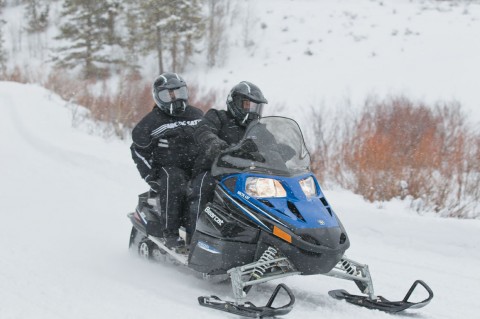 The XT models further include a 17-gallon fuel tank, underseat storage, articulating rear suspension with fiberglass overload springs, heavy-duty front bumper and a 20 x 154 x 1.4-in. track. The Bearcat Z1 XT Limited comes with a third seat, rear storage bag, plug-in engine heater, deluxe gauge, extra-high windshield and heated driver seat.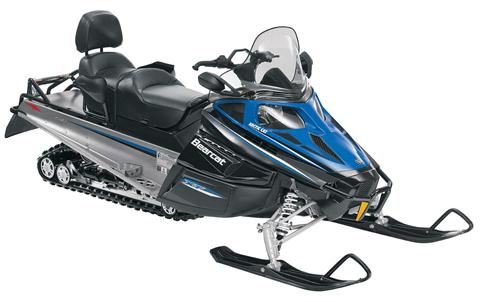 The Bearcat Z1 XT Groomer Special is a purpose-built snowmobile, specifically designed for clubs, businesses and organizations to pull a small groomer for feeder trails or private trails. It has an extra wide and extra long 20 x 156 x 1.25-in.  track and the articulating slide rail suspension. Unique to the Groomer Special are special features aimed at trail grooming: a front winch; a rear light bar with flood- light and
beacon; an auxiliary radiator located under the seat; handlebar- and console-mounted winch switches and a rear power outlet.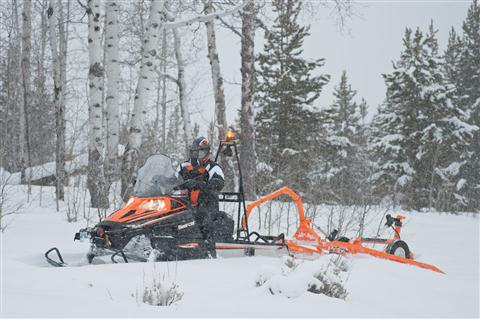 The Bearcat models are the Bearcat 570, Bearcat 570 XT, Bearcat Z1 XT, Bearcat Z1 XT Limited, Bearcat Z1 XT Groomer Special
Youth (1 model)
The Arctic Cat Sno Pro 120 returns for 2012 basically unchanged as an ideal way to introduce young riders to the sport of snowmobiling.
Where some manufacturers are putting all the eggs in one basket for either two-stroke or four-stroke, the crew at Arctic Cat is keeping all of its options open and provides quality and performance for both categories. We rode these new machines and will report on them soon.  Even Carl cannot get into a scoop like that.